Improving the Resource Efficiency and Resource Circulation of Products and Product Recycling
Improving the Resource Efficiency and Resource Circulation of Products
Our Approach
As risks that threaten the sustainability of society and companies continue to rise, such as environmental destruction due to resource depletion and excessive mining, major fluctuations in resource costs around the world, and concerns about the supply of rare metals, the European Commission (EC) has established a new Circular Economy Action Plan (2.0) as a growth strategic pillar of the European Green Deal and is moving forward with measures to accelerate further implementation of resource efficiency into society. For example, the EC has proposed the Circular Electronics Initiative, as well as maintenance for the eco design directive, and is promoting a circular economy through the entire life cycle of products. This is a growing trend all over the world. We believe that from the perspective of recycling resources, it is important for us to make efficient use of the resources in the ICT products that we provide to customers. We have engaged in design that draws on the principles of reduce, reuse, and recycle, and have developed our products with technology that is effective in reducing the amount of resources we use. We are also making efforts to improve resource efficiency and reduce our environmental burden by designing products to be lighter and smaller, using recycled plastics, reducing the number of parts, enhancing ease of disassembly, and improving recyclability. Our goal is to offer such products so that they provide even the customer with benefits, whether it be by making these products smaller, more lightweight, or designing them so they take up less space.
FY 2022 Performance
| Targets under the Fujitsu Group Environmental Action Plan (Stage X) | FY2022 result |
| --- | --- |
| Promoting improved resource conservation and recycling in our products and increasing resource efficiency in new products by 10% or more (compared to FY 2019). | Improved by 11.2% |
Improving the Resource Efficiency of New Products
In FY 2012, the Fujitsu Group created its own definition of resource efficiency, as the Group had previously not had a system that could comprehensively and quantitatively evaluate improvements in resource efficiency, and due to the fact that there were as of yet no public indices that could measure resource efficiency.
In FY 2022, we continued to use our indicators to evaluate products newly developed by Fujitsu, and worked to reduce product part quantities and reduce product size through smaller, thinner, and lighter parts and higher-density mountings.
We Improved Resource Efficiency by 11.2%
By reducing the size and weight of our servers, PCs, network devices, and imaging devices, in FY 2022 we were able to improve resource efficiency by 11.2% with respect to efficiency in FY 2019.
Looking Ahead
In FY 2023 and beyond, Fujitsu will continue current initiatives, while expanding development of new lightweight, rigid materials and the use of recycled materials. We will also widely publicize the eco-friendliness of our products in order to expand sales.
REFERENCE INFORMATIONDefinition and Calculation of Resource Efficiency
Examples of Initiatives in FY 2022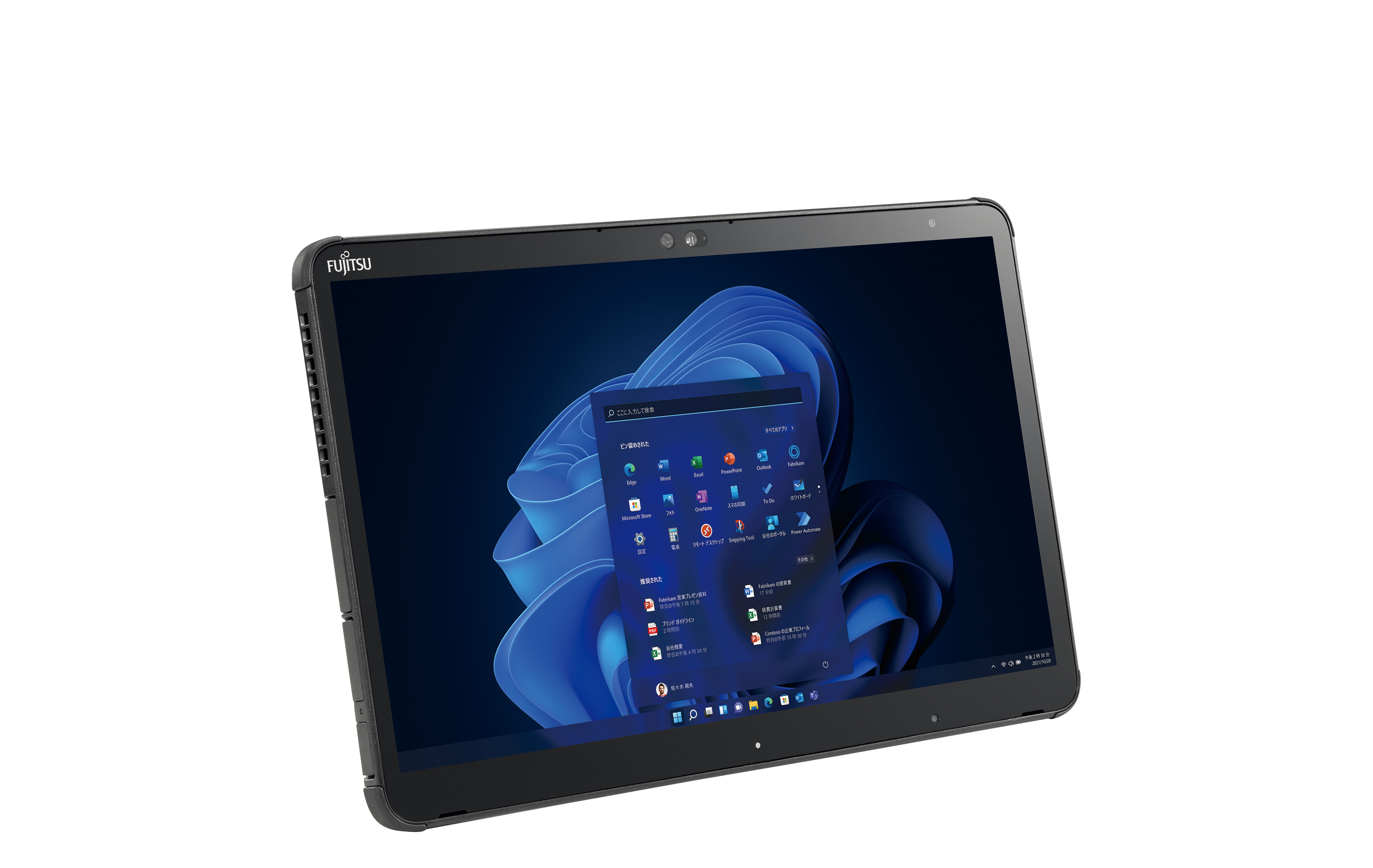 ARROWS Tab Q7312/KB
ARROWS Tab Q7312 balancing improved performance of the same sized laptop computer and resource efficiency
ARROWS Tab Q7312 is a high-end tablet device featuring a large screen ideal for a wide range of uses. It offers advanced functions and scalability for business and comes equipped with advanced security features including a TPM 2.0 security chip and (optional) fingerprint scanner. In addition to high-end features, the tablet only weighs about 1.2kg even when including the specialized slim keyboard.
In terms of the environment, ARROWS Tab Q7312 improves resource efficiency by 2.1% with the use of components made of recycled plastics. It is also Energy Star certified because of its reduced consumption of electricity.
By offering the ARROWS Tab Q7312 tablet featuring high-end specifications, scalability and improved resource efficiency, Fujitsu will contribute to a society that is equally considerate of both the environment and people.
Product Recycling
Our Approach
The Fujitsu Group's recycling activities are based on the concept of Extended Producer Responsibility (EPR), which holds producers responsible for product design and manufacturing as well as disposal and recycling, and the concept of Individual Producer Responsibility (IPR), which holds a company responsible for its own products. Fujitsu is certified for area-wide disposal of industrial waste based on the Act to Promote Effective Utilization of Resources in Japan. In accordance with these concepts, Fujitsu Recycling Centers around Japan are entrusted to properly dispose of industrial waste, and one of Fujitsu's voluntary management indicators is "to reuse at least 90% of the resources in its ICT products for businesses."
Changes in Resource Reuse Rates of End-of-life Business ICT Products
| Item | FY 2020 | FY 2021 | FY 2022 |
| --- | --- | --- | --- |
| Resource reuse rate (%) | 91.6 | 92.9 | 93.6 |