Improving the Resource Efficiency and Resource Circulation of Products
Our Approach
As risks that threaten the sustainability of society and companies continue to rise, such as environmental destruction due to resource depletion and excessive mining, major fluctuations in resource costs around the world, and concerns about the supply of rare metals, the European Commission (EC) has established a new Circular Economy Action Plan (2.0) as a growth strategic pillar of the European Green Deal, and is moving forward with measures to accelerate further implementation of resource efficiency into society. For example, the EC has proposed the Circular Electronics Initiative as a priority area, as well as maintenance for the eco design directive, and is promoting a circular economy through the entire life cycle of products. This is a growing trend all over the world. We believe that from the perspective of recycling resources, it is important for us to make efficient use of the resources in the ICT products that we provide to customers. We have engaged in a 3R design that draws on the principles of reduce, reuse, and recycle, and have developed our products with technology that is effective in reducing the amount of resources we use. We are also making efforts to improve resource efficiency and reduce our environmental burden by designing products to be lighter and smaller, using recycled plastics, reducing the number of parts, enhancing ease of disassembly, and improving recyclability. Our goal is to offer such products so that they provide even the customer with benefits, whether it be by making these products smaller, more lightweight, or designing them so they take up less space.
FY 2020 Performance
| Targets under the Fujitsu Group Environmental Action Plan (Stage IX) | Last fiscal year (FY2020 result) |
| --- | --- |
| Promote eco design for resource saving and circulation, and increase resource efficiency of newly developed products by 20% or more (compared to FY 2014). | Improved by 27.5% |
Improving the Resource Efficiency of New Products
In FY 2012, the Fujitsu Group created its own definition of resource efficiency, as the Group had previously not had a system that could comprehensively and quantitatively evaluate improvements in resource efficiency, and due to the fact that there were as of yet no public indices that could measure resource efficiency.
In FY 2020, we continued to use our indicators to evaluate products newly developed by Fujitsu, and worked to reduce product part quantities and reduce product size through smaller, thinner, and lighter parts and higher-density mountings.
Achieved 27.5% Improvement in Resource Efficiency
By reducing the size and weight of our servers, PCs, network devices, and imaging devices, we were able to achieve an improvement in resource efficiency of 27.5%, against the 25% target value we set for FY 2020 in the Fujitsu Environmental Action Plan.
Working Toward Our Targets
To achieve the targets set in the Fujitsu Group Environmental Action Plan, Fujitsu will continue current initiatives, while expanding development of new lightweight, rigid materials and the use of recycled materials. We will also widely publicize the eco-friendliness of our products in order to expand sales.
REFERENCE INFORMATIONDefinition and Calculation of Resource Efficiency
Examples of Initiatives in FY 2020
The LIFEBOOK U7511/G Laptop, Which Strikes a Balance between Convenience for Mobile Workers and Resource Efficiency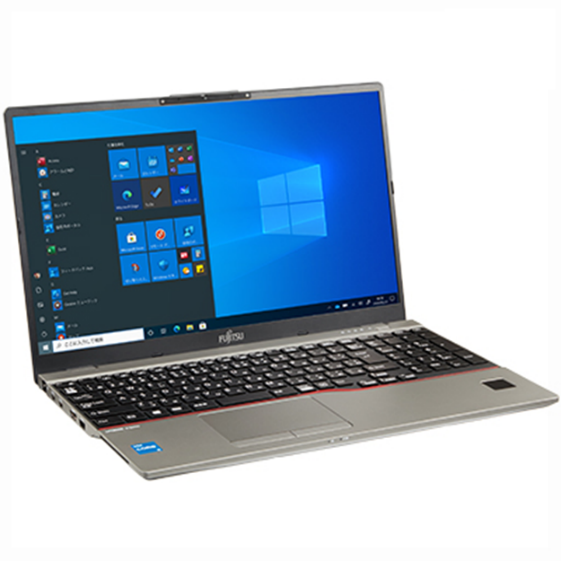 LIFEBOOK U7511/G
The LIFEBOOK U7511/G is a laptop aimed at mobile workers. Weighing in at a light 1.32 kg*, and its 15.6-inch liquid crystal display is easy to work with. This makes it possible for the laptop to have the lightness needed by mobile workers, while also improving work productivity. Furthermore, to go along with the implementation of a BIOS tampering check and self-recovery functions, a fingerprint sensor, palm vein sensor, and smart card slot can be installed to provide optimal security measures in response to the usage environment and the kind of work. In terms of environmental friendliness, the installation of an Intel® Core™ i5 processor (Tiger Lake), a narrow-frame design that reduces the size of the case, and the use of recycled plastic for some parts of the case have achieved resource efficiency of 26.1%, while improving the laptop's functions in comparison to conventional models. Additionally, by designing the model with energy conservation in mind, we have achieved compliance with the International Energy Star Program, as well as "AA" energy consumption efficiency (FY2022 standard) based on the Energy Conservation Act.
In addition to this, ScanSnap iX1600/1400, the personal document scanner targeted at individuals, has adopted recycled plastic materials made from recovered PET bottles for product parts. Thus, we have been contributing to lessening our environmental impact also in terms of parts.
*Product weight is the weight (average value) with a standard battery installed.