Working With Our Customers
Improving Customer Satisfaction
Our current era is characterized by dizzying levels of social and economic change, and it seems impossible to predict what will come about in the future. In this kind of landscape, it is vital that we maintain an accurate understanding of our customers' various needs, and adapt quickly to changes as they arise. In order to accomplish this, we must think and behave from the customer perspective, and engage continuously in reform.
Working with the Customer to Drive Field Innovation
Field Innovation is the process of getting down to the customers' level, observing the behaviors and mentalities that drive people, and recognizing previously unnoticed factors—for instance, an opportunity for reform, or unnecessary parts of certain processes. Through Field Innovation, we work to maximize the value of ICT, and advance/expand our customers' businesses.
This process happens through our Field Innovators (FIers), and their work with the customers. These are individuals who have built up their careers in various business areas, and who are skilled at advancing reform, utilizing visualization technologies, and consensus building. They work as a team, delving into customer work sites to discern the intentions of those in high-level management, and clarifying workplace issues through on-site interviews and visualization processes. They also help the customer solve their issues through a third-party perspective.
FY 2018 Field Innovation Performance: 298 cases
The Fujitsu Customer Contact Center and Fujitsu Contact Line
Both the Fujitsu Customer Contact Center and the Fujitsu Contact Line allow us to gain an accurate understanding of customer inquiries, and quickly transfer customer inquiries to the relevant division. They also work as a form of surveillance, helping prevent missed and late responses. These improve customer satisfaction by facilitating quick responses, and also allow us to analyze customer inquiries so that we can improve the development and quality of our products and services. We also have an international coordination system in place for these points of contact, in order to facilitate smooth communication both domestically and internationally.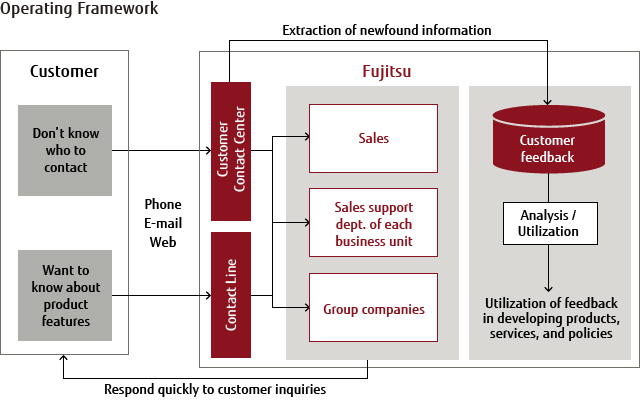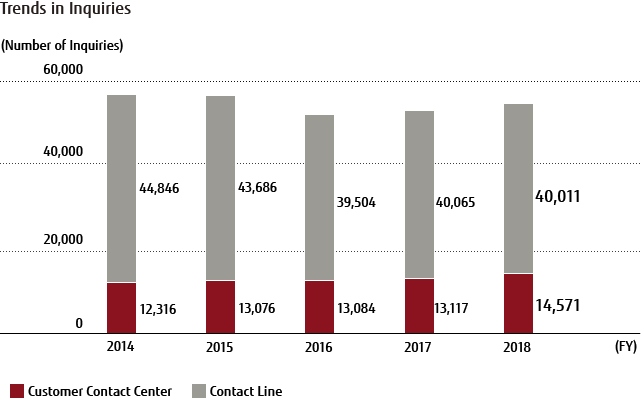 Qfinity
Qfinity is a Fujitsu Group program that encourages reform in order to improve the quality of products/services and work in general. The program is individually-focused, emphasizing the importance of each and every employee as the Group works to establish greater customer value for its products/services. The name Qfinity is a combination of the words "Quality" and "Infinity," and expresses the Fujitsu Group vision of each and every employee, pursuing infinite quality.
The various reform efforts made in the Fujitsu Group are implemented and shared under the Qfinity umbrella, and passed on as part of the Group's vision. Qfinity also encourages each and every employee to practice the principles of the Fujitsu Way (Global Citizenship, Customer-Centric Perspective, Firsthand Understanding, Spirit of Challenge, Speed and Agility, and Teamwork), through persistent reform efforts.
The Fujitsu Group also holds educational programs and awards ceremonies, and encourages the sharing and dissemination of information and case studies, in order to promote Qfinity group-wide.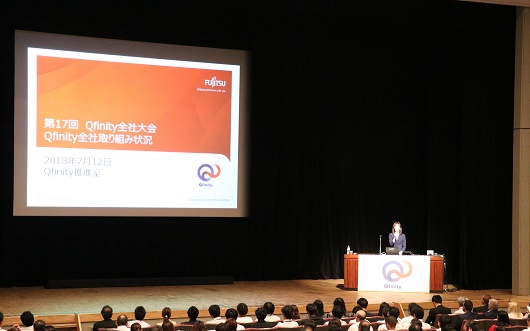 Qfinity Award Convention
Qfinity leaflet
Awards Ceremonies and Events
Domestic participants of Qfinity (FY 2015: 55 => FY 2016: 63 => FY 2017: 72 => FY 2018: 71)
Overseas participants of Qfinity (FY 2015: 13 => FY 2016: 17 / FY 2017: 24 / FY 2018: 16)
The Fujitsu Family Association (ICT User Coalition)
The Fujitsu Family Association aims to encourage discussion of thoughts and values related to ICT, and help member companies solve ICT-related issues within their organizations. The association is run primarily by its members, with Fujitsu providing support for its various efforts. It is made up of approximately 4,200 companies/organizations, and is Japan's largest ICT user coalition, providing opportunities to socialize and share valuable information for both Fujitsu and the member organizations. Through these efforts, the Fujitsu Family Association has contributed greatly to the building of lasting relationships among its members.
The activity of the Fujitsu Family Association is based largely on efforts made by its branches. There are more than 500 of these efforts made annually, and they include such things as ICT-related seminars, personnel training, and locally-oriented social events.
Advertising and Promotion Policy
At Fujitsu, we work to make sure that our advertising makes use of fair and appropriate language and symbols, and are in adherence to laws, regulations, and in-house rules. In FY 2019, we plan to promote the efforts we have made to collaborate with customer businesses using our strength in digital technologies, and make these efforts more widely known to the public. We also set goals (KPIs) and monitor these indices via the PDCA cycle to see if they have been achieved, in order to determine whether our advertising policies have been effective/cost-effective.
Due to changes in the Fujitsu business model, we have also not had products and/or services that would fall under the regulation of the Act Against Unjustifiable Premiums and Misleading Representations.
Fujitsu offer contact lines where the general public can voice their opinions about our advertisements. We take all of these opinions to heart, respond quickly and accurately if necessary, and work to keep communication open at all times.
Universal Design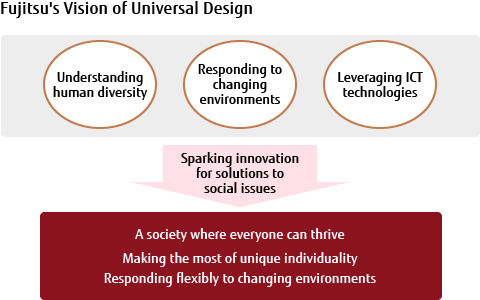 At the Fujitsu Group, we encourage the use of ICT Universal Design, to help create a more safe, secure, comfortable, and plentiful society.
Fujitsu's Vision of Universal Design
Fujitsu aims to innovate and create a future capable of solving various social issues, by gaining an understanding of a wide variety of people, adapting to changes in the landscape, and utilizing ICT technologies. Our goal is to use the power of ICT to realize a society where everyone—regardless of nationality, age, gender, or impairment—is able to express themselves and their individuality as much as possible.
In order to promote this vision within the Group, we asked a professional organization to create a universal design guideline for system development, and have encouraged complete adherence to this guideline within the Group.