Fujitsu's Environmentally Conscious Design
Environmentally Conscious Design Efforts
The Fujitsu Group is promoting the environmentally considerate design of newly developed products, and is striving to conduct assessments throughout the entire life cycle of products (LCA: Life Cycle Assessments) to reduce the environmental burden and increase value.
Since 1993, the Fujitsu Group has made use of original product environmental assessments to promote the development of environmentally conscious products that support energy efficiency and hazardous substance reductions, as shown in the following figure. Further, in 1998, we introduced the "Green Product" evaluation system with the goal of strengthening the development of environmentally conscious products, and in 2004, we established the "Procedure for Product Environmental Green Assessment," which integrates these.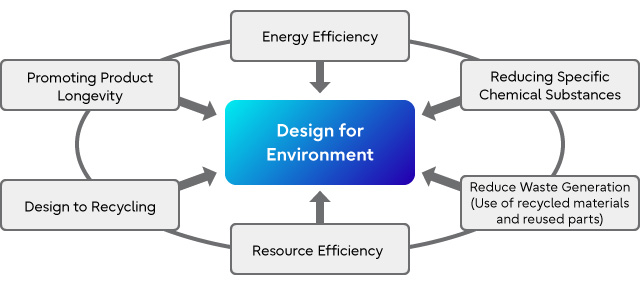 Fujitsu's Green Products and Super Green Products
The Fujitsu Group has established its "Procedure for Product Environmental Green Assessment" to further the development of environmentally conscious products, and positions "Green Products" as products which conform to these standards. The standards are reviewed as necessary to strengthen and improve the efficiency of our Green Product development. Evaluations are conducted from various perspectives relating to the prevention of environmental pollution and reduction of the environmental load, such as the observance of environment-related laws and ordinances, resource conservation, and low energy consumption. Moreover, to pursue the design of environmentally conscious products at a global level, we comply with the international IEC 62075 standard (*1) and in 2011, we established our own Eco Design Standard, which incorporates environmental and other market demands (*2). Fujitsu PCs and servers are developed and designed based on these standards, and sold globally.
Further, "Super Green Products" are those that meet the required conditions for Green Products and are also top-class in terms of low energy consumption, 3R design and technology, chemical substance content, and use of eco-friendly materials and technologies. We evaluate and give the certification of "Super Green Products" to products (products which have obtained the International ENERGY STAR or the EPEAT ecolabel) or systems having environmental characteristics superior to those available on the market or those of others we supply.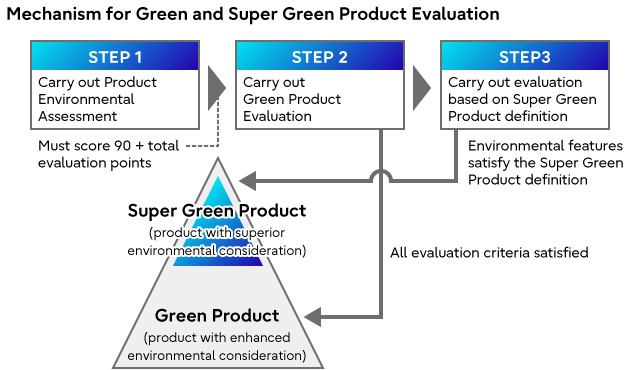 (*1)

IEC 62075:
Standard on "Audio/video, information and communication technology equipment-Environmentally conscious design." This standard was published in 2008 and established as JIS C 9914 in 2010 in Japan.

(*2)

Covered products:
Personal computers, servers, and storage systems.
Ecolabels
<Original Fujitsu Label>
The Fujitsu Group positions environmentally conscious products as "Green Products," and products demonstrating further superiority in environmental consciousness as "Super Green Products."

<Third-Party Certification Labels>
Environmentally conscious design in Fujitsu products has been evaluated and received certification from the following external organizations. The Fujitsu Group is proactively promoting such design in its new products as well.



ICT Database System for Management of the Environmentally Conscious Product Design
We use ICT systems for the preparation and registration of Product Environmental Green Assessments and LCAs. We use these systems to centrally manage information on aspects of environmentally conscious design related to legal and regulatory compliance; materials and chemical content of purchased components; efforts to make products smaller, lighter, or more energy efficient; ease of recycling and dismantling.