Career & Growth Well-being
Policy
We are working to expand growth opportunities for our employees, aiming to become a company that creates innovation in every corner of society by bringing together a diverse range of internal and external human resources with agility, in order to realize our company's purpose to make the world more sustainable by building trust in society through innovation. So that we can achieve a sustainable world, Fujitsu is focusing on creating an organization that brings together a diverse group of people with expertise and experience, leveraging the technology areas in which the company has always excelled. In addition, to support each employee's autonomous learning and growth rather than providing uniform training from the company, we offer a wide range of learning and career options based on common global policies. We support employees to become their desired selves by revising systems, promoting reskilling and upskilling in accordance with the transformation of our business portfolio, and provide an environment that enables each employee to act autonomously with a sense of fulfillment emphasizing improvements in employees' sense of job satisfaction and engagement.
To Achieve Career Ownership
From April 2022, we have introduced a new personnel system based on the concept of 'job-based human resource management' that encourages each employee to take on challenges and grow with in our domestic Group. In line with this, we are implementing measures focused on each individual to support employees in taking on challenges and growing based on their career ownership.
In order to realize our purpose, Fujitsu has shifted its relationship with employees to one that fosters autonomy and trust while realizing mutual growth, and it has completely revamped its human resources and personnel training system, which now focus on job-based human resources management that supports employees to tackle new challenges. The collection of programs that supports employee career ownership is now named FUJITSU Career Ownership Program (FCOP) to reflect the company's efforts to cultivate career ownership among all employees.
The program offers streamlined career development opportunities, including Understanding and Promotion of Career Ownership aimed at understanding one's own career phase through career ownership diagnosis and age-specific workshops, Career Interviews that provide one-on-one interview opportunities with a career counsellor or a supervisor, Learning Opportunities that allow employees to learn a multitude of content both relevant to and outside of work anytime anywhere through a learning platform, and Opportunities to Take Challenges that enables employees to apply for transfer or promotion to a position they aspire to within the Fujitsu Group through the global internal job posting system. Through these opportunities, FUJITSU aims to growth together with its employees while realizing its purpose based on an autonomous and trusting relationship between employees and the company serving as the foundation.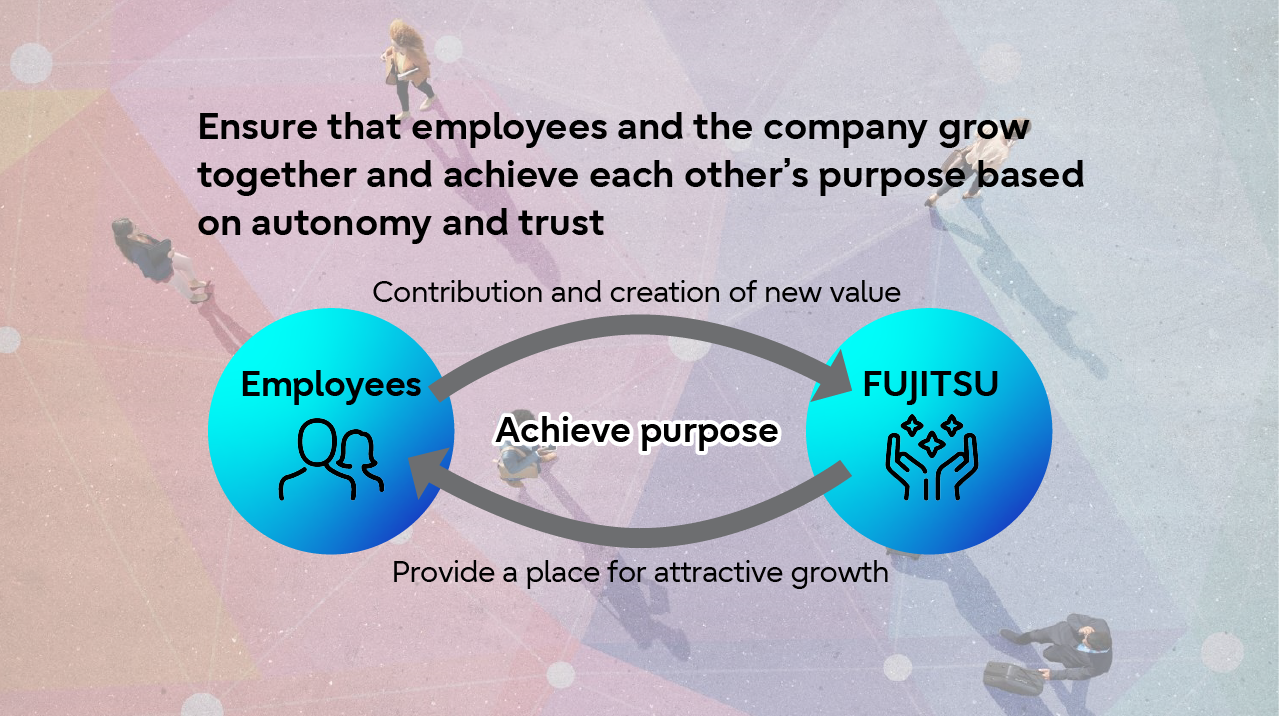 Relationship Between Employees and the Company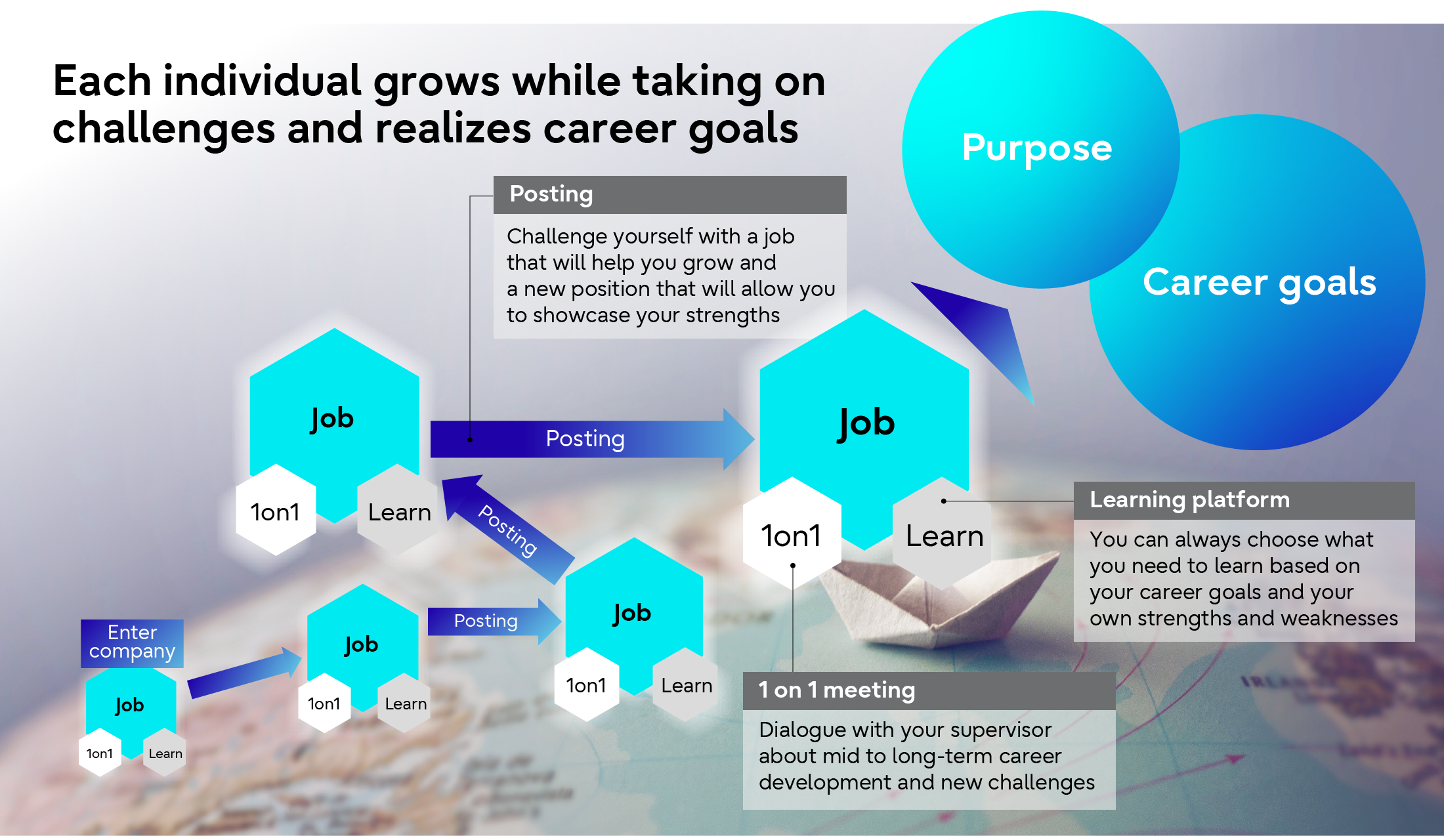 Framework for Supporting the Career Realization of Each and Every Employee
Initiatives Supporting Fujitsu Uvance
In order to advance Fujitsu Uvance, the business brand that we have set forth to realize a sustainable world, we need people with expertise and the ability to implement change that will enable us to face and solve the issues facing society and customers. Through various initiatives, we support the realization of Fujitsu Uvance and our purpose from a human resource perspective.
Fujitsu Innovation Circuit
The Fujitsu Innovation Circuit aims to enable us to become a company where anyone can take on challenges, where conversations about what has been learned from challenges and support for those taking on challenges are commonplace, and where intrapreneurs (internal entrepreneurs) are born to lead Fujitsu into the future and realize the world we aim to create with Uvance.
Under the full supervision of Yasuhiro Yamakawa, Associate Professor of Entrepreneurship at Babson College in the US, the Academy and Challenge stage, which began in November 2021, fosters intrapreneurs through learning and practice of entrepreneurship. By the third iteration, 571 people have participated and acquired the corporate know-how and mindset. Moreover, we established the Growth Program in July 2022 as a practical program that incubates high potential projects among business ideas derived from the Challenge Program. In FY2022, there were a total of seven projects promoted.
Global FDE
Global Fujitsu Distinguished Engineers (below, "Global FDEs") are the technological face of Fujitsu, spearheading solutions to our customers' business challenges by leveraging their superior technological capabilities. Recognized as the pinnacle of Fujitsu Group engineers by common global standards, they participate in the formulation of our business and technology strategies.
We have established the seven certification areas of networks, cybersecurity, AI, data, computing, hybrid IT and project management, which are the future key technology areas of our new business. As of FY2022, a total of 33 Global FDEs were certified.
Furthermore, we will position it as a benefit and career path for engineers who contribute to business strategy and customer value creation in conjunction with a job-based personnel system.
Reskilling
Fujitsu offers a reskilling program based on the skill level of individual employees in order to strengthen the workforce for expanding the Business Application business, which is one of the key focus areas for developing a technological foundation to address cross-industry challenges within Fujitsu Uvance.
One of the programs offered is the Global Strategic Partner Academy. This program is Fujitsu's strategic technology partner, which is implemented through collaboration between ServiceNow, Inc., SAP SE, and Microsoft Corporation, the world's top IT service providers. It has been rolled out globally as a universal program, allowing learners to acquire knowledge and skills of the three companies' services, as well as cutting edge digital technology and know-how. The aim of the program is to increase the number of personnel with highly specialized knowledge and know-how. Starting in December 2021, Fujitsu has been offering highly specialized IT services to its customers thanks to the 57 employees who have completed this program to date.
We aim to invest in human resources over the long-term to achieve a sustainable society through technological innovation. At the same time, we aspire to create an environment where anyone can take on digital related job duties and work together with partner businesses and customers in maximizing the potential of digital technology. We will aid in addressing challenges faced by customers and society by strengthening global collaboration with human resources that excel in digital technology.
Initiatives Supporting Career Ownership
We are supporting the growth of our people by providing multiple options in career development and training to empower them to take actions towards reaching specific career goals.
FUJITSU Career Ownership Program(FCOP)
We offer the FUJITSU Career Ownership Program (FCOP) as a support program to help each Fujitsu employee take career ownership and realize their career goals. We host Career Café as a practical workshop centered on dialogue, providing participants of the same generation with the opportunity to share ideas with one another and receive new career inspiration.
Employees can also use career ownership diagnosis as a tool to understand where they stand in terms of career ownership. The tool contains 16 simple questions that provide insight into an employee's current career ownership status and actionable tips. The accumulated statistical data serves as an important tool for visualizing and utilizing human capital data to better understand career autonomy and challenges faced by the organization.
Furthermore, we offer expanded career interviews with in-house career counselors to provide a third-party perspective for employees to thrive and actively participate at work in their own unique ways. In-house career counselors are staffed by managers with job experience. Over 1,000 employees have sought advice to help achieve their desired goals.
Purpose Carving
"Purpose Carving" is a program that encourages employees to verbalize their own purpose through dialogue with colleagues. At Fujitsu, we focus on the individual purposes of employees and in less than two years since the program's inception, we have carved out "My Purpose" among more than half of our employees, approximately 70,000 people. The program has become an engine that drives our digital transformation. As it shows a growing correlation with personal, organizational and corporate transformation, Fujitsu is also considering expanding the program as an organizational transformation service program available to external parties.
Promotion Structure
We are building a system to promote human resource development measures in a globally integrated manner in order to realize our purpose. The Engagement & Growth Division is in charge of human resource development in line with company-wide management policies, while the Human Resources Development division in each business unit is responsible for human resource development in line with divisional strategies and business needs, and clarifies human resources and skills to be strengthened and plans training measures. In October 2022, the Skill Ownership Office (SOO) was established as an organization dedicated to employees' skill development. The office consolidates the reskilling and upskilling opportunities across the company to promote human resources capable of leading Fujitsu's business globally, with the aim of achieving Fujitsu Uvance.
In addition, we are promoting knowledge sharing on a global basis in cooperation with the human resource development departments in each region, and supporting all employees to learn and grow through a combination of region-specific and local measures.
The execution of highly specialized training and education is handled by Fujitsu Learning Media Limited, a Group company that provides human resource development services.
Main Initiatives of Each Region
Employee Support Workshop in Global Delivery
In 2022, a workshop targeting incumbent, new and future managers was launched in the second quarter in Global Delivery, which received positive feedback from participants. To date, a total of six training sessions led by global trainers have been held, with over 100 employees participating in each session. The training covered themes including advice on self-care for managers, staff management in stressful situations, improvement of empathy, unconscious bias, and principles of time management.
Workshop to Improve Work-Life Balance in Taiwan
Fujitsu Taiwan Limited (FTL) conducts an online workshop that supports employees, particularly women, to improve their communication skills aimed at achieving a balance between family, life and work. The goals of the workshop are to enhance employees' well-being and work-life balance, as well as to increase their work engagement. We believe that management of employees that harmonizes and integrates employees who each belong to a different community and affiliation will help empower employees and improve their well-being.
FY2022 Performance
Average Annual Hours Spent Learning and Annual Cost of Learning Per Employee (Fujitsu and its domestic Group companies)
 
Total Average
Average Annual Hours Spent Learning
*Global overall
46.5 hours
Annual Cost of Learning
*Global overall
75,400 yen