Intellectual Property (IP) Strategy to Support Fujitsu's Purpose
Policy (IP Management and Corporate Value)
Fujitsu's Purpose is to make the world more sustainable by building trust in society through innovation. To achieve this, the aim of our intellectual property management policy is to contribute to innovation and new value creation in the Fujitsu Group by strategically building and utilizing intellectual capital, including our technology, our brand and our designs.
Intellectual property management has two facets. One is the construction of an intellectual property portfolio by acquiring the rights for the intellectual capital already held by the Fujitsu Group and then using that portfolio to create new value. The other facet is risk management, which consists of lowering the incidence of risks likely to diminish our corporate or social value, primarily through measures that promote respect for and prevent violations of our rights and those of third parties.
Contributing to Value Creation
We are progressing and appropriately managing the acquisition of the rights to the technology developed by the Fujitsu Group and to the designs and brands created to deploy that technology in the community. This expands our opportunities for generating licensing income, better differentiates our offerings from the technologies and services provided by competitors and maintains or enhances the competitive advantage of Fujitsu Group technologies and services.
We are also assisting with the search for new growth opportunities by investigating, analyzing and sharing information on a wide range of global technology trends, including the status of patent applications in strategically important areas for the Fujitsu Group. Open Source Software (OSS) is an indispensable resource for digital services, and Fujitsu is an active participant in the OSS community, helping to create environments that promote innovation and build a value co-creation ecosystem by formulating rules for the use of intellectual property.
Reducing the Risk of Value Loss
One important way to reduce the risk of losing corporate value by protecting intellectual property. Third party violations of rights held by the Fujitsu Group not only obstruct the progress of our business strategy, they also have the potential to negatively impact customers' trust in the Fujitsu brand in a competitive environment. For this reason, we constantly monitor for violations of our rights, and where a proposal is discovered that could potentially cause a rights violation, we immediately put in place appropriate countermeasures.
Fujitsu's Code of Conduct which, together with our Purpose and Values makes up the Fujitsu Way, clearly states our commitment to respecting and protecting intellectual property and respecting the intellectual property rights of others, just as they respect our own acquisition of rights to intellectual capital. We are formulating Rules for Handling Intellectual Property Rights that link this Code of Conduct to specific actions, and these rules are being applied to Fujitsu and Group companies in Japan that undertake actions involving intellectual property. We are also working to reduce the risks of violating rights held by third parties through measures such as thoroughly researching patent violation avoidance, careful OSS license management, and responding to in-house consultation requests concerning the terms of intellectual property agreements.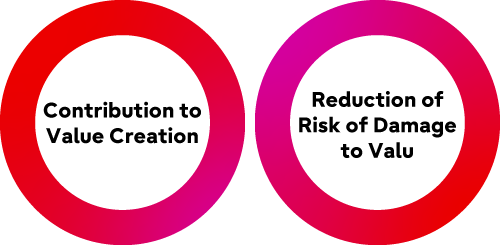 Structure of the Intellectual Property Division
The Intellectual Property Division (the Intellectual Property Global Head Office), which belongs to the Legal and Intellectual Property Unit under the General Counsel, consists of the IP Intelligence Service Office, which supports research laboratories and provides IP landscapes to the front office, the Intellectual Property Strategy Office, which formulates and promotes company-wide intellectual property strategies based on communication with management, and the Intellectual Property Center, which implements intellectual property portfolio construction. In addition to collaborating within the division, we also work with the Legal and Intellectual Business Promotion Center, which is affiliated with the Global Business Legal Department and promotes intellectual property activities for business producers and SEs, and Fujitsu Techno Research Ltd., which provides intellectual property-related services, to execute intellectual property management.
The formulation of IP management strategy and policy for the activities of the Intellectual Property Division is not limited solely to the Division itself, but is undertaken in collaboration with the Technology Units headed by the Chief Technology Officer (CTO) and Chief Portfolio Officer (CPO) and with the responsible IP strategy managers within the Business Units. In this way, IP management is integrated with our broader management strategy and business portfolio strategy. In addition, at meetings of the Independent Directors & Auditors Council, which includes external directors and auditors, the Head of the Legal and Intellectual Property Unit reports on the strategy and progress of intellectual property management and provides opportunities for discussion with management.
Group-wide Global Collaboration
Fujitsu has developed an intellectual property governance structure to make the best possible use of its intellectual capital throughout the Fujitsu Group. This ensures that IP-related activities undertaken by Group companies in Japan are integrated. Where a company undertakes independent IP activities as a partial exception, a reporting line is set up and the activity is conducted through close collaboration. Globally, including the utilization of the reporting line, regular meetings are held involving regional IP managers in Europe, India, China, Australia and the United States. Additionally, through intellectual property support for research facilities established in another 8 countries around the world to ensure that all IP management conforms to the realities of global business.
Collaboration with Technology and Business Portfolios
Fujitsu's stated purpose is: "To make the world more sustainable by building trust in society through innovation", and our key strategies have sustainability as their starting point. One of the key strategies for the Intellectual Property Division is its Technology strategy, which is to enhance its core technologies with AI as the focus. Taking a structured approach to progressing Fujitsu's IP activities in collaboration with our Technology and Business Portfolio strategies helps to maintain and strengthen the Fujitsu Group's competitive advantage and acquire new business opportunities. IP activities go far beyond merely exercising our IP rights to generate licensing income. Our focus is on growing our customer base and strengthening our negotiating position by highlighting the Fujitsu Group's technological strengths and the superiority of its offerings, and by distinguishing our own offerings from those of our competitors. We achieve this through activities such as discovering patents at the development stage and acquiring the rights for those patents, and then highlighting those patents during business negotiations.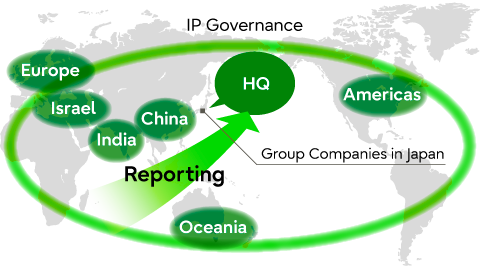 In Japan, activities of the Intellectual Property Division are carried out together with those Group companies engaged in IP activities. There are some exceptions, in which the Intellectual Property Division establishes reporting lines to, and implements closely coordinated activities with, certain companies that conduct IP activities independently.
The Division has also established global reporting lines with regional intellectual property managers(IP CoE) in Europe, China, Australia and the United States, and holds regular meetings to ensure that all IP activities conform to the realities of global business.
Initiatives
Fujitsu's purpose is: "To make the world more sustainable by building trust in society through innovation", and we pursue our key strategies with sustainability as the starting point, as set out in the Medium-Term Management Plan released in May 2023. In terms of investment in intellectual property, Fujitsu is building an IP portfolio intended to create added value in our services business and is enhancing AI-centered technologies as part of our Technology strategy, one of our key strategies. We are also engaged in leveraging IP for co-creation, including collaboration to help achieve the SDGs under the FUJITSU Technology Licensing Program™ for SDGs. The Company is also engaged in using OSS, international standardization and rulemaking to establish social rules that engender trust and confidence in deploying Fujitsu's advanced technologies, and strategic initiatives to support the Key Focus Areas from a brand and design perspective.
The following section highlights case studies of open innovation involving key technologies where particular emphasis is placed on building an IP portfolio, as well as case studies of IP activities aimed at solving societal challenges, case studies of open innovation where IP is used for co-creation, and case studies of international standardization and rulemaking that address the creation of social rules that can be used globally.
Open Innovation Case Studies
Computing: Digital Annealer (Co-creation with MELCO Investments)
Deploying the Digital Annealer architecture in stock portfolio optimization calculations
Having developed Digital Annealer (DA) as a quantum-inspired architecture dedicated to solving combinatorial optimization problems at high speed, Fujitsu is applying for numerous patents, primarily for the core technology. The Company has been conducting trials and co-creation with clients based on differentiated technologies that are supported by patents. In the area of investment in equities managed by MELCO Investments, DA was successfully used to generate portfolios comprising combinations of stocks with the lowest risk. As a result, MELCO Investments began using DA to manage financial assets in some areas of its actual portfolio management operations in January 2022.
Conventional approaches to performing optimization calculations to determine the optimal portfolio from several hundred stocks were highly impractical because they required massive computing power and a lot of time. Using Fujitsu's DA, it is now possible to perform this task in about 10 minutes. This has enabled MELCO Investments to use analytical results, based on more accurate calculations, in their actual asset management operations.
Networking: IOWN (Strategic Business Alliance with NTT)
Joint R&D to develop next-generation 6G network technology
NTT Corporation and Fujitsu forged a strategic business alliance in April 2021 to engage in joint R&D activities toward the "realization of a sustainable digital society." The innovation created through this alliance is designed to contribute to achieving the vision of a new low-energy, high-efficiency digital society through global, open collaboration with a wide range of partners who support the Innovative Optical and Wireless Network (IOWN) initiative.
Through this alliance, the two companies aim to conduct joint research in fields where both can leverage their strengths, backed by communications technologies such as the world's most advanced optical technologies for which NTT and Fujitsu combined hold the largest number of patents worldwide. With their operational expertise, plus Fujitsu's world-leading computing technologies, the companies aim to fulfill their shared vision through global, open innovation that leverages the results of their research.
AI: Joint Development with Subaru
Employing AI modeling to deliver quality assurance in manufacturing
Subaru Corporation and Fujitsu have been co-creating through PoCs, development, and trials since 2019, using high-precision AI modeling to deliver quality assurance in the engine component (camshaft) grinding process. As part of this collaboration, the two companies created and commercialized the industry's first AI invention to implement automated quality inspection and prediction of engine parts, and jointly applied for patents. In addition, the two companies developed and verified the "FUJITSU Manufacturing Industry Solution COLMINA Production Line Quality AI Operation and Management Package", which provides management support for the AI model in anticipation of mass production operations. The system became fully operational in February 2022. As a result, quality assurance during engine component grinding was achieved with high precision and in real time. The AI model continues to operate at an efficient level, maintaining AI model quality on an ongoing basis. Furthermore, Subaru established an AI platform to improve the level of quality assurance using real-time data throughout its Gunma Manufacturing Division, including at the Oizumi Plant.
Solving Societal Challenges: Ontenna – a Wearable User Interface that Turns Sound into Vibration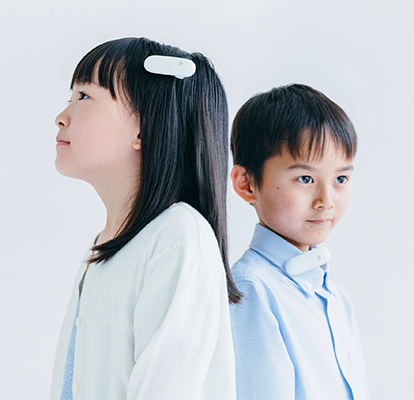 A mixed-IP strategy to support solutions to societal challenges
Ontenna is a radically new user-interface device that can be worn on the hair, earlobe, collar, cuff, etc., enabling the wearer to pick up tonal characteristics through vibration and light. It was developed in collaboration with the Deaf and the hard-of-hearing to enable a future that they can enjoy together with the hearing.
Ontenna is characterized by a gently rounded shape that does not feel unpleasant as it can be worn like a hairpin. Fujitsu has applied for and registered design patents for the main body, the battery charger, and the controller that can control multiple Ontenna devices, and has also registered the shape of the main body as a 3D trademark. Fujitsu has also applied for and registered patents for Ontenna's charging method and communication system, using a mixed-IP strategy to protect the main body and peripheral devices.
Ontenna was awarded the "Imperial Invention Prize" in the 2022 National Commendation for its design patent. It has also won several other awards including the 2019 Good Design Award "Gold Prize," the IAUD International Design Award "Grand Prize," and the Local Invention Award from the Commissioner of the Japan Patent Office, earning high acclaim from both inside and outside of Fujitsu.
Co-creation: FUJITSU Technology Licensing Program™ for SDGs (Haloworld)
Co-creative development of 3D Scanner "BeTHERE"
Fujitsu is promoting the brand FUJITSU Technology Licensing Program™ for SDGs, an initiative that encourages companies and academic institutions to use the Group's intellectual property including patents and know-how as a key means of contributing to SDGs to make the world more sustainable through innovation. Fujitsu engages in collaboration via WIPO GREEN (an online platform for the exchange of environmentally friendly technologies) and IP matching programs at the national and local government levels, at financial institutions, and at universities. This contributes to the social diffusion of Fujitsu technologies to help advance a resolution to COVID-19, to conserve the environment, and to revitalize Japan's regional economies.
One case study of IP matching is the development of the BeTHERE 3D Scanner, commercialized after robotics startup Haloworld was given a demonstration of Fujitsu's patented 3D digitizing technology prototype in 2019. This led to collaboration and the licensing of the patent to Haloworld.
BeTHERE is a 3D scanner that can capture 360-degree images at a chosen location and check the captured data on the spot. It performs texture mapping to map the captured images to 3D point cloud data where distances can be determined. With mass production in mind, Haloworld received the license to the technology for integrating (aligning) 3D point cloud data recorded multiple times from different locations. The company also upgraded the user interface to enhance operability and made additional improvements, such as dustproofing and drip-proofing, as well as improving the measurement accuracy by applying the latest LiDAR (Light Detection and Ranging) sensor to measure the distance to an object.
BeTHERE
* "Like Being There"
Compact & lightweight,
easy to install
WiFi remote control
Has a measurement data
transmission function
3D measurement time: 30
sec
Easily consolidate multiple
data points
Modeling of 3D
visualizations
3D measurement in all
directions
Distance radius: max 60 m
Up to 2,770,000
points/measuremen
[3D scanner "BeTHERE"]
Data & Security: Rulemaking Activities to Promote Take-up of Japanese Electronic Seals
Developmental and industry activities for electronic seals that enable secure and smooth transactions involving digital documents
Between April and September 2022, Fujitsu, Teikoku Databank, Ltd and several other companies conducted a demonstration test for the social implementation of the Japanese version of electronic seal (e-seal). An e-seal is a mechanism for guaranteeing the legitimacy of the issuing organization when documents are exchanged digitally, and e-seal has been specified in "Guidelines for e-seals" issued by the Ministry of Internal Affairs and Communications (MIC).
By linking Fujitsu's "Fujitsu Computing as a Service Data e-TRUST" service and Teikoku Databank's knowledge of corporate identity certification, we confirmed the usefulness of e-seal in actual business operations such as digital document exchange between companies. We then published a report with recommendations on standards and systems derived from them.
The Japan Digital Trust Forum (JDTF) to which both Fujitsu and Teikoku Databank are members are engaged in making rules and building mechanisms that will help in achieving trust in data (digital trust). This includes helping with research into e-seal systems as well as broader investigations looking at requirements for the wider use of e-seals, both technologically and operationally, and then publishing those findings as instruction manuals.
To build a society in which transactions involving all digital documents are conducted both securely and smoothly, Fujitsu is working to promote the broader adoption of e-seal through rulemaking activities, including proposals with partner companies and cooperation activities within industry associations.

Service model image used in demonstration test