Carrying Out Life Cycle Assessment (LCA)
Carrying Out Life Cycle Assessment (LCA)
The Fujitsu Group introduced the Green Product Evaluation System in 1998 to enhance the development of environmentally friendly designs. Since then, we have been implementing LCA when developing new products and utilizing it to further improve the environmental design of our products. For some of our products, we are also working toward obtaining environmental labels such as EcoLeaf and the Electronic Product Environmental Assessment Tool (EPEAT) by making use of our internal product LCA initiatives.
As products become increasingly service-oriented and more and more cloud-based businesses using the IoT appear, society's needs with regard to sharing have grown, and there is increased pressure to consider the Circular Economy from a policy perspective. In particular, by developing sharing services and other such services, we can contribute to the Circular Economy by promoting the reuse, refurbishing, and remanufacturing of parts, as this enables maintenance during use and collection after use to be performed more efficiently. For these reasons, in the 2019 fiscal year, we began examining the effects of servicizing green products with environmentally friendly designs, regarding them as products that support services.
In addition, the use of LCA is required in various industries. Fujitsu actively participates in the JEITA Green x Digital Consortium MIERUKA WG, a cross-industry project that started in fiscal 2021. The WG aims to utilize Ricoh's LCA know-how to support companies that implement data distribution and design for the environment that contribute to carbon neutrality in the global market and throughout the entire supply chain. In particular, Fujitsu is the leader of the SWG for data format collaboration.
The life cycle flow of a product LCA is as follows.

Scope of LCA for a product
The ratio of each life cycle stage is shown when the total CO2 emissions of the life cycle are taken as 100.
Conducting LCA in Servicizing
To understand whether providing services reduces environmental impact and where the trade-offs lie in a society where sharing is becoming more widespread, the Fujitsu Group is working together with related servicizing departments to conduct LCA for services as functional units. For example, we estimated the effectiveness of cloud services for servers by comparing them to on-premises software. When servers were consolidated in a cloud data center, server operation and data processing were found to be more efficient than when using on-premises software. Furthermore, resource consumption and waste were estimated to be reduced due to highly efficient resource recovery achieved by reusing (refurbished) parts for maintenance and recycling after use. We learned that not only do these initiatives reduce CO2 emissions, but also helps reduce resource-related environmental impacts. We will continue to practice LCA for various servicizing efforts and use it to identify LCA issues in servicizing, to consider circular product design with a focus on the point of use in order to transition services to low-carbon and circular systems, and to form business models. We anticipate that the shift towards sharing and cloud computing will continue to accelerate, and we aim to contribute to Goal 12 of the SDGs "Responsible Consumption and Production" by helping to build a sustainable society by providing services (functions) that conserve energy and resources and achieve sustainable business.
The lifecycle flow in servicizing is as follows.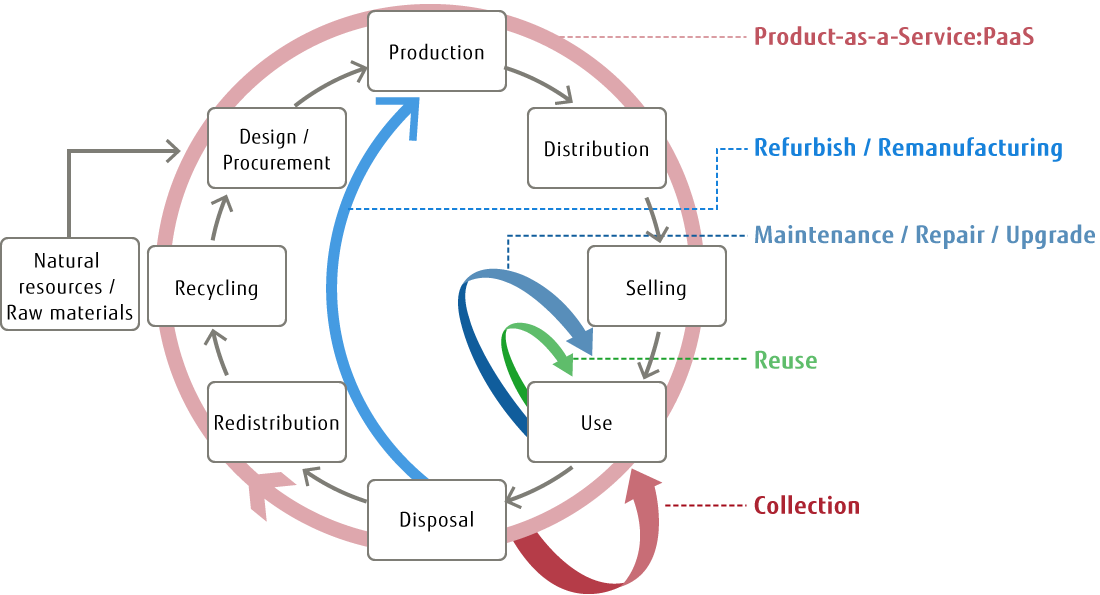 Scope of LCA in Servicizing