Approach
To ensure a stable, long-term contribution to the realization of Our Purpose, it is essential to build trusted relationships with all stakeholders and to pursue sustainable growth. We have therefore incorporated non-financial indicators as part of our core business activities, and we are promoting initiatives to achieve them in tandem with our financial targets. Based on this approach, and to measure the progress of in-house reforms, the Fujitsu Group established three non-financial indicators: the Net Promoter ScoreSM (NPS®) (*1) represents trust from customers; Employee Engagement indicates the relationship between the company and its employees; and the DX Promotion Indices highlight the advances made in the Fujitsu Group's own digital transformation initiatives.
As part of a review of non-financial indicators in May 2023, we determined to continue measuring NPS and Employee Engagement and we added two new indicators. In the area of Diverse Leadership we will track the ratio of women in leadership roles, and as an environmental indicator we are focusing on the Reduction of Greenhouse Gas (GHG) Emissions.
(*1)

Net Promoter, Net Promoter Score, and NPS are trademarks of NICE Satmetrix, Inc., Bain & Company, Inc. and Fred Reichheld.
Net Promoter ScoreSM (NPS®)
NPS® is an indicator that enables objective evaluation of the relationship of trust with customers, or customer loyalty. Unlike customer satisfaction, which indicates the degree of satisfaction or dissatisfaction with a purchased product or service, customer loyalty is characterized by the ability to determine the degree of customer attachment and the likelihood of repeat purchases. The Fujitsu Group employs customer NPS as one of its non-financial indicators with the aim of realizing customer-centric management. By listening to our customers' views via NPS and offering services that appropriately suit their requirements, or by making proposals that anticipate their future needs, the value of the customer experience will be enhanced and our customer NPS will rise further. We believe that creating such a positive cycle will result in a boost to the corporate value of the Fujitsu Group.
As a structure to achieve this objective, at the working level we have appointed customer experience leaders in each region to take the lead in a timely manner in relation to improvement activities. On the management side, meetings of the CX Steering Board are convened every quarter, headed by the CEO and attended by those responsible for Fujitsu's business operations in all regions. This system ensures that customer issues are reliably resolved at the working level while simultaneously addressing them as management issues. The implementation of a "feedback loop" allows those involved to propose improvement actions, examine areas for investment, and verify the effectiveness of measures already taken.
NPS results and target
Given this background, we set a target of 3.7 points in FY2022 based on the improvement result of +2.3 points in FY2021. As a result of our activities, however, we recorded a significant jump of 18.1 points over the previous fiscal year. Specifically, the Fujitsu Group was recognized for providing proposals based on a deep understanding of the customer's business challenges, for our experience in offering digital transformation projects, and for the initiatives undertaken in Fujitsu's own transformation.
At the same time, for the future, we acknowledge the need to focus on consultancy support relevant to our customers' business challenges and on execution capabilities to advance transformation for our customers. Promoting reskilling and digital transformation offering enhancement will elevate the capability of the entire Fujitsu Group to offer comprehensive business support for customers.
Based on the results of the customer survey conducted globally in FY2022, we will continue to improve our strengths in the areas that were highly appraised and focus on areas that require improvement, aiming to boost the score by 20 points until FY2025 as the target of the medium-term management plan.
Employee Engagement
The Fujitsu Group's greatest management resource is its employees, who are the source of the value provided to customers. Our experience suggests that highly engaged employees are better able to provide high-quality services to our customers, and that positive customer feedback correlates to an increase in employees' responsiveness to their work. We believe that improving the engagement of each employee leads to the growth of both the individual and the Fujitsu Group.
Based on this concept, to measure the sustainable growth of the Fujitsu Group we established Employee Engagement as a non-financial indicator that shows the mindset of employees and their empathy with the organizational culture. At Fujitsu, Employee Engagement is defined as "an indicator that shows the degree of employees' motivation and attachment to work and their willingness to contribute independently in empathy with the company's direction and purpose." Employee Engagement can also be considered an indicator that illustrates the Fujitsu Group has the necessary human resources and other capabilities, including organizational culture, to gain the trust of customers as a DX partner.
FY2020
(results)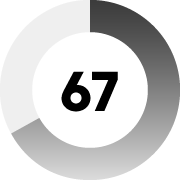 FY2021
(results)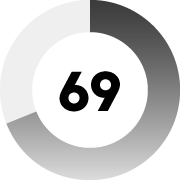 FY2022
(results)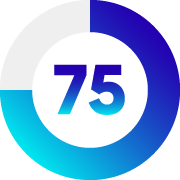 FY2025
(target)
The target Employee Engagement value of 75 for FY2022 is a figure that has been determined by benchmarking against global corporations. The actual scores can vary greatly across the Group, because they are impacted by the relevant company's business area, the business environments in different countries and regions, and the diversity of our employees' countries of origin. While it is true that 75 is an ambitious target for the Fujitsu Group, we are nonetheless striving to achieve this goal with the aim of being on par with other global enterprises.
Fujitsu has put in place a structure for global collaboration across all regions to boost engagement. This includes the Center of Excellence, a specialist team dedicated to creating highly engaged organizations, and Human Resource Business Partners, a team of strategic HR partners who are active in every work location. As a specific initiative, we have introduced measures to broaden employees' workstyle options, after clarifying their individual purpose. This includes a semiannual survey conducted on a global basis to measure employee engagement. The objective is to gauge in a timely manner changes in organizational culture, employee workstyles, opinions, and awareness, and to swiftly reflect the outcomes back to management.
Based on the surveys conducted to date, to enhance engagement it is important for senior and middle management to take action together with team members, so this point is being reinforced in every organization. Also, it is crucial that managers and staff develop a strong relationship of trust. Trust is a core feature of the Fujitsu Way and the corporate purpose, and trust is built by discussing a shared vision based on each person's individual purpose and does not flow simply from routine task reporting and discussions. Strong trusted relationships can help to overcome a range of environmental changes and lead to mutual growth for both parties. The surveys include questions to periodically measure these relationships, with the questions leading to mutual opportunities for behavioral change and growth while also serving as a catalyst for initiatives to boost engagement. Non-financial indicators are very effective, and we believe it would be even better if we could incorporate employee engagement data and publish a reference model in the future, based on data analysis, with the aim of improving each of the non-financial indicators.
DX Promotion Indices
To capture the changes that the Fujitsu Group is undergoing on the path to achieving its Purpose, we have specified DX Promotion Indices (*2) as one of the non-financial indicators, and we are conducting a maturity diagnosis on our digital transformation (DX) initiatives in a common format across all Group companies globally. By conducting detailed diagnoses for each department, we can gauge the progress of our DX efforts and the outcomes of measures so that they can be linked to future actions. Another objective in specifying these metrics is to accumulate knowledge that can be leveraged when working as a partner on DX projects with customers. By implementing initiatives in line with the DX Promotion Indices and by enhancing the level of DX maturity, we believe the Fujitsu Group can relay to customers through its business activities the insights gained in the process.
(*2)

Evaluation indicators for digital management reform on a six-point maturity scale, ranging from 0 to 5. There are seven items relating to "Indices for ideal approaches to management for promoting DX and systems" and two items relating to "Indices for development of IT systems as a foundation in achieving DX".
DX Promotion Indices
Fujitsu set a numerical target of 3.5 for the DX Promotion Indices in FY2022 but exceeded that with a result of 3.56. According to the Japanese Ministry of Economy, Trade and Industry's DX Promotion Index, companies scoring an average of 3 or more across all qualitative indicators are classified as being a "Noteworthy DX Company". We consider this to be a recognition that we have reached a leading position among Japan's top DX enterprises and the fact that we are also performing at a global level.
Compared with the results from the diagnoses in FY2021, we recorded improvements in three areas: "mindset and corporate culture", "incorporation into the business" and "IT governance framework". In terms of mindset and corporate culture, initiatives such as our job-based personnel system and Fujitsu Innovation Circuit, a business creation program, are now firmly entrenched throughout the company. Regarding incorporation into the business, we accelerated initiatives including Fujitsu Uvance, service delivery reform, and business process transformation, while the promotion of global integration efforts also led to enhancements. Finally, in the area of our IT governance framework, major improvements were triggered by the consolidation of IT systems under the OneFujitsu Project – including OneERP and OneCRM – which led to greater global standardization.
The DX Promotion Indices are specified on the assumption that each company conducts self-diagnosis. To ensure objectivity in the self-diagnoses undertaken at the end of each fiscal year, as a basis for scoring the Fujitsu Group uses input from all employees (gathered in Group-wide semiannual surveys on opinions regarding change) and incorporates a third-party evaluation by Ridgelinez Limited. The feedback from employees is not used solely as the basis for measuring the DX Promotion Indices but is also shared with executives, department heads, and DX leaders across all departments as part of the Group-wide DX project "Fujitra" (Fujitsu Transformation). The objective is to gauge the progress of the Group overall, as well as in each department, and to use the information when making decisions on the next measures to be taken and on any necessary adjustments to the trajectory of the project.
By implementing a range of measures based on the DX Promotion Indices, we have created a foundation that enables all Group employees to adopt initiatives for reform. Furthermore, we view the recognition by external stakeholders of the Fujitsu Group's transformation to be a major achievement.
New Indices
As part of the Medium-Term Management Plan announced in May 2023, in addition to the existing personnel-related indicator of Employee Engagement we specified a new Diverse Leadership indicator, the ratio of women in leadership roles, as well as an environmental indicator for the Reduction of GHG Emissions.
Diverse Leadership (ratio of women in leadership roles)
The DE&I vision for the Fujitsu Group includes "Build an inclusive and equitable culture where everyone belongs and can be completely themselves." Gender is positioned as one of the five focus areas in the Global DE&I Vision & Inclusion Wheel.
To transition into an enterprise capable of sustainably generating innovations and providing value to customers while meeting the requirements of communities with diversified values, it is essential to create an environment and culture in which a diversity of people can each optimally leverage their different viewpoints and abilities. As a first step toward this objective, we have set the ratio of women in leadership roles as a new non-financial indicator. We based this on the results of research that determined "when the ratio of a minority group in an organization reaches 30% a chain reaction occurs that changes the organizational culture." The target set for the end of FY2030 is to have a 30% ratio of women in leadership roles throughout the Fujitsu Group, with an interim milestone target of 20% by the end of FY2025.
In addition to achieving the goals described above, to create an environment and culture in which a diversity of people can each optimally leverage their different viewpoints and abilities, we will encourage various initiatives, such as mindset transformation, positive action, and the promotion of Work Life Shift to enhance our working environments.
Ratio of women in leadership roles
Reduction of GHG Emissions
The Paris Agreement (COP21), adopted in December 2015, set out a long-term, shared worldwide goal of limiting the average global temperature increase to considerably less than 2℃ and preferably 1.5℃ over pre-Industrial Revolution temperatures, as well as the goal of carbon neutrality (net zero emissions) by the second half of this century. Subsequently, following a review of climate change impacts (loss, damage, etc.) based on the latest scientific knowledge, it was declared at the COP26 Glasgow Agreement that the preferred 1.5℃ target would now become the actual target and that the world must aim to achieve net zero by mid-century (around 2050). These rapid changes led the Fujitsu Group to announce a target of net zero for GHG emissions in its supply chain by FY2040, with an interim target of net zero for GHG emissions in Fujitsu's own business areas by FY2030. To help achieve these objectives, we released the Environmental Action Plan (Stage XI). This plan runs up to FY2025, a milestone on the path to the targets, and will give shape to our specific initiatives as we work toward the realization of carbon neutrality.
Fujitsu Group - Scope 1,2*
*Adjusted for business
acquisitions and divestitures
Fujitsu Group - Scope 3* –
*Category 11 CO2 emissions due to
product power consumption only
GHG emissions FY2025 target (compared to FY2020)
As a leading SX company, Fujitsu has a role to play in applying technology to help solve challenges for customers and society while expanding and enhancing the value provided as we collaborate with customers and partners to achieve a sustainable future. It is therefore essential to confirm the global trends and the actions taken in regard to climate change challenges, because a delayed response could lead to a loss of business opportunities. Against this backdrop, we consider the reduction of GHG emissions to be a critical issue and are working on it as one of our non-financial indicators.