Human Rights
Goal
Long-term Goal to be achieved by FY2030
In alignment with the UN Guiding Principles for Human Rights and Fujitsu Group's Human Rights statement, Fujitsu will respect all aspects of Human Rights; for our employees, our supply chain and for our customers, partners and society as a whole. Based on this understanding, Fujitsu Group will operate an effective Human Rights Due Diligence across all of our activities.
Our Approach
The shared values articulated in the Code of Conduct of the FUJITSU Way are guidelines for each employee to follow when conducting their daily business operations. Prime among them is "We respect human rights", a principle that underpins all our corporate activities. We are working to ensure that this concept becomes an integral part of the day-to-day actions of all employees in the group.
In December 2014, the Fujitsu Group released the "Fujitsu Group Human Rights Statement" to promote activities that respect human rights in accordance with this Code of Conduct, as set out in the FUJITSU Way. The statement has been prepared in 21 languages, including Japanese and English, with the aim of ensuring that it becomes embedded in the corporate culture of all our group companies. Fujitsu has also set out the "FUJITSU Guiding Principles of Respect for Human Rights in Employment" to ensure that respect for human rights in regard to employment becomes firmly entrenched.
Fujitsu has publicly announced its support for the ten principles of the United Nations Global Compact(*)based on universal principles regarding human rights and rights at work, such as the "Universal Declaration of Human Rights" and the International Labour Organization's (ILO) "Declaration on Fundamental Principles and Rights at Work". We will continue to drive management practices that respect human rights.
(*)

Ten principles of the United Nations Global Compact:
The compact identifies ten principles in the four areas of human rights, labor practices, the environment, and anti-corruption, which corporations should uphold.
In March 2019, the Fujitsu Group announced the "Fujitsu Group AI Commitment" as an initiative in the areas of Artificial Intelligence (AI) and ethics. This commitment is a set of guidelines that the Fujitsu Group will adhere to as a corporate entity engaged in businesses relating to the research and development, supply, and operation of AI-related technologies. The Fujitsu Group aims to create further value for customers and society through the safe and secure use of AI, as the deployment of this rapidly advancing technology becomes increasingly widespread.
Organizational Structure and Regular Reviews
In accordance with the "Fujitsu Group Human Rights Statement" referred to above, the Fujitsu Group is engaged in building a Human Rights Due Diligence Scheme that identifies the human rights impacts of our business activities throughout the entire global value chain, while also preventing and mitigating any negative impacts.
As part of this activity, we interviewed personnel across a wide range of departments in Fujitsu and exchanged ideas with Japan-based as well as international experts. In doing so, we identified three key areas where our business activities have a major impact; supply chain, employees, and customers and end users. We are now engaged in activities to address human rights issues in these areas.
In order to further drive Human Rights Due Diligence, within the Human Rights and Diversity pillar of our global responsible business activities, we have established a structure of regular meetings for those responsible for promoting human rights in each of Fujitsu's operating regions. We will monitor the progress being made toward achieving our goals and KPIs in this area and continue to exchange ideas on Human Rights Due Diligence.
Activities to Raise Awareness of Human Rights
The Fujitsu Group has established a Human Rights Promotion Committee which is chaired by the board member in charge of human resources. In addition, in 24 Fujitsu work locations within Japan we have set up Regional Human Rights Promotion Committees comprising regional workplace representatives. These bodies implement activities that promote respect for human rights. We have also created similar committees in approximately 80 group companies within Japan.
The head office of the Human Rights Promotion Committee regularly checks on the status of activities and issues with the regional and group company committees. Findings are used by the Human Rights Promotion Committee to summarize activities and set policy directions on an annual basis to drive ongoing, structured educational activities that promote respect for human rights. In order to communicate and entrench the Fujitsu Group Human Rights Statement in the culture of all group companies, we created "Business and Human Rights" posters and displayed them in approximately 230 work locations in Japan and other countries.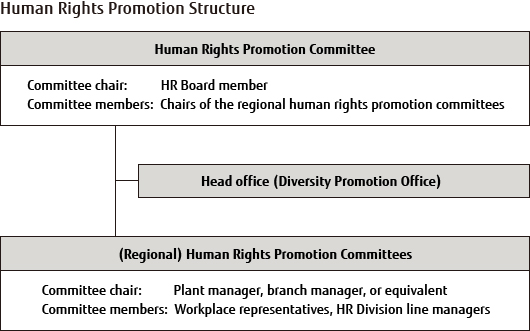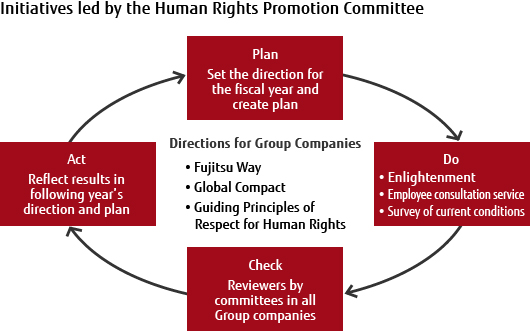 Education on Human Rights
Based on the policy directions set by the Human Rights Promotion Committee, Fujitsu and the group companies within Japan conduct education and training activities using course content that is common across the company as well as content targeting issues specific to a region or group company. There are training programs that all employees undertake when joining the company and upon promotion, as well as other training programs held year-round. These training programs cover various human rights issues, including discrimination against minorities, workplace harassment, understanding of LGBT issues, and human rights issues related to business operations. At Fujitsu, we believe it is crucial for a culture of understanding to be championed by senior management in order to instill respect for human rights. Therefore, we conduct training for newly appointed executives in Fujitsu and our group companies in Japan that addresses our approach to corporate activities based on international human rights standards. Moreover, the Fujitsu Group has developed an e-learning program on "Business and Human Rights" that is intended for all group employees and aims to heighten awareness about human rights issues for every member of staff. As at the end of FY2018, approximately 100,000 employees of group companies, both in Japan and other countries, had undertaken this training program.
Framework for Reporting and Consulting on Human Rights issues
The Fujitsu Group conducts its business activities worldwide in close collaboration with local communities. As stated in the Fujitsu Way, we have established systems to engage in human rights-related consultations and information gathering both inside and outside the company, in order to listen to and understand the opinions of various parties.
The Fujitsu Group has created an intranet-based system for all Fujitsu Group employees to consult and provide input on human rights-related issues. Within Japan, Fujitsu has set up Human Rights Consultation Service facilities in 16 locations. The matters discussed are reported to the Human Rights Promotion Committee and regularly communicated to auditors, with careful consideration given to ensuring that personal information and privacy are respected. The objective is to understand the utilization status of this consultation service as well as to put in place initiatives designed to prevent recurrences of any breaches.
The Fujitsu Group has established the Compliance Line/Fujitsu Alert to receive reports and offer consultations related to compliance issues, including human rights issues, from all Fujitsu Group employees, customers, suppliers and other third parties globally. The Fujitsu Group has also set up the Compliance Line for Suppliers in Japan as a channel for receiving reports from suppliers in Japan regarding any actions that are potential or actual instances of non-compliance in our purchasing activities.
Initiatives to Prevent Forced Labor and Child Labor
The Fujitsu Group has stipulated that it will not use forced labor or child labor. Every year, the Fujitsu Group conducts a written CSR survey based on the ISO 26000 standard in order to check on our initiatives for preventing forced labor and child labor.
We also make our stakeholders aware of the Fujitsu Group CSR Procurement Guideline, which includes provisions on the elimination of forced labor and child labor. Furthermore, we request our suppliers to complete a written survey on the status of CSR initiatives including steps to eliminate forced labor and child labor.
FY2018 Performance
Fujitsu Initiatives Addressing Human Rights Issues in Three Areas of Human Rights Due Diligence
Areas
Human Rights Issues
Major Activities in FY2018
Supply chain
Work environment / conflict minerals

Revised the name of the "Fujitsu Group Policy on Conflict Minerals" to the "Fujitsu Group Policy on Responsible Minerals Sourcing" and expanded the range of applicable minerals
Conducted a CSR Survey to check the adoption status of the RBA Code of Conduct by suppliers (208 key companies we purchase goods from) and actioned the feedback from the survey results
Notified "manufacturing subcontractors" and "manufacturing employment agencies" of the Fujitsu Group CSR Procurement Guideline and requested these companies to submit their written agreement to the guideline
Conducted RBA Code of Conduct adoption audits of nine suppliers
Confirmed the compliance status with the RBA Code of Conduct at Fujitsu group manufacturing sites
Conducted RBA Code of Conduct adoption mock audits of three group manufacturing sites in Japan and elsewhere

Employees
Discrimination and harassment / working hours

Conducted a written survey of 97 group companies in Japan and other countries based on the ISO 26000 standard, to check on the status of initiatives promoting respect for human rights
In addition to expressing Fujitsu's support for the UN's "Standards of Conduct for Tackling Discrimination against LGBTI people" we invited external experts to speak on this topic at a liaison meeting, which the President and all executives attended. This provided an opportunity to think about how to create workplaces and a society which are inclusive, irrespective of a person's sexual orientation or gender identification.
Continued training for new and promoted employees, as well as human rights training by region throughout Japan, with the aim of preventing various forms of discrimination and harassment
Conducted group-wide "Barrier-Free Minds" workshop (group-based training and e-learning) aimed at establishing workplaces and a society in which everyone can participate actively, whether disabled or not
Reviewed internal systems, monitored ICT usage, and delivered management reforms to promote diversified, flexible workstyles that do not assume long working hours are necessary
Conducted "Unconscious Bias" online training for all employees to help reveal underlying systemic discrimination while also further promoting diversity and inclusion
Reviewed internal corporate regulations, documentation, and so on to ensure alignment with the RBA Code of Conduct

Customers and end users
Privacy and data security

Announced the "Fujitsu Group AI Commitment" and conducted an assessment of the impact of AI on human rights. We will systematically identify the points that should be taken into consideration for each industry and for the tasks in each occupation when promoting AI businesses and then refer to these points when planning specific measures.
Education on Human Rights Issues
Discrimination against minorities, workplace harassment, promoting an understanding of gender diversity, and human rights issues related to business operations

Discrimination against minorities, workplace harassment, promoting an understanding of gender diversity, and human rights issues related to business operations

Discrimination against minorities, workplace harassment, promoting an understanding of gender diversity, and human rights issues related to business operations

Training that addresses our approach to corporate activities based on international human rights standards
Activities to Raise Awareness of Human Rights Issues
Held a contest in which employees of Fujitsu and group companies in Japan and their families devised slogans to promote human rights awareness: 6,590 submissions received
Distributed human rights promotional leaflets to employees of Fujitsu and group companies in Japan
Displayed posters promoting human rights awareness in the workplaces of Fujitsu and group companies in Japan