Data Driven ManagementIntegrate data for better decision-making in uncertain times
Fujitsu is helping to transform businesses, industries, and society by combining vast amounts of data to create new insights.
The rate of change in the world is increasing. The way businesses make decisions must digitally shift.
Disruptive competition, drastic work-life changes, and new requirements for sustainability and traceability are among the key drivers for faster and far more complex decision-making. We believe in a data-driven approach.
Being truly data-driven is challenging, and accessing the right data is crucial; however, data is often siloed, spread out, detached, disorganized, fragmented, or even undiscovered. Extracting insights from data is time-consuming and often a manual process. Delivering real world data-driven business results has seemed out of reach. Still, without question, data is too valuable to neglect.
Data Driven: how we apply data to
decision-making processes
Fujitsu uncovers previously untapped data, integrates disjointed data from systems across organizations, analyzes it in conjunction with vast amounts of external data, and creates a holistic 360-degree view. The insights gained enable strategic, fact-based decision-making to build stronger businesses.
Fujitsu: your partner on the
data-driven journey
Fujitsu provides an end-to-end view, with the technical and business experience, the research & development credentials and the industry breadth required of a trusted partner. We employ the latest technologies, including data analytics, blockchain, and computer vision, to deliver more value from your data.
Fujitsu Data Driven solutions are delivering dramatic increases in business agility and speed, greater trust in decisions, and process optimization for higher levels of productivity and profitability.
Fujitsu's Approach to Data Driven Management
Find new connections and insight to extract greater value from your data and empower rapid, fact-based decision-making.
Connect Data
Links between data are quickly and accurately established, and the complex logic behind the data is extracted
Grow Experience Data
The rapid implementation of use cases delivers experience along new paths that in turn becomes additional raw data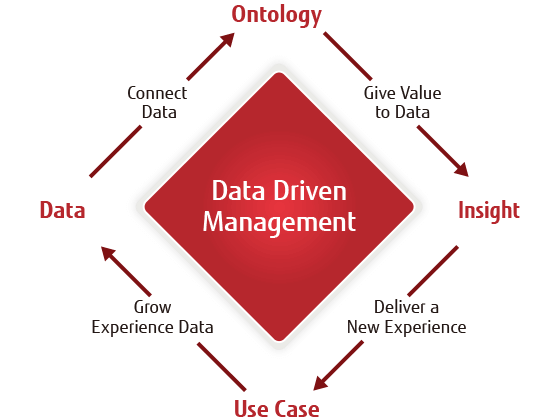 Give Value to Data
Bringing organization to data in a rigorous and hierarchical way delivers previously hidden insights
Deliver a New Experience
Insights fuel hypotheses for new business, offerings and customers.
Hypotheses are tested to develop new use cases
Three Areas of Transformation
Partner with Fujitsu to formulate a data-driven DX strategy, develop the human resources to drive your business transformation, and create new lines of business. Streamlining business processes leads to increased delivered value for your products and services and empowers new customer experiences. Data-driven practices reach across corporate boundaries to deliver industry-wide transformation and Sustainable Development Goal (SDGs) results.
Data Driven Across Business
Fujitsu DX solutions to enable Data Driven Management, gain competitive advantage and deliver sustainable growth.