The Fujitsu Group participates in the following initiatives with the aim of making the Fujitsu Climate and Energy Vision—its medium- to long-term environmental vision—a reality.
Net-Zero Target Certification Gained from Science Based Targets (SBTi)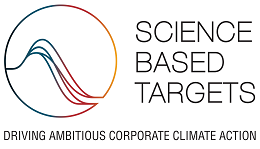 In August 2017, the greenhouse gas (GHG) emission reduction targets set by the Fujitsu Group for emissions from its business facilities and value chain was approved by the Science Based Targets initiative (SBTi) as meeting the science-based level of ambition criteria. The SBTi was established in 2015 jointly by a number of organizations, including the World Resources Institute (WRI) and UN Global Compact. It encourages companies to set GHG emission reduction targets consistent with science-based evidence to the level required by the Paris Agreement, with the aim of limiting the global average temperature increase caused by climate change to 1.5 degrees above pre-industrial levels.
In April 2021, we updated our target to 71.4% and received acknowledgment of our 1.5 °C-aligned strategy from SBTi.
We have now decided to further advance our existing target and aim for net-zero by FY2040. In June 2023, we received Net-Zero Target certification from the SBTi.
Net-Zero Target
To reduce GHG emissions at our business sites (Scope 1, 2) and from the entire value chain (Scope 3) by at least 90% by FY2040 against a baseline of FY2020 (*1).
*1

Less than 10% of residual emissions are removed and stored by technologies that directly capture CO2 from the atmosphere or through absorption by afforestation and other means.
Joining RE100 as Japan's First Gold Member
In July 2018, the Fujitsu Group became Japan's first Gold Member of RE100, an initiative which aims to significantly expand the adoption of renewable energy on a global scale. At the time, the Fujitsu Group pledged to use renewables to provide at least 40% of the electricity consumed across all global sites by 2030, and 100% by 2050.
RE100 is an initiative led by international NGO The Climate Group in partnership with CDP and consists of companies committed to source 100% of their electricity requirements from renewable sources.
With the intention of accelerating its efforts toward carbon neutrality, the Group has since brought forward its previous target date for 100% renewable electricity, shaving off 20 years to achieve 100% by 2030 instead of 2050. To achieve this target, the Group will continue to roll out activities based on the corporate action plan.
The Fujitsu Group will expand its procurement of renewably sourced electricity for data centers outside Japan and other locations in Japan and around the globe by considering the most appropriate means for each region. The Group will concurrently continue its work on R&D and technology trials for energy management and storage, and contribute to the spread of renewable energy in society as a whole.