Examples of Initiatives
Helping build a sustainable future in the UK: Collaborative recycling projects with Heathrow Airport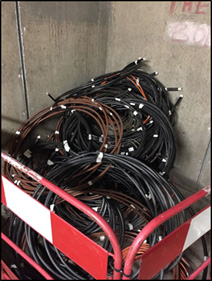 Removed fiber cabling
Fujitsu UK worked collaboratively with Heathrow Airport on two significant projects to help build a more sustainable future and help update Heathrow's environmental standards. Together Fujitsu and Heathrow removed and recycled 24,250kg of fiber cabling. By updating the existing fiber standards to new Glass Reinforced Polymer (GRP) fiber cabling, this decreased the environmental impact of manufacturing Steel Wired Armoured (SWA) Cable, and also reduced chemical impact deployed at Heathrow.
Supporting the Development and drive of sustainable water treatment, the Eastern Balancing Reservoir Project installed the longest single runs of new sustainable and non-toxic fiber cable across the airfield. The non-stop fiber replaced 10km of legacy copper cabling, of which all 11,354kg was then recycled.
The circular nature of these collaborations generated a sum for the Heathrow Community Fund of £15,318. This gave enough funding for 6 community projects. As an example, the 'Digital Inclusion' project trained adults with learning disabilities in how to use computers and provided work experience within their community shop. This project also refurbished unwanted computers, taught the clients how to sell them online to make a profit, which then helps the scheme to continue.
Other community projects included The Older people's festival which funded 9 new raised beds for elderly gardeners, The good company Café, Change R&R and Feltham in Bloom were all assisted from the money generated from recycling the fiber and copper cables.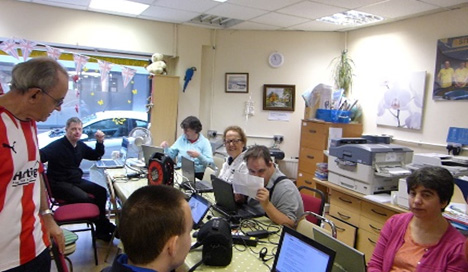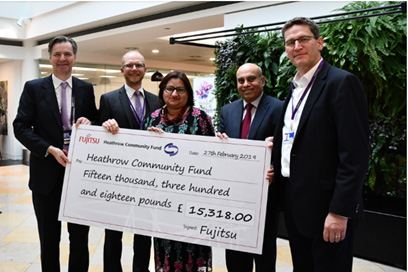 "I also love the 'circular' nature of the collaboration – replacing old, unwanted IT infrastructure generates income to fund training for adults with learning disabilities in skills which enables them to recycle and sell old unwanted computers, and hence get into employment . The project really demonstrates the huge improvement in local communities that can be made by just pausing at the start of a piece of work and thinking 'right, how can I maximize the benefit of this project."
Quote from HCT Director Dr Rebecca Bowden
[December, 2020]
Refurbishment (*1) and Remarketing of old IT equipment in Germany
With 20-years of recycling experience Fujitsu Technology Solutions (FTS) in Germany has a recovery rate of more than 90% with its take-back products, considerably more than the 75% in the legal direction. FTS have set ambitious KPIs for Refurbishment and Remarketing of old IT equipment inline with Fujitsu's Global environment. Our commitments looks further to collaborate with diverse companies that positively impact society. FTS have an agreement with a refurbishment and recycling partner "AfB – Arbeit für Behinderte – Work for disabled people". AFB is a large non-profit IT company, specialised in the extension of product lifecycles of used IT and mobile devices through high-quality refurbishment and remarketing. They offer multi-faceted jobs for people with and without disabilities. All of their work steps are designed barrier-free, promoting people's potential and helping them realize their professional and personal goals with an optimum work-life balance. Throughout our partnership with AFB, Fujitsu have sponsored 63 jobs for people with disabilities over 2019 have contributed to saving 4,856,647 kg of iron equivalent resources and 3,413,304 kg of CO2 equivalents. 82 % of the devices collected from Fujitsu could be remarketed following data destruction, hardware testing and refurbishment.
(*1)

Refurbishment means that the manufacturer replaces deteriorated parts such as initial defects and used products and refurbishes them to make them look like new products. This is recommended as a resource utilization model in the circular economy.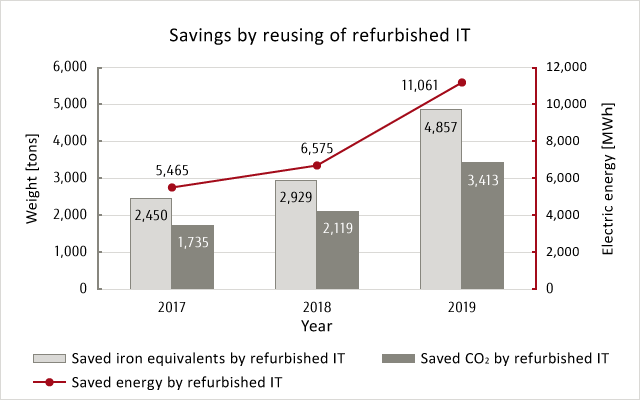 [December, 2020]
Promoting product recycling efforts in Japan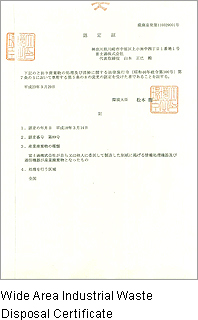 As an enterprise with official designation for wide-area industrial waste disposal in Japan, Fujitsu engages in various kinds of contracts for accepting industrial waste for appropriate processing.
We have established Fujitsu recycling centers throughout Japan to create a nationwide recycling system. This system provides for rigorous traceability and security, and achieves a high resource reuse rate. By providing this safe and secure service, we are fully discharging our Extended Producer Responsibility (EPR).
Providing Product Recycling Information
In order to properly dispose of end-of-life ICT products, since FY2004 Fujitsu has been operating a digital management system for its product disassembly manual.
Through this system, Fujitsu recycling centers can download from our website, as animated disassembly manuals, all the information they need to recycle products. The system also provides instructions on how to deal with items containing restricted chemical substances and plastic materials, and with products that contain customer data.
Promoting Recycling
Experienced workers carefully disassemble collected products by hand and separate the materials into categories such as steel, copper, aluminum, precious metals, glass and 20 different types of plastic. They also strive to raise their manual disassembly standards through the use of animated disassembly manuals. Materials recognition equipment has been introduced for plastics that are difficult to discriminate, so as to allow the complete segregation of different types of plastic. In addition to minimizing the quantity of waste materials in this way, we are continually trying to recycle resources that can be reused to make products.
Also, to keep our customers informed of these initiatives, we distribute ballpoint pens and folders made from recycled plastic at exhibitions and other events, as well as demonstrating PCs being manually disassembled.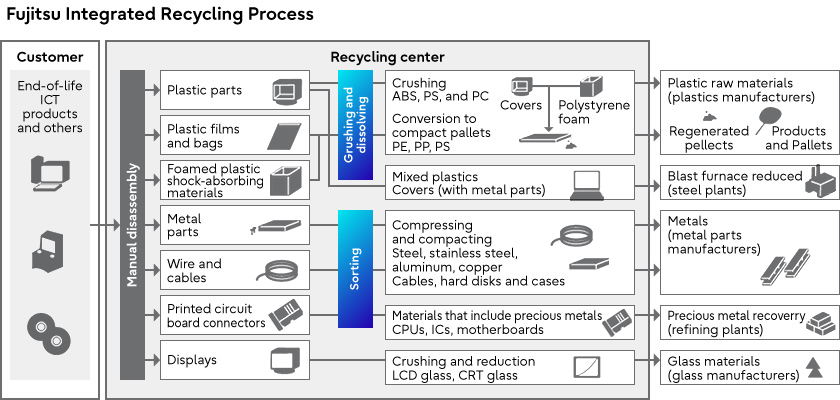 Developing a Traceability System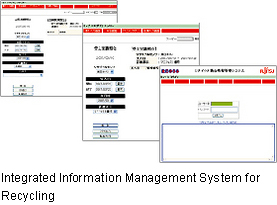 We developed an integrated recycling information management system and since FY 2007 have adopted it at the Fujitsu recycling centers.
Using this system prevents theft and illegal dumping by attaching barcodes to customers' ICT products and managing data on the history of the recycling process from acceptance at the recycling center through disassembly and destruction of the hard disks on a per-customer basis.
Operation of Security Systems
A high level of security is maintained at Fujitsu Recycling Centers by using infrared cameras to monitor automatically for intruders and check the storage status of the accepted products.