Case Studies
Promoting product recycling efforts in Japan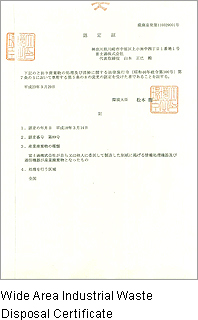 As an enterprise with official designation for wide-area industrial waste disposal in Japan, Fujitsu engages in various kinds of contracts for accepting industrial waste for appropriate processing.
We have established Fujitsu recycling centers throughout Japan to create a nationwide recycling system. This system provides for rigorous traceability and security, and achieves a high resource reuse rate. By providing this safe and secure service, we are fully discharging our Extended Producer Responsibility (EPR).
Providing Product Recycling Information
In order to properly dispose of end-of-life ICT products, since FY2004 Fujitsu has been operating a digital management system for its product disassembly manual.
Through this system, Fujitsu recycling centers can download from our website, as animated disassembly manuals, all the information they need to recycle products. The system also provides instructions on how to deal with items containing restricted chemical substances and plastic materials, and with products that contain customer data.
Promoting Recycling
Experienced workers carefully disassemble collected products by hand and separate the materials into categories such as steel, copper, aluminum, precious metals, glass and 20 different types of plastic. They also strive to raise their manual disassembly standards through the use of animated disassembly manuals. Materials recognition equipment has been introduced for plastics that are difficult to discriminate, so as to allow the complete segregation of different types of plastic. In addition to minimizing the quantity of waste materials in this way, we are continually trying to recycle resources that can be reused to make products.
Also, to keep our customers informed of these initiatives, we distribute ballpoint pens and folders made from recycled plastic at exhibitions and other events, as well as demonstrating PCs being manually disassembled.
Developing a Traceability System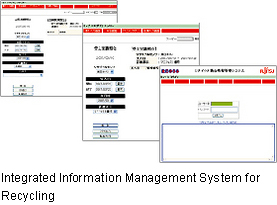 We developed an integrated recycling information management system and since FY 2007 have adopted it at the Fujitsu recycling centers.
Using this system prevents theft and illegal dumping by attaching barcodes to customers' ICT products and managing data on the history of the recycling process from acceptance at the recycling center through disassembly and destruction of the hard disks on a per-customer basis.
Operation of Security Systems
A high level of security is maintained at Fujitsu Recycling Centers by using infrared cameras to monitor automatically for intruders and check the storage status of the accepted products.

Providing services to customers
We provide recycling services for our customers.