Development of FRAM That Makes Maximum Memory Capacity and Industry-Leading Level of Energy Efficiency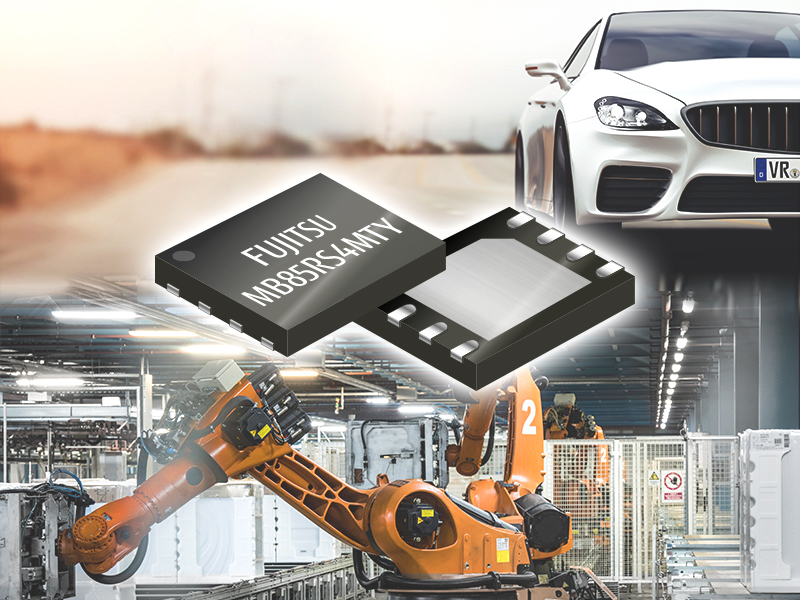 MB85RS4MTY
FRAM(Ferroelectric Random Access Memory) is non-volatile memory which excels in terms of its guaranteed rewrite count, writing speed, and power consumption. In recent years, FRAM has also been used in wearable devices, industrial robots, and drones.
In addition to having the largest memory capacity of any FRAM product guaranteed to operate at 125°C, the 4 Mbit FRAM MB85RS4MTY we developed is also guaranteed to have 10 trillion data write cycles. It is suitable for in-vehicle applications, such as advanced driver assistance systems (ADAS), and for use in industrial robots.
From an environmental standpoint, by adopting commands that shift integrated circuits into a low power consumption mode called "deep power down mode," as well as design techniques that take energy efficiency into account, we have achieved a maximum operating current of up to 4 mA (at 50 MHz operation), even in high-temperature environments of 125°C, and a power-down current of up to 30 µA, for an industry-leading level of energy efficiency.
Installing MB85RS4MTY will lead to reduced systemwide power consumption.
[September 2021]
The LIFEBOOK U7511/G Laptop, Which Strikes a Balance between Convenience for Mobile Workers and Resource Efficiency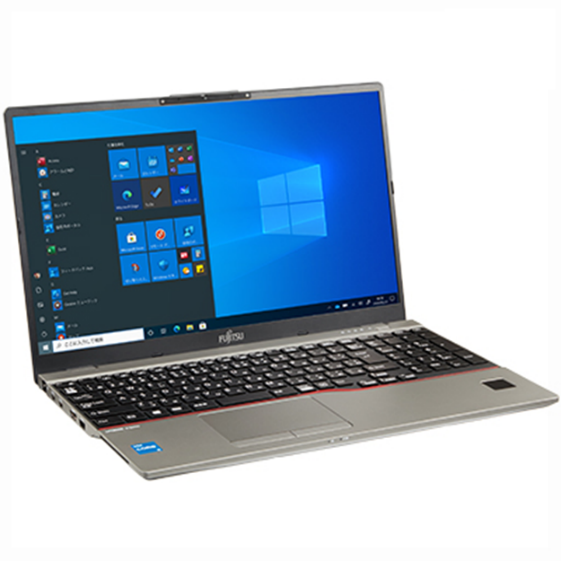 LIFEBOOK U7511/G
The LIFEBOOK U7511/G is a laptop aimed at mobile workers. Weighing in at a light 1.32 kg*, and its 15.6-inch liquid crystal display is easy to work with. This makes it possible for the laptop to have the lightness needed by mobile workers, while also improving work productivity. Furthermore, to go along with the implementation of a BIOS tampering check and self-recovery functions, a fingerprint sensor, palm vein sensor, and smart card slot can be installed to provide optimal security measures in response to the usage environment and the kind of work. In terms of environmental friendliness, the installation of an Intel® Core™ i5 processor (Tiger Lake), a narrow-frame design that reduces the size of the case, and the use of recycled plastic for some parts of the case have achieved resource efficiency of 26.1%, while improving the laptop's functions in comparison to conventional models. Additionally, by designing the model with energy conservation in mind, we have achieved compliance with the International Energy Star Program, as well as "AA" energy consumption efficiency (FY2022 standard) based on the Energy Conservation Act.
In addition to this, ScanSnap iX1600/1400, the personal document scanner targeted at individuals, has adopted recycled plastic materials made from recovered PET bottles for product parts. Thus, we have been contributing to lessening our environmental impact also in terms of parts.
*Product weight is the weight (average value) with a standard battery installed.
[September 2021]
The UBT-SP FC400, a Service Terminal for Financial Institutions Which is Scalable, Compact, and Energy-Efficient
UBT-SP FC400
The UBT-SP FC400 is a control unit that governs all of the service terminals for financial institutions. Equipped with a rich variety of external interfaces, including 13 USB ports, it can be connected to various peripheral devices, such as bankbook printers, slip scanners, and cash-handling devices used at service counters. The structure and design of the system allow it to be installed either vertically or horizontally, and respond flexibly to layout changes due to banks' reviews of their operations.
We select high-quality components that can be used and supplied for a long period of time, and by implementing high reliability and long-term operation, which are features of our financial products, we are contributing to reduced environmental impact by extending the product replacement cycle.
We have also adopted the latest power-saving architecture and reduced the number of cooling fans by optimizing the arrangement of the heat sink fins and the internal structure, and we have reduced power consumption by 15% in comparison to the previous model.
Furthermore, we preserved scalability through the abundant interfaces, and figured out ways to drastically reduce the number of parts by adopting a single-board design for the internal printed circuit board and aiming to eliminate internal cables. By doing so, we reduced its weight by approximately 19% in comparison to the previous model, and were able to create one of the most compact, lightest products in the series.
[September 2020]
Working to Cut Down on Disposable Plastic at Business Sites and Offices
As the issue of plastic waste becomes more serious as an environmental and social problem worldwide, the Fujitsu Group has worked up to this point to cut down on the amount of plastic used in our business activities globally through measures such as reducing the material used in products and packaging, as well as reducing waste generation at business sites. Furthermore, in recent years, we have also been working to cut down on the use of disposable plastic in offices.
Domestically, in June 2019, we stopped offering plastic bags at our company convenience stores and shops, as well as plastic straws at our company cafés and visitor areas. With the cooperation of drink vendors and vending machine dealers, we withdrew drinks in plastic bottles and switched over to canned drinks, etc., at approximately 1,500 vending machines in the Group.
As a responsible business enterprise, it is essential for us that each and every one of the Fujitsu Group's approximately 130,000 employees takes an interest in environmental and social issues, and works to change their own behavior. In the future, we will continue to promote reduced use of disposable plastic, as well as other sustainable activities to reduce waste, such as carrying around bags and bottles for personal use, with the aim of fostering a corporate culture that contributes to the creation of an abundant and sustainable society.
[September 2020]