Collaboration with External Parties
Creating Social Value through International Sports Events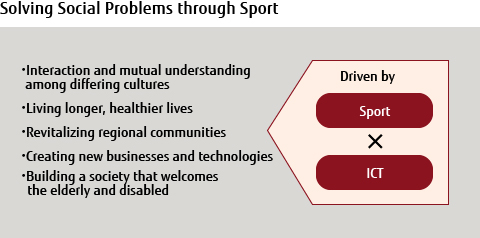 Japan will host a succession of massive international sporting events in coming years, with the Rugby World Cup in 2019, Olympic and Paralympic Games Tokyo 2020(Tokyo 2020 Games) and the Kansai World Masters Games in 2021. This has sparked efforts across the industry, government and academic sectors aimed at ensuring that these events are a success.
By bringing together ICT and sport, with the focus on people, Fujitsu's goal is to help build communities in which everyone can live happy, prosperous lives. Fujitsu understands the true power of sport as a vehicle for promoting the broader adoption of ICT in society through its customers, suppliers and local residents. By working to resolve social issues in this way, we believe that we are stimulating growth toward a better future for Japan, and in turn, creating new businesses and boosting our corporate value.
Building a Society where Everyone Can Live in Comfort – based on the Concept of "Barrier-Free Minds"
The keys to success at Tokyo 2020 Games will be the work of the 100,000 volunteers planned for the event and the role of the Paralympics in promoting community participation by people with disabilities. Fujitsu is boosting its social contribution programs with the aims of cultivating a corporate volunteer culture and promoting diversity, targeting full-scale implementation at the Games.
To build a society that welcomes elderly citizens and citizens with disabilities, we need to do more than simply provide the physical infrastructure. It is crucial that we also eliminate attitudinal barriers and actively encourage participation in society by the elderly and disabled through the "barrier-free minds" concept.
Fujitsu is engaged in a range of initiatives, including product development related to the "barrier-free minds" concept of mutual support. The goal is to promote deeper shared understanding by enabling better communication among all kinds of people, regardless of their attitudes or their physical or psychological characteristics. Fujitsu is also undertaking training and information dissemination activities both internally and externally.
As one of the lead companies in the barrier-free sector of the All Japan Business Committee for Olympic and Paralympic Games Tokyo 2020, Fujitsu is working with the entire business community to build a legacy for 2020 and beyond.
Helping create accessibility maps in collaboration with local government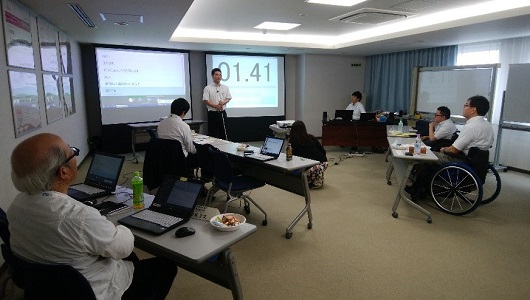 Barrier-Free Minds workshop to further mutual understanding
Visit the web page below for information on Fujitsu's sport-related initiatives
Participation in the World Business Council for Sustainable Development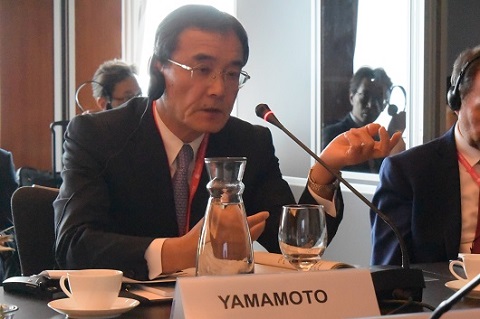 Chairman Yamamoto speaking at the Council
The World Business Council for Sustainable Development (WBCSD) is a body headed by the CEOs of around 200 global corporations that aims to build sustainable communities through business activities. Fujitsu Chairman Masami Yamamoto has been serving as Vice Chair of the WBCSD since January 2018. The annual Council meeting held in Singapore in October 2018 took "Lead, Transform, Succeed" as its theme and the ensuing discussions ranged across a variety of programs. Fujitsu highlighted not only the increased efficiencies in future employment scenarios from the standpoint of technology, but also our responses to the challenges faced by business, such as enhanced privacy and security measures, and the importance of value as it applies to people. Through these activities, Fujitsu is working toward sustainable development and the resolution of the many different issues faced by communities around the world.
WBCSD Round Table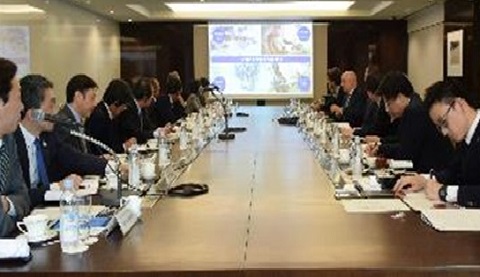 Round Table Meeting in Tokyo
In December 2018, WBCSD COE Peter Bakker visited Tokyo for a round table meeting with Council members from various Japanese companies. At the meeting, the consensus view was that, given the rapidly changing circumstances around social issues, initiatives towards sustainability are simultaneously a mission for global companies and an opportunity for growth. To ensure continued sustainable development, it was also agreed that we should further accelerate our efforts to boost collaboration both among the WBCSD member companies and with our respective governments.
Participation in the World Economic Forum
The World Economic Forum (WEF) is a not-for-profit foundation established by economist Klaus Schwab that engages in programs to improve the state of the world through cooperation between the public and private sectors in a spirit of global citizenship. It offers a venue for close collaboration among leaders from a diverse range of major international institutions as well as from the business world, government, academia and society, with the aim of shaping global, regional and industry-based agendas.
In January each year, the WEF holds its annual meeting in Davos, Switzerland. The Davos meetings bring together in one venue more than 3,000 leaders in their fields from around the world, including company executives, political leaders, intellectuals, and journalists, to discuss the major problems confronting the world. (The theme for the 2019 annual meeting was "Globalization 4.0: Shaping a Global Architecture in the Age of the Fourth Industrial Revolution".)
Fujitsu has participated in the forum since 2001, with representatives from various levels in the company - from executives down to the departmental level - engaging in a range of activities, including the Davos meetings.
During January 2019, as well as taking part in the annual meeting, top industry executives and experts were invited to a dedicated venue in central Davos. There was a lively exchange of views on a range of global issues, including "The Relationship Between Advanced Technology and Ethics", "New Ways of Working Resulting from AI Development" and "Addressing the Issues of Security and Sustainability (How Social Impacts will Manifest)". These discussions will underpin Fujitsu's ongoing formulation of policies aimed at helping to resolve those issues while achieving sustained growth.