Social Contribution Activities
Goal
Long-term Goal to be achieved by FY2030
The Fujitsu Group will build collaborative partnerships to engage and empower communities.
We will contribute to the prosperity of the communities in which we work globally through collaboration with our business activities.
We will encourage our employees to develop their skills, have confidence, and be proud to work for Fujitsu through giving back to society.
Approach to Social Contribution Activities
The Fujitsu Group will create new value and knowledge together with our customers, communities, and people worldwide through ICT, and contribute to sustainable development for the earth and society to achieve a prosperous future where people's dreams are fulfilled.
All Fujitsu employees are actively participating and engaging in social contribution activities together with a wide range of stakeholders and base on "activities that empower people through partnership" and "social contribution activities to develop science and technology".
In order to energize our social contribution activities and share best practices, we are building and have made viewable a record of our activities on our internal system. We also carry out an in-house award program using this database.
FY 2018 Performance
Total Amount of Investments for Social Contribution Activities
The following chart describes the investments for social contribution activities at Fujitsu in fiscal 2018.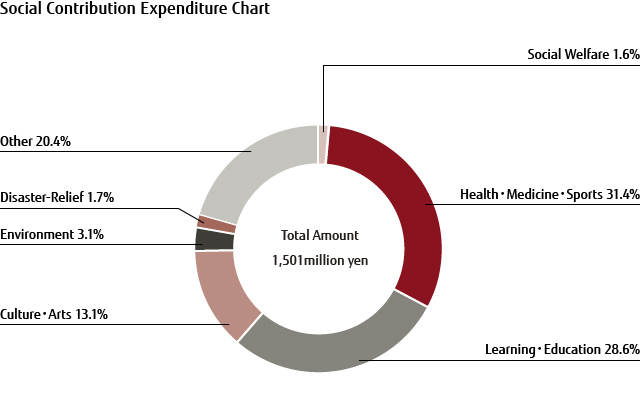 Employee Volunteer Activity Support System
The Fujitsu Group has in place a volunteer activity support system to encourage each employee's active contribution to society. Additionally, we have also developed various programs customized to the characteristics of each region in order to support better local communities in each area where we have a business site.
In FY 2018, 60 employees took Reserve leave (a total of 177 days) to participate in volunteer activities.
Volunteer Activity Support System
Fujitsu has established the following programs for supporting volunteer activities undertaken by employees.
System of leave of absence for participation in Japan Overseas Cooperation Volunteers or Senior Overseas Volunteer: up to three years

Reserve leave: Five days paid leave per year, can be accumulated up to twenty days (to be used for specified purposes including volunteer work)