Disposal of Waste ICT Equipment
Disposal of Waste ICT Equipment
When you will dispose of your waste ICT equipment, please dispose of properly observing the regulations in your country.
If you are the customer of the products of Fujitsu, and you have any question about disposing of ICT equipment, please contact us.
Response to the WEEE Directive
The electric and electronic equipment or unit which is labeled with crossed-out wheeled bin may not be disposed of with household waste. This mark is based on European Directive 2012/19/EU as including amended (for Waste Electric and Electronic Equipment=WEEE).
To dispose of your WEEE with Fujitsu brand,
>if you are a customer of business use, please contact Fujitsu group company in your country.
>if you are a customer of private household use, please take it to the designated collection facilities.
For both cases, we will ensure the proper recycling, reuse and other forms of recovery of WEEE. WEEE has the potential effects on the environment and human health as a result of the presence of hazardous substances. You can contribute to eliminate these effects by your cooperation.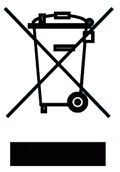 Marking of electrical and electronic equipment
Fujitsu Recycling Program