Case Studies
Making Energy Use for Cooling More Efficient Through AI-Controlled Air Conditioning
As a result of verifying the effectiveness of algorithms for optimizing air conditioning controls with regard to changes in IT load in server rooms at one major data center in Japan since FY 2018, we successfully developed the optimal machine learning algorithm. We began full-scale operations in the first half of FY 2019, and approximately 60% of all server rooms were covered by AI controls by the end of FY 2019. We reduced the overall energy used for air conditioning by 15-20%, and we plan to continue to roll out the algorithm to include other data centers in the future.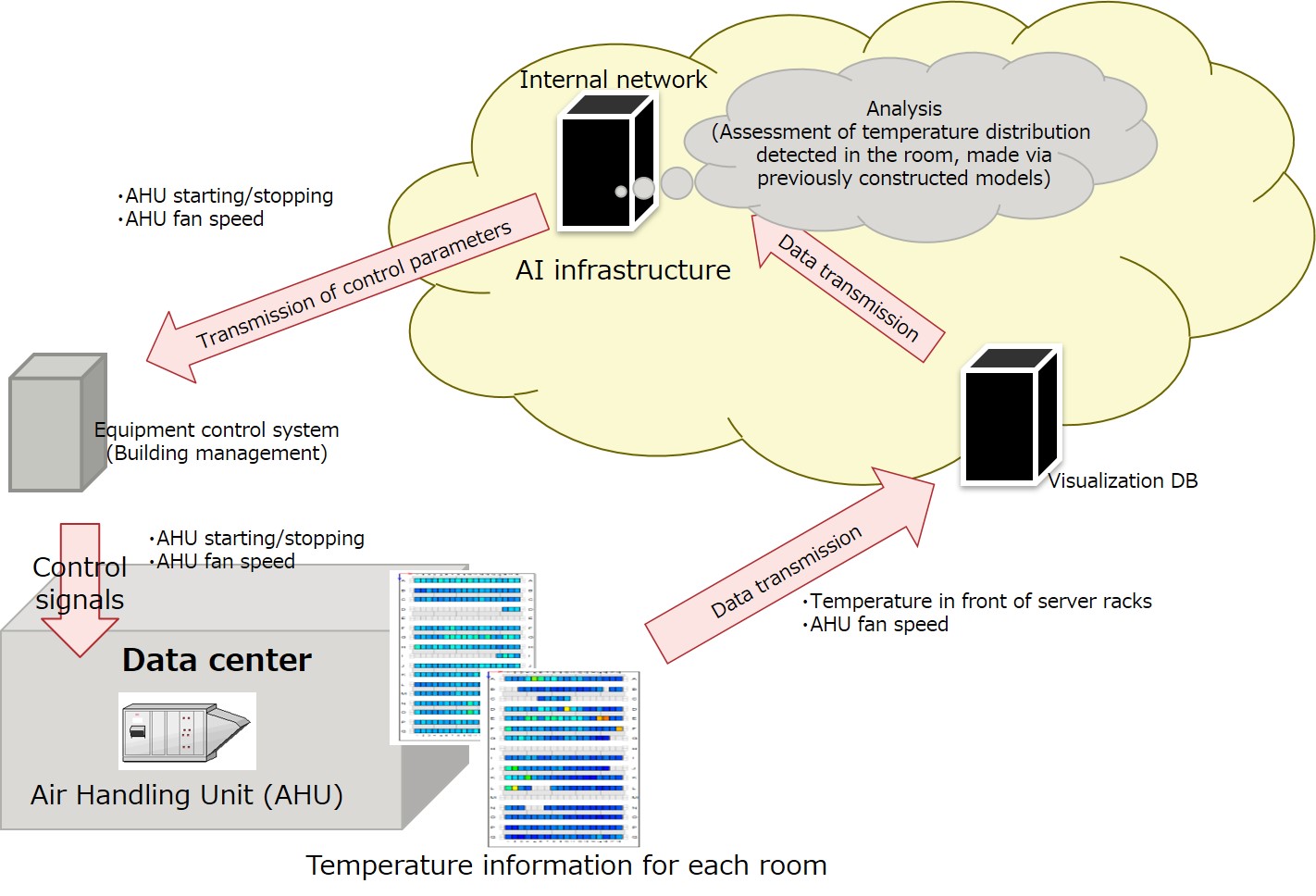 [September, 2020]
Making Energy Use for Air Conditioning More Efficient Through Operational Improvements (Initiatives with Measures That Were Implemented at 80% or More)
We implemented fine-tuning of air handling units and countermeasures for hot spots (e.g., aisle capping and installation of blanking panels) both in Japan and overseas, and made significant contributions toward achieving the PUE improvement goals for FY 2019.
Examples of Improvements Being Implemented (Australia)
Optimizing Server Rooms Through Adjustments to Cooling Temperature and Fan Speed
Through the visualization of environmental data and an energy conservation tool (*EMOS), we have greatly reduced the amount of time necessary to analyze points for improvement, such as hot spots, and optimized server rooms.
* EMOS (Environmental Monitoring and Optimization Solution tool)
We also carried out additional installations for cold aisle capping at two other data centers, using similar diagnostics.
Visualization of hot spots
Results of adjustments to air handling units (air flow, electricity)
Examples of improvement measures (UK, Germany, America)
Improved air conditioning efficiency through additional installations for cold aisle capping and adjustments to the locations of grilles which blow cold air
In conjunction with changing the locations where racks were installed by increasing and decreasing ICT equipment, we made energy use for cooling more efficient by changing the locations of grilles which blow cold air at high speed and carrying out installations for cold aisle capping. At data centers in America, together with changing the locations of grilles which blow cold air, we adjusted air flow through variable dampers underneath the floor, and made energy use for cooling more efficient. We have also installed additional blanking panels to further improve efficiency.
Cold aisle capping and blanking panels
Left – Germany Right – UK
America: Location optimization for grilles which blow cold air
[September, 2020]
Promoting Improvements Through Better Information Sharing with Overseas Data Centers
In order to strengthen our cooperation with overseas data centers, we are doing our best to communicate with them by sharing information via the company's intranet and conducting regular meetings remotely. We plan to take the methods for assessing improvement effects and the knowledge gained at each location, aggregate them into guidelines, then implement them within the Fujitsu Group so that improvements to PUE go more smoothly in the future.
[September, 2020]
Driving Improvements by Enhancing Information Linkage with Overseas Data Centers
We developed the (*1) Data Center Evaluation Tool which analyzes whether the cooling energy for ICT devices at data centers is being managed efficiently.
This initiative had been conducted before at data centers in Japan, but in FY 2018 it was rolled out to main data centers overseas, and optimization proposals were made. Additionally, information is being shared on company intranet websites and face-to-face meetings are also being held in order to connect and bolster improvement activities with overseas locations.
To facilitate smoother improvements, we are planning to compile evaluation methods and expertise gained at each site into guidelines which we plan to share with the Fujitsu Group.
(*1)

A tool that uses analysis based on heat and airflow balance from the structural and equipment specifications of data centers to calculate potential energy reduction amounts, as well as optimization proposals for PUE improvements and the related effects
[September, 2019]
Expanding Use of Renewable Energy
We are also currently working to shift in stages toward the use of renewable energies to supply the power used in our data centers, based on our in-house environmental vision for the creation of a carbon-free society which we published in May 2017. Implementations are particularly progressing in overseas locations where green power procurement is possible. Renewable energy now accounts for 19% of all the power used at our 34 main data centers in Japan and around the world.
Most of those are overseas data centers, and we plan to continue to actively increase usage of renewable energies at overseas data centers.
[September, 2019]