Improve Power Usage Effectiveness (PUE) at Our Data Centers
Our Approach
Energy consumption in data centers is on the rise, due to factors such as the spread of cloud computing, and society is paying greater attention to the environmental performance of data centers.
Data centers account for approximately 40% of the CO2 emissions (FY 2021) for each business in the Fujitsu Group. Since data center CO2 emissions are expected to continue increasing along with the expansion of digitalization, the Fujitsu Group has a social responsibility to promote environmentally friendly data centers. At the same time, in terms of enhancing our business infrastructure, it has also become an important topic that we should work on from a long-term perspective.
FY 2021 Performance
| Targets under the Fujitsu Group Environmental Action Plan (Stage X) | Middle fiscal year (FY 2021 result) |
| --- | --- |
| Improve PUE (*1) at data centers by 3% or more. (Compared to FY 2017) | PUE 1.56 - Improvement of 1.6% |
(*1)

PUE (Power Usage Effectiveness):
An index for power usage effectiveness at data centers. Expresses overall power consumption at data centers as a value divided by the power consumption of servers and other ICT devices. The closer the number is to 1.0, the greater the efficiency.
Promoting Activities to Achieve Our Goals
We are moving forward with activities to improve PUE at data centers in Japan and around the world, based on the Fujitsu Group Environmental Action Plan. Due to the continued impact of the spread of COVID-19 in FY 2021, some of our activities were restricted by lockdowns in certain cities where our overseas data centers are located. However, overall, we carried out updates to air conditioning equipment and implemented extensive energy saving, and we were able to achieve our goals for FY 2021. We are attempting to reduce air conditioning power usage through expanded operational measures such as extending the operation time for air conditioning using outside air and free cooling in the middle of the plan, and striking a proper balance between the amount of heat generated by IT equipment and cooling capacity.
Continuing from the previous year, we also conduct functional evaluation and performance maintenance to determine whether the air conditioning equipment is performing at its proper capability. In parallel with our energy-saving activities, we are also working to expand the use of renewable energy to achieve carbon neutrality. (We are currently operating toward 100% renewable energy for cloud services in domestic data centers in 2022.)
PUE values and calculation methods
PUE Value
PUE calculation method, other
Range: 1.33 to 2.14
No. of data centers: 23

Apply the Green Grid
Work to implement improvements using DCMM
DCMM: Data Center Maturity Model
Examples of Initiatives in FY 2021
Reducing Air Conditioning Power With a Focus on Improved Operation
Due to the impact of the spread of COVID-19, improvement activities could not be started as planned at some data centers. However, we are implementing overall air conditioning tuning according to IT power consumption (heat generation). We expanded the target floors through measures such as lessening the air conditioning temperature and cold water temperature, and adjusting the number of cooling equipment in operation. Furthermore, at data centers with air conditioning using outside air or free cooling, the outside air temperature was relatively low compared to the previous fiscal year, so we started operating them early in the middle of the plan in an effort to reduce power consumption for air conditioning. We are also expanding the target floors for AI control of air conditioning, which started operation at one domestic data center from FY 2019, and reduced the overall energy used for air conditioning by 15% to 20%. We plan to continue the rollout to include other data centers.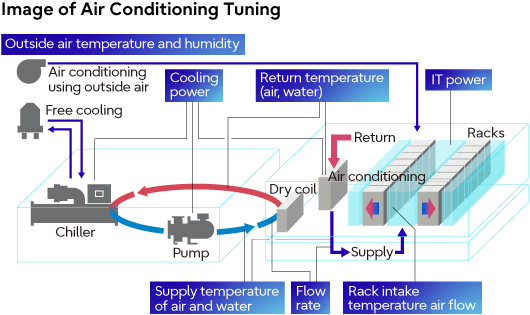 Promoting Improvements through Better Information Sharing with Overseas Data Centers
In an effort to coordinate our PUE improvement activities with overseas data centers and further enhance our activities, we conduct regular meetings remotely in order to share and communicate information such as the progress of improvement and know-how on improvement measures gained at each data center. We are planning to share related information on internal portal sites and to use the sophistication of data to visualize the progress status and improvement points. These measures will enable improvement activities to progress more smoothly in the future.