Improve Power Usage Effectiveness (PUE) at Our Data Centers
Our Approach
Energy consumption in data centers is on the rise, due to factors such as the advances made in digitalization, and society is paying greater attention to the environmental performance of data centers.
Data centers account for approximately 30% of the CO2 emissions (FY 2019) for each business in the Fujitsu Group, and the annual rate of increase for CO2 emissions at our 28 main data centers in Japan and around the world has been around 2.0% over the six years from FY 2013 until FY 2019. Since data center CO2 emissions are expected to continue increasing along with the expansion of digitalization, it is the social responsibility of the Fujitsu Group to work toward having environmentally-friendly data centers. At the same time, it has also become an important topic to look at from a long-term perspective in terms of enhancing our business infrastructure.
FY 2019 Performance
| Targets under the Fujitsu Group Environmental Action Plan (Stage IX) | FY 2019 Performance |
| --- | --- |
| Improve PUE (*1) at data centers by 2% or more. (Compared to FY 2017) | PUE 1.56 - Improvement of 1.9% |
(*1)

PUE (Power Usage Effectiveness):
An index for power usage effectiveness at data centers. Expresses overall power consumption at data centers as a value divided by the power consumption of servers and other ICT devices. The closer the number is to 1.0, the greater the efficiency.
Promoting Activities to Achieve Our Goals
We are moving forward with activities to improve PUE at data centers in Japan and around the world, based on the Fujitsu Group Environmental Action Plan. Although some of our activities in the fourth quarter of FY 2019 were restricted due to the global spread of novel coronavirus infections, in view of the impact of recent heat waves, we were able to achieve our goals for FY 2019 by carrying out our planned investments and conducting thorough operational improvements from the first quarter onward. Mainly, we tackled improvements to the cooling efficiency of our air conditioning equipment, carried out additional installations for cold aisle capping, and expanded the areas for AI-controlled air conditioning. We are continuously reducing power consumption by preventing hot spots and fine-tuning the air conditioning. With regard to operational improvements, we surveyed nine items, including the condition of blanking panels and floor hole plugs, and set targets of 80% or more for the implementation of each measure. Overall, we successfully achieved about 90%. Furthermore, we are also working to expand our use of renewable energies, with the aim of achieving RE100 (*2) in tandem with our energy conservation activities.
(*2)

RE100: An international initiative which aims for 100% of power usage to be derived from renewable energy. The Climate Group, an NGO, operates the RE100 in partnership with the CDP.
PUE values and calculation methods
PUE Value
PUE calculation method, other
Range: 1.30 to 2.11
No. of data centers: 28

Apply the Green Grid
Work to implement improvements using DCMM


DCMM: Data Center Maturity Model
Examples of Initiatives in FY 2019
Making Energy Use for Cooling More Efficient Through AI-Controlled Air Conditioning
As a result of verifying the effectiveness of algorithms for optimizing air conditioning controls with regard to changes in IT load in server rooms at one major data center in Japan since FY 2018, we successfully developed the optimal machine learning algorithm. We began full-scale operations in the first half of FY 2019, and approximately 60% of all server rooms were covered by AI controls by the end of FY 2019. We reduced the overall energy used for air conditioning by 15-20%, and we plan to continue to roll out the algorithm to include other data centers in the future.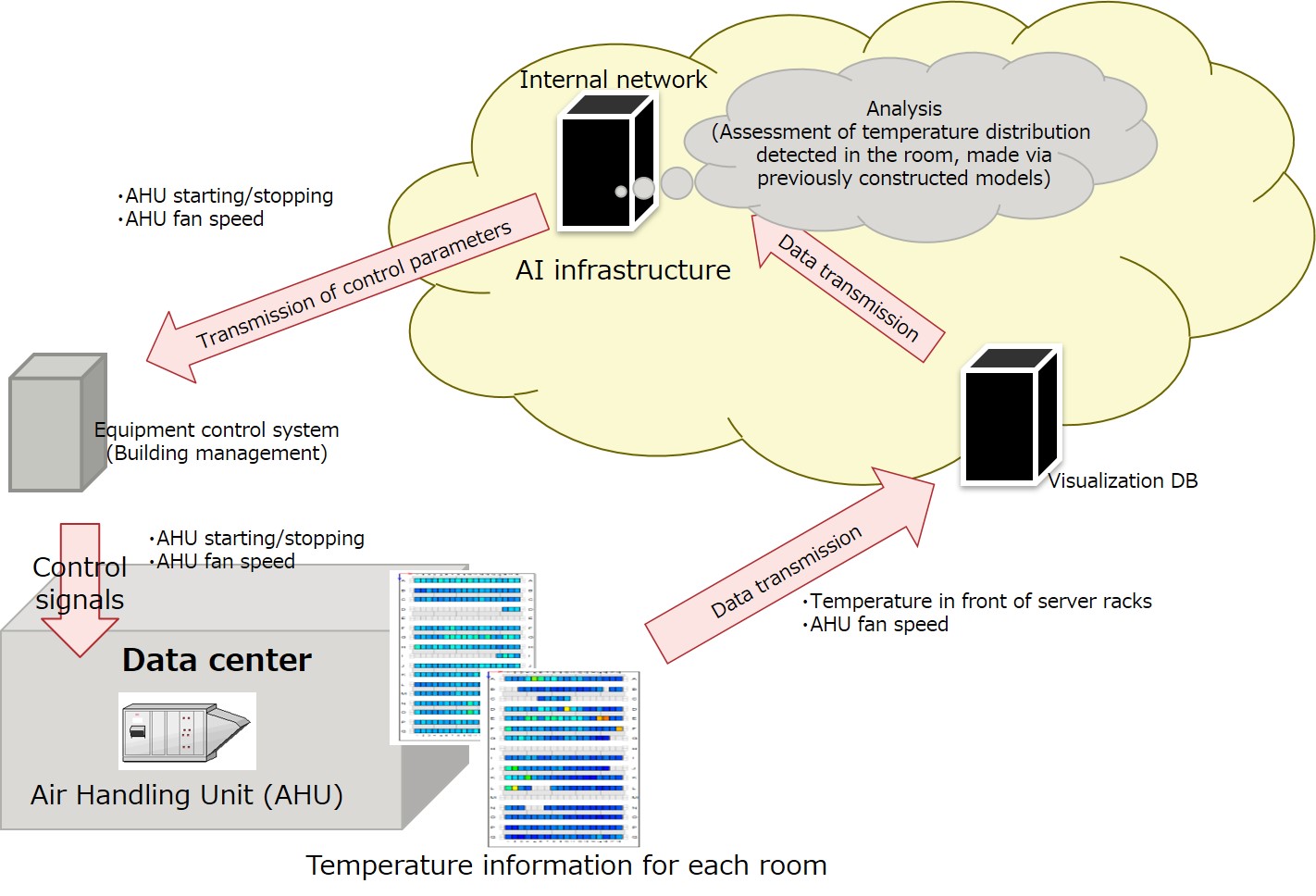 Making Energy Use for Air Conditioning More Efficient Through Operational Improvements (Initiatives with Measures That Were Implemented at 80% or More)
We implemented fine-tuning of air handling units and countermeasures for hot spots (e.g., aisle capping and installation of blanking panels) both in Japan and overseas, and made significant contributions toward achieving the PUE improvement goals for FY 2019.
Examples of Improvements Being Implemented (Australia)
Optimizing Server Rooms Through Adjustments to Cooling Temperature and Fan Speed
Through the visualization of environmental data and an energy conservation tool (*EMOS), we have greatly reduced the amount of time necessary to analyze points for improvement, such as hot spots, and optimized server rooms.
* EMOS (Environmental Monitoring and Optimization Solution tool)
We also carried out additional installations for cold aisle capping at two other data centers, using similar diagnostics.
Visualization of hot spots
Results of adjustments to air handling units (air flow, electricity)
Examples of improvement measures (UK, Germany, America)
Improved air conditioning efficiency through additional installations for cold aisle capping and adjustments to the locations of grilles which blow cold air
In conjunction with changing the locations where racks were installed by increasing and decreasing ICT equipment, we made energy use for cooling more efficient by changing the locations of grilles which blow cold air at high speed and carrying out installations for cold aisle capping. At data centers in America, together with changing the locations of grilles which blow cold air, we adjusted air flow through variable dampers underneath the floor, and made energy use for cooling more efficient. We have also installed additional blanking panels to further improve efficiency.
Cold aisle capping and blanking panels
Left – Germany Right – UK
America: Location optimization for grilles which blow cold air
Promoting Improvements Through Better Information Sharing with Overseas Data Centers
In order to strengthen our cooperation with overseas data centers, we are doing our best to communicate with them by sharing information via the company's intranet and conducting regular meetings remotely. We plan to take the methods for assessing improvement effects and the knowledge gained at each location, aggregate them into guidelines, then implement them within the Fujitsu Group so that improvements to PUE go more smoothly in the future.