Reduction of CO2 Emissions by Reducing Power Consumption When Using Products
Our Approach
As ICT grows more and more common, we expect there to be an increase in energy demand in proportion to the higher performance and higher-density integration of servers and other ICT products. Various countries and regions are also expanding their energy-related regulations for ICT products, and energy efficiency is taking on increasing social importance as a factor in energy label conformance and green procurement requirements.
Here at the Fujitsu Group, we believe that we should work to improve the energy performance of our products during their use, in order to reduce GHG emissions. As such, we will actively implement energy-saving technologies and continue working to further improve the energy efficiency of products. Through these efforts, we will work to promote the development of products that contribute to reduced power consumption when in use.
FY 2020 Performance
| Targets under the Fujitsu Group Environmental Action Plan (Stage IX) | Last fiscal year (FY2020 result) |
| --- | --- |
| Reduce CO2 emissions due to product power consumption by 14% or more in comparison to FY 2013. | Reduced by 37% |
Fujitsu Group Environmental Action Plan (Stage IX) Initiatives
Based on the Fujitsu Group's medium-term environmental goal of "reducing CO2 emissions due to product power consumption in FY 2030 by 30% or more in comparison to FY 2013," we set a target in the Fujitsu Group Environmental Action Plan (Stage IX) to reduce CO2 emissions due to product power consumption by 14% or more in comparison to FY 2013 in FY 2020, as a transitional year. To achieve this target, each business unit goals to improve the energy efficiency of products that were expected to be developed in FY 2019 and FY 2020, then worked to meet them. Applications of energy-saving technologies include new, high-efficiency microprocessors and power supplies, energy-saving displays, optimized energy-saving controls, and the strengthening of power management features. In addition to these, we are actively pushing for the aggregation of LSIs, reductions in the numbers of components, and the implementation of eco-friendly devices.
Attained a 37% Reduction in CO2 Emissions in Comparison to FY 2013
In FY 2020, as a result of applying and expanding energy-saving technologies in our servers, PCs, network devices, and imaging devices, we were able to attain a 37% reduction in CO2 emissions in comparison to FY 2013.
Working Toward Our Targets
In order to achieve the targets set in the Fujitsu Group Environmental Action Plan (Stage Ⅸ), each unit will work to further develop products with improved energy efficiency. We will also implement advanced energy-saving technologies and expand their application to our products, as part of our cross-Group policy to improve energy efficiency.
Looking toward the future, we aim to push the development of advanced eco-friendly devices, which will contribute to revolutionary improvements in energy efficiency, and aim for the products to be applied at an early stage.
Examples of Initiatives in FY 2020
Development of FRAM That Makes Maximum Memory Capacity and Industry-Leading Level of Energy Efficiency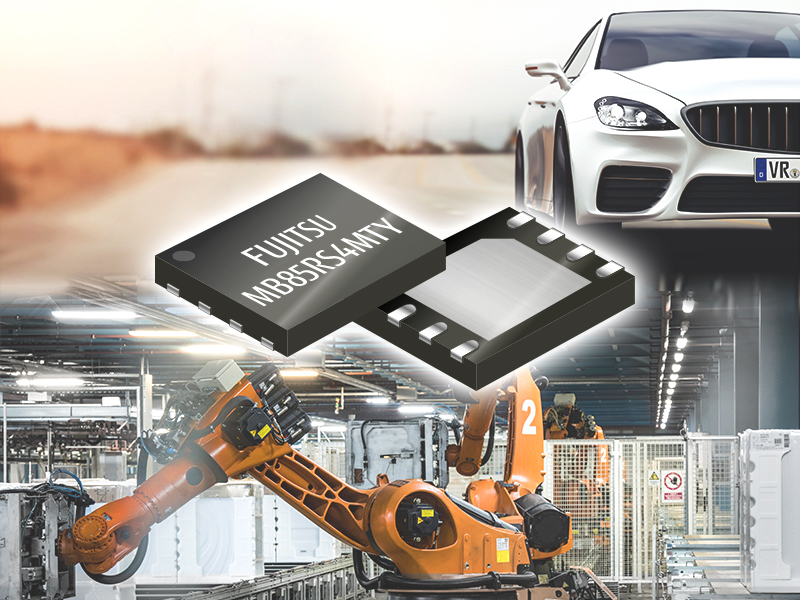 MB85RS4MTY
FRAM(Ferroelectric Random Access Memory) is non-volatile memory which excels in terms of its guaranteed rewrite count, writing speed, and power consumption. In recent years, FRAM has also been used in wearable devices, industrial robots, and drones.
In addition to having the largest memory capacity of any FRAM product guaranteed to operate at 125°C, the 4 Mbit FRAM MB85RS4MTY we developed is also guaranteed to have 10 trillion data write cycles. It is suitable for in-vehicle applications, such as advanced driver assistance systems (ADAS), and for use in industrial robots.
From an environmental standpoint, by adopting commands that shift integrated circuits into a low power consumption mode called "deep power down mode," as well as design techniques that take energy efficiency into account, we have achieved a maximum operating current of up to 4 mA (at 50 MHz operation), even in high-temperature environments of 125°C, and a power-down current of up to 30 µA, for an industry-leading level of energy efficiency.
Installing MB85RS4MTY will lead to reduced systemwide power consumption.