Brands & Trademarks / Design & Design Rights
Brands & Trademarks
Fujitsu Brand and Trademarks
Fujitsu Group considers our brand to be an important management resource and we carry out brand retroactive activities on a global scale to increase the expectations and trust of as many people as possible.
Fujitsu ranked 42nd in Interbrand's 2022 edition of "Best Japan Brands 2022." The Intellectual Property Division carries out activities to protect the value of Fujitsu brand through trademarks. In addition, we have established a monitoring system for trademark applications, trade names, and domain names in more than 190 countries and regions. We will resolutely take measures to prevent unauthorized use of trademarks, trade names, and domain names by third parties, including malicious third parties that pretend to be in a relationship with our company, from damaging trust in Fujitsu brand.

Activities to Protect Our Brand
To protect our brand, Fujitsu promotes the following three activities.
Activities to support global business by respecting the trademark rights of others, minimizing risks, and securing Fujitsu Group's trademark rights

Activities to monitor and prevent counterfeit Fujitsu products, trademark applications, and trade name registrations that take advantage of our trademark "Fujitsu"

In addition to the names of products and services, activities to protect Key Technologies (which support the Key Focus Areas) as technology brands by means of trademark rights for the Key Technologies.
Introduction of Technology Brand
Design & Design Rights
Fujitsu Design and Design Rights
Fujitsu considers design to be one of our most important management resources, and we employ the design mindset and methods in all of our business activities.
We believe that all of the following are important in design creation: Human Centered Design, which focuses on people; Sustainable Design, which aims to achieve a sustainable society that coexists with the global environment; and Universal Design, which aims to realize a society in which people can fully demonstrate their abilities as well as can lead safe, comfortable, and affluent lives.
In recent years, in addition to the design of hardware, which focuses on the shapes of physical goods, there has been an increase in the design of images that have no relationship to physical goods. By strategically obtaining design rights for designs created in the course of our business activities, we protect our customers and products as well as increase the value of Fujitsu brand.
Case 1: Design Registration of Screen Design to Support Gymnastics Scoring
The world's first scoring support system to utilize 3D sensing technology
This screen design visualizes the positions of gymnasts' arms and legs as well as the angles of joints, which previously were checked visually.
It enables fair, accurate judgments in gymnastics competitions, which have become more sophisticated and complex in recent years. It also helps reduce the burden on referees and facilitates smooth event progression.
To promote this world-first scoring function and to ensure safe use in gymnastics competitions held in various countries, we have acquired design rights not just in Japan but also in the United States, the EU, and elsewhere.
Awards
We have received high praise from outside the company.
Gold Prize at GOOD DESIGN AWARD 2019
Silver Price at DESIGN INTELLICENCE AWARD 2020
Related Links
Press Releases
Case 2: Filing an image design for hand washing behavior analysis as a social contribution during the COVID-19 pandemic
The behavioral analysis technology Actlyzer's hand-washing recognition screen is designed to give users feedback on the proper six steps of washing recommended by the Ministry of Health, Labour, and Welfare; the number of times the hands are rubbed together; and whether soap has foamed appropriately. Everyone can easily recognize and use the user-friendly GUI.
We filed a design based on the consideration that this screen design can broadly contribute to public health as a record of handwashing practices in accordance with COVID-19 infection control measures and the HACCP international hygiene management method.
What is Actlyzer?
Actlyzer is a technology that combines an AI that has learned basic human movements such as "walking," "shaking the head," and "reaching with the hand" and can recognize various more complex behaviors, such as purchasing behavior and suspicious activity, from images without needing to prepare a large amount of learning data.​
Related Links
Press Releases
Intellectual Property Rights Protection Activities under the Intellectual Property Mix Strategy
Fujitsu has created new products and services to solve problems by interacting with users in order to earnestly consider what they want. The Intellectual Property Division implements its Intellectual Property Mix Strategy from the perspective of how to protect intellectual property.
The Intellectual Property Mix Strategy is an IP strategy that combines the strengths of individual IP rights-such as patent rights, design rights, and trademark rights-to create intellectual property rights that protect the Company's products and services from multiple perspectives. As an example of Fujitsu's Intellectual Property Mix Strategy, we will introduce Ontenna, a new user interface that enables users to perceive sound through their bodies.
Ontenna, which enables you to feel sound with your body and enjoy it with those around you
Features of Ontenna
Ontenna is a new user interface that converts sound in the range of 60 - 90 dB into 256 levels of vibration and light intensity, enabling the user to feel the characteristics of the sound with one's body. When Ontenna is worn like a hairpin in the user's hair or on the edge of a garment, it converts the audio pattern of the sensed sound in real time so that the user can enjoy the sound's characteristics, such as the rhythm and pattern.
Development Background
Regarding the background to Ontenna's development, the developer met a deaf person while he was a student, an encounter which spurred him to develop a new sound perception device together with the deaf person under the concept of "I want to use design and technology to communicate sound." After joining Fujitsu in 2016, the developer worked with designers and engineers to determine how they could use Ontenna to create a sound experience that both deaf and hearing listeners could enjoy together. This led them to the current Ontenna, which they decided to start selling in August 2019. At present, Ontenna is distributed free of charge to schools for the deaf throughout Japan, and it plays a major role in delivering sound to children at schools for the deaf through vibration and light during speech and rhythm exercises.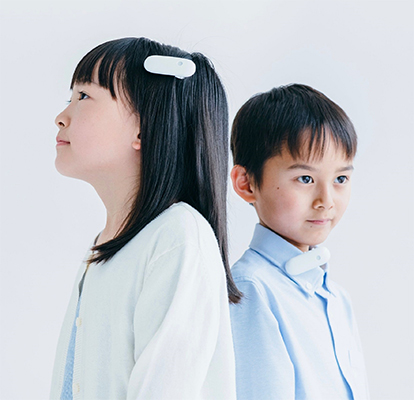 Application Example: Aiming for a Future in Which Deaf and Hearing People Enjoy Sound Together
Using Ontenna, students at a school for the deaf, who usually do not speak, have begun to speak actively, and they can feel the strength of drums and flutes as well as enjoy dancing together.
Today, Ontenna has been introduced to more than 80% of the schools for the deaf in Japan and is used for speech and rhythm training.
In addition, Ontenna communicates rhythm and timing when playing musical instruments, and in sports and cultural events, both deaf and hearing people can experience a sense of presence and unity.
Multifaceted Protection under the Intellectual Property Mix Strategy
Ontenna is round in shape and gentle so that the user can wear it like a hairpin to avoid discomfort. We have applied for and registered the design of the Ontenna controller (which can control the main body, battery charger, and multiple Ontenna), and the main body's shape is registered as a three-dimensional trademark. In addition, Ontenna's charging method and communication system are subject to patent applications and patent registration. In this way, the main body and peripheral devices of Ontenna are protected by the Intellectual Property Mix Strategy.
Awards
Ontenna has earned high accolades, winning the Gold Prize at Good Design Award 2019, the Grand Prize at IAUD International Design Award 2019, and the Japan Patent Commissioner Encouragement Prize at Local Innovation Award 2020.
Furthermore, in 2022, we won the ""Imperial Invention Award"" for the design of a body-worn device that senses sound by vibration and light.
In the end
In addition to design rights for the shape and screen designs of our products, Fujitsu also holds patent, design, and trademark rights that have been obtained by exercising our various strengths. We will protect products such as Ontenna based on our IP rights and aim to achieve a society in which people can live safe, comfortable, affluent lives.