Table of Contents
Fujitsu's "AI Ethics" for Purpose Realization
AI can instantly analyze large amounts of data and make inferences on a scale not possible manually. Today, AI technology is embedded in smartphones, consumer electronics, and even in production machinery used by large corporations, and has become indispensable to our daily lives and business activities. However, while we call it a useful tool, its technical characteristics and utilization may cause unforeseen harm.
For example, if AI tailored for recruiting employees is biased based on historical data, it may discriminate against applicants based on their hometown, educational background, gender, age, and other factors. An oversight like this would cause much harsh criticism not only to the companies that developed the AI, but also to companies that use the technology. To prevent these concerns, AI Ethics perspectives such as fairness, transparency, and protection of human rights and privacy are very important.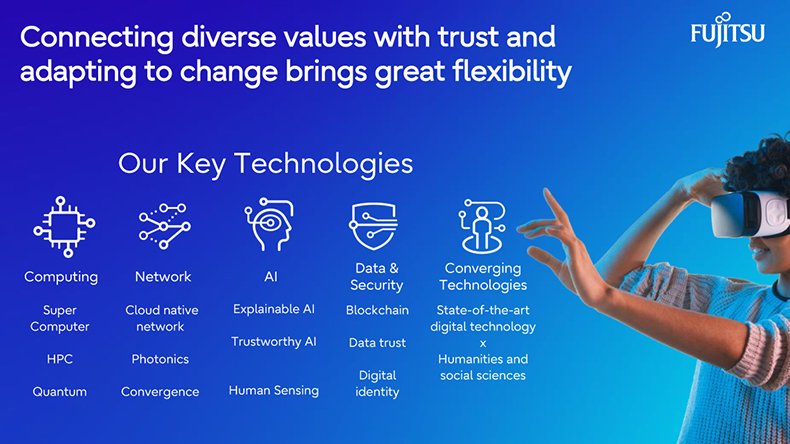 Fujitsu is committed to the purpose of "Make the world more sustainable by building trust in society through innovation". In order to deliver on our promise to help create a more sustainable digital future, we have a responsibility to provide "Trustworthy AI" with AI Ethics properly guaranteed.
Specifically, we are promoting a wide range of initiatives, including the formulation and implementation of the "Fujitsu Group AI Commitment", which acts as our guideline for AI Ethics; education and informative activities, such as speaking at internal and external events; incorporating check processes into AI business; development of technical tools; and the "Fujitsu Group External Advisory Committee on AI Ethics", which we will go into more detail about in this article.
What Unique Approach does the "Fujitsu Group External Advisory Committee on AI Ethics" have?
Fujitsu established the "Fujitsu Group External Advisory Committee on AI Ethics" in September 2019. With the aim of receiving objective evaluations from stakeholders in light of social conditions in Japan and abroad, the committee consists of prominent experts from various fields and discuss various topics related to AI Ethics approximately once every six months.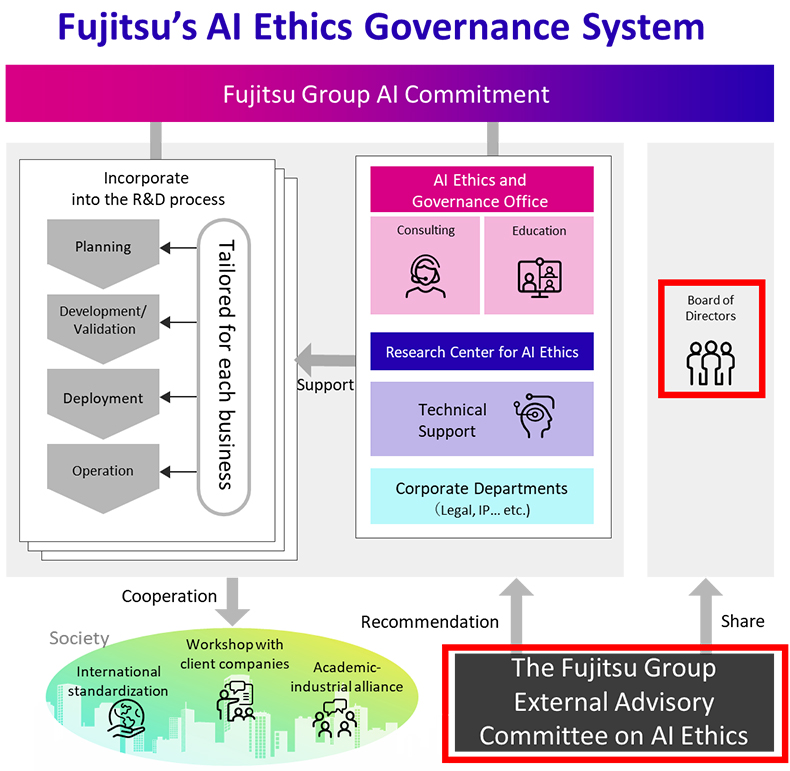 The most unique aspect of the "Fujitsu Group External Advisory Committee on AI Ethics" is that it positions AI Ethics efforts as "part of corporate governance". Fujitsu's leaders recognize AI Ethics as a "vital corporate management challenge", and executives including the president and vice president attend this External Advisory Committee on AI Ethics without fail.
The discussions are not simply consultative committee meetings where individual AI businesses are evaluated. Fujitsu's AI business structure is mainly the first "B (Business)" in the so-called B to B to C commercial distribution, so most of our direct clients are "B" in the middle. However, to realize "Trustworthy AI", we must also consider the rightmost "C (Customer)", or the wide range of stakeholders in society, including consumers beyond our direct clients. With these stakeholder perspectives in mind, the committee members actively make proposals regarding Fujitsu's approach to AI Ethics from a broad perspective that would not be possible for Fujitsu personnel alone, and Fujitsu personnel also participates in free and open discussions.
After the committee meetings, the results of the committee members' suggestions and discussions are shared with the Board of Directors to ensure transparency. This kind of arrangement is far ahead and rarely seen in other companies.
Introduction of the Members in the "Fujitsu Group External Advisory Committee on AI Ethics"
AI Ethics is not something that can be achieved by AI technology experts alone. The "Fujitsu Group External Advisory Committee on AI Ethics" consists of six experts with high-level insight from a wide range of fields, including information science, law, medicine, ecology, SDGs, and consumer affairs, to ensure diversity.
The committee members have provided frank opinions on Fujitsu's AI Ethics efforts from a wide range of perspectives, and have strongly supported the realization of "Trustworthy AI".
Chairman Junichi Tsujii
Ergonomics Fellow at the National Institute of Advanced Industrial Science and Technology,
Director of the Artificial Intelligence Research Center, Professor Emeritus at the University of Tokyo,
Professor at the University of Manchester
Highly acclaimed worldwide, especially for achievements in the field of language processing.

Ms. Yuko Kimijima
Professor at Keio University Faculty of Law/Graduate School of Law, and a Lawyer,
Director of Keio University Global Research Institute (KGRI),
Director of Japan Association of Industrial Property Law
Specializes is intellectual property law and is actively engaged in research and lectures overseas.

Ms. Hiroko Kuniya
Journalist, Trustee at Tokyo University of the Arts (Head of SDGs Promotion Office)
Served as an NHK newscaster for "World News" and "Today's Close-Up." based on her extensive international knowledge. In recent years, also focused on reporting and disseminating information about SDGs.

Mr. Takanori Takebe
Professor of the Research Institutes at Tokyo Medical and Dental University,
Director of the Communication Design Center at Yokohama City University,
Deputy Director of the Center for Stem Cell & Organoid Medicine at Cincinnati Children's Hospital
At the age of 26, generated a mini-liver from iPS cells and published the results in the scientific journal "Nature".

Ms. Kumiko Bando
Governor of the Japanese Red Cross Society, Director of Save the Children Japan, etc.
In charge of promoting university reform at the Ministry of Education, Culture, Sports, Science and Technology, served as the Deputy Minister of Education, Culture, Sports, Science and Technology, Commissioner of the Consumer Affairs Agency, and President of the Japan Legal Support Center.

Mr. Takakazu Yumoto
Professor Emeritus at Kyoto University, Visiting Professor at Chubu University
As an ecologist, studied interaction between animals and plants in tropical rainforests around the world.
In recent years, focused on researching the interrelationship between humans and nature.

*

Biographies of each committee member are as of November 2022.
Topics Covered by the "Fujitsu Group External Advisory Committee on AI Ethics" and Future Outlook
The External Advisory Committee on AI Ethics has met a total of seven times from its first meeting in September 2019 to the present (November 2022).
We will disclose some of the most interesting topics that have been discussed so far, as well as a special presentation on how Fujitsu will address these topics in response to the experts' opinions.
(1) Opinions on "AI Ethics" and human rights
In light of the trends in society's AI business, there was a lively discussion on how to protect the human rights of those affected by AI trends with the aim of providing safe and secure "Trustworthy AI", and the committee members offered the following comments.

Business awareness is important when using AI, but we must not turn away from problems that affect the human rights of individual end users. In order not to get end users into trouble, we should clarify the line that Fujitsu stands firmly upon once again.
As a company, it is extremely important not only in general but also from a legal point of view to communicate a stance that ties in with The Constitution of Japan, such as "We will not do such things" and "We will protect the dignity of individuals."
AI technology can be misused. Even without malicious intention at the time of its creation, it could yield negative consequences to individual's human rights in such a case where there is a bias in the data reflecting the value respected in our real world (even though it is negative in terms of equity). We shared the same view with the committee members that in Fujitsu's AI development it is crucial to fully respect every spectrum of human rights, including privacy and fairness.
In response to these comments, Fujitsu has been developing an "AI Ethics Policy" and collections of guidelines to accurately analyze the negative consequence of AI and to further clarify its stance of not providing the technology for use against human rights.
(2) Opinions on "AI Ethics" and governance
Fujitsu has established an internal consultation service on AI and data ethics as the "'Human Centric AI' Working Group". With this consultation service, multiple departments within the company, including R&D, business, human rights, and legal, examine and respond to inquiries received from within the company from a variety of perspectives.
The External Advisory Committee on AI Ethics suggested that Fujitsu focus more on these meaningful efforts and further strengthen Fujitsu's governance structure by establishing an ethics review process for all AI businesses.

As technology becomes more complex, isn't it necessary to have an objective process, such as assigning an "AI Ethics officer" in each department, instead of leaving the judgment of AI risks to the front line?
The management process for determining whether there is any deviation from the AI Ethics guidelines must be firmly established within the company, such as by checking whether individual AI projects are in compliance as much as possible, and setting up a forum for discussion on matters that are difficult to judge.
If technologists and business interests alone make decisions about the creation, deployment and intended use of AI technologies, serious AI Ethics issues may be overlooked. However, too many internal rules and regulations may sacrifice Innovation.
Taking into account the above opinions, Fujitsu will continue to strengthen its company-wide AI ethical governance system by incorporating a check process in all AI businesses within the company, while taking into account trends in AI laws and regulations around the world.
(3) Opinions on "AI Ethics" and external collaboration
Despite Fujitsu's ethically aligned AI development, the output could result in unequal treatment due to the training data owned by our client companies, not Fujitsu, if it was biased with respect to ethnicity or gender.
AI developers and their client companies must work together to materialize ethics of AI, neither AI developers alone nor client companies alone.
In response to these perspectives, the committee members offered the following comments.

If Fujitsu ends up being the only player thinking about AI Ethics, any kind of "literacy gap" between Fujitsu and client companies will be a cause for concern that the merits of AI Ethics will not be easily communicated.
With AI that operates with insufficient data, it is very dangerous for humans to delegate decision-making to AI and blindly trust its judgment. We should carefully educate our client companies on how to use AI as a tool so that they do not place too much trust in it.
Fujitsu is not alone in its efforts to promote AI Ethics; some client companies are also promoting AI Ethics, either on their own or by referring to AI Ethics guidelines established by government agencies or other organizations. However, there are wide differences in the awareness and degree of knowledge of AI Ethics among companies, and some of them have misconceptions that "AI is perfect" or that "humans will no longer be needed if AI is left to its own devices". If there is a gap in AI Ethics between Fujitsu and our client companies or stakeholders, it will make it difficult for us to work together to provide safe and secure AI.
Fujitsu will continue to promote actions such as actively holding discussions outside the company and promoting initiatives together with client companies, aiming for a future in which all stakeholders can rely on Fujitsu as the "Fujitsu of AI Ethics".
Fujitsu, Client companies, and all Stakeholders Working Together to Reach the Future
Again, AI Ethics is not an academic concept that only AI developers and experts need to be aware of. Discussions at the External Advisory Committee on AI Ethics are not limited to within the committee, but rather support the basis of Fujitsu's AI Ethics efforts and are firmly connected to the business frontlines and implemented in cooperation with the efforts of various departments within the company.
These efforts do not only benefit Fujitsu ourselves but also our client companies by delivering our "Trustworthy AI", which in turn benefits variety of stakeholders of the AI in the society. Through partnership with its client companies, Fujitsu would contribute the society by carrying on AI Ethics.
Maximizing the Benefits of "Trustworthy AI"
For companies to engage in AI Ethics is a significant matter. Today, sustainability and DE&I (Diversity, Equity & Inclusion) perspectives are strongly demanded in business activities, so it is only natural to be aware of these ethical perspectives when using AI in business activities.
At the same time, companies that are not aware of AI Ethics could face an unexpected crisis.
Last year, the European Commission (EC) published their bill of the Artificial Intelligence Act for EU-wide application. If enacted, the act is expected to go into effect around 2025 and will prohibit or restrict the use of AI systems by type, depending on the classified risk, such as human rights violations. Not only systems used within the EU, but even access to Japanese servers from the EU may be subject to these restrictions, so it is not something that companies doing business in Japan can ignore. Violations may result in the imposition of massive fines.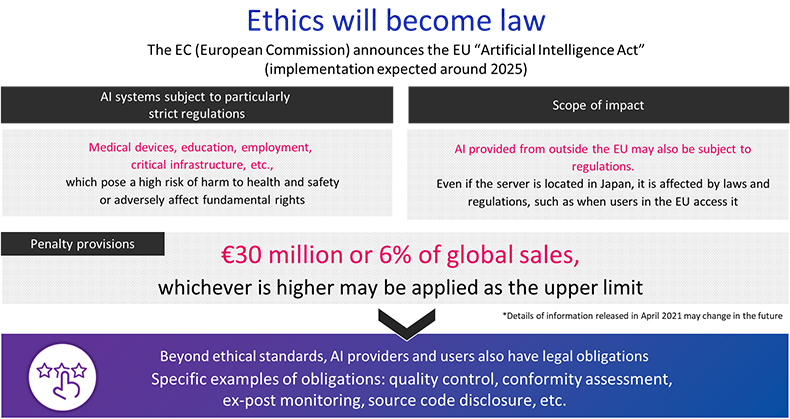 In other words, in order for companies to take full advantage of the benefits of AI, it is essential not only to confirm that the AI is trustworthy, but also to establish a governance system in advance from the perspective of AI Ethics and legal compliance, so that if any inconvenience caused by AI is discovered, measures can be taken immediately to address the problem and prevent recurrence.
It can now be said that "the value of a company or business depends on whether or not it is able to govern AI Ethics".
Fujitsu as a "Partner in Trustworthy AI Ethics"
Fujitsu has been constantly reviewing the direction it should take as a company taking the lead in AI Ethics by holding regular meetings of the External Advisory Committee on AI Ethics, and has been promoting not only abstract principles but also concrete initiatives in the business field. Fujitsu has been a pioneer in AI Ethics governance practices since the beginning, and has solid know-how accumulated since the early days of AI.
The time has come for AI Ethics to be practiced not only by companies that provide AI, but also by society as a whole. There is no single correct path to follow as what is necessary to put into practice varies from company to company and from one specific business to another. Fujitsu wants to be a "Partner in Trustworthy AI Ethics" that actively supports its client companies and all other stakeholders in their proactive efforts to practice ethics and seeks solutions together with them.
(For more details, please refer to "[Official Website] Fujitsu's AI Ethics Web Page" in the related information below).
Let's work together to realize a prosperous future with "Trustworthy AI".
Please look forward to Fujitsu's AI Ethics practices in the future.
Related Information