Insurance Technology


Fujitsu Insurance Transformation
For over 4 decades, Fujitsu has been a trusted IT services and solutions provider to the financial sector. We have experience of working with insurance services providers around the globe, and have helped half of the Fortune 500 to;
reduce fraudulent activity
cut operating costs to drive profitable growth
secure customer data
address risk and compliance
enhance the customer experience
Within the insurance sector, there are various challenges providers face. Fraud is growing at an alarming rate, with fraudulent claims costing insurers £billions every year. In addition, the introduction of insurance aggregators to the market, has increased competition and price pressure. This means that despite risks and insurance pay outs remaining constant, insurers are being forced to cut premiums which is making driving profitable growth a challenge. For the majority of customers, price remains a major consideration when choosing an insurer, with 74% of UK consumers advising that they base their choice on price, and just 24% advising their choice is based on the quality of the customer experience
While price is a major factor, today customers want it all - low premiums and high service levels, and the challenge for insurers is to deliver both. At Fujitsu, we offer:
sustainable customer-centric innovation that can help you to rise to the challenge of reducing prices to acquire new customers, while improving the customer experience to aid retention
smart/connected technology that can help you in your fight against fraud and enable you to get closer to your customers
Fit for Digital – Is the financial sector ready for digital disruption?
Sector-wide, digital disruption is leading to increased competition, innovative new technology and a fast rate of change. In our 2016 Fujitsu research report - Fit for Digital, we surveyed 1,200 C-Suite decision makers, including 357 from the financial services sector, to discover if they are prepared for the impact of digitalisation and the changes it will bring.
Are you ready to face the challenges of digital disruption and take advantage of the opportunities it brings?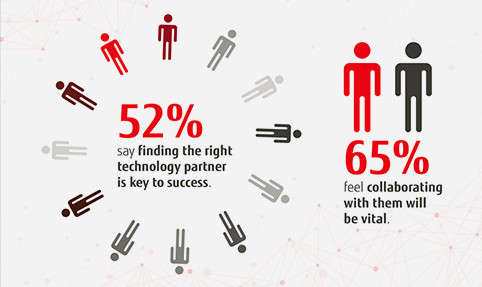 Find out more about our solutions and services
See how our customers solved their challenges







DHL - UK

Using Fujitsu UBIQUITOUSWARE, emergency services can now track the wellbeing of individuals in the field.





Nanto Bank - Japan

Using mBaaS service based on MetaArc, Fujitsu integrated the management of multi-vendor smartphone applications.






Belfius Bank - Belgium

Using Fujitsu Sign'it, customers can now open an account using a mobile app.






Insurance Insights
Meet our insurance experts
Top of Page