Digital disruption: the new normal
The world has changed, and there is no going back. For the majority of organisations around the world, digital disruption is no longer an impending concern but the new normal.
9 out of 10 say digital has disrupted their sector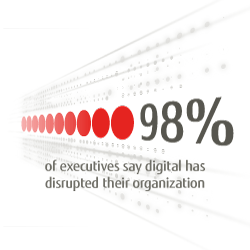 Nine out of ten C-Suite decision makers say that digital has disrupted their sector, with 98% saying the same of their own business or organisation. Although it might not be clear why this small minority believe that digital has passed them by, one thing is clear: the number of organisations left unaffected is rapidly shrinking.
And while around
sixty-seven percent of respondents say that they are "excited or enthusiastic" about digital disruption
, 20% note that they are "concerned or worried" about its impact.
What does digital disruption mean to you?
When asked to specify what digital disruption means to them:
37% answered that it was about the transformation of business models and revenue streams
27% said the same of business operations and processes
23% looked to the transformation of customer relationships and service

Digital disruption means different things to different people but business leaders are in agreement that digital is transforming how businesses operate.
Disruption is not done
Digital may already have had a significant impact on the way that organisations operate, but the disruption is not over. Fifty-four percent of business leaders believe that "significant" change lies ahead. Only three percent feel that their sector will be unaffected.
A large majority (81%) of respondents recognize this digital disruption as a "positive force for business", 74% stressing that change resulting from digital has been beneficial to their own organisation. However,
43% of respondents say that the level of digital disruption in their sector concerns them
.  Thirty-four percent even go so far as to say that they wish that their industry was immune to its impact.
Digital disruption may be the new normal, but that doesn't mean you can afford to stay still.
Discover what it takes to thrive in a digital world >>

Top of Page