The FUJITSU brand
At Fujitsu, we are striving to contribute to shape a prosperous future with our customers and society, based around the following.
Our Brand Promise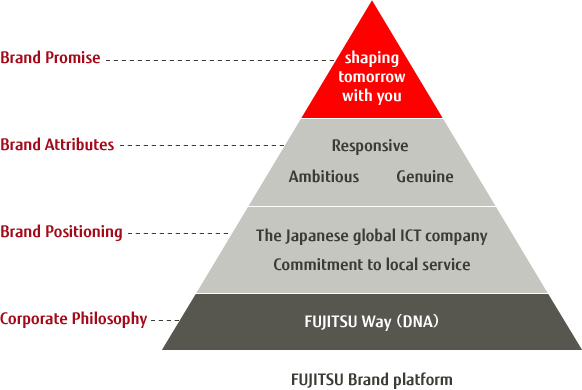 Fujitsu's brand promise - shaping tomorrow with you - is about shaping the future of society and business. It describes our way of doing business, building on our long-term relationships with our customers and society. We work with our stakeholders, using our experience and the power of ICT to contribute to their success and to the future of society.
In creating our brand promise, we asked our customers and employees to share their thoughts on the essence of FUJITSU, and we summarized their responses into our three key attributes:
| | | |
| --- | --- | --- |
| ・Responsive | : | We act flexibly while thoroughly understanding the conditions and needs of our customers and society. |
| ・Ambitious | : | We strive for higher goals for our customers with new ideas. |
| ・Genuine | : | We always act with sincerity, and produce results reliably. |
The FUJITSU brand promise forms the basis for all our activities worldwide. Employees bring "shaping tomorrow with you" to life in everything they do. As a global ICT company originating in Japan, we respect the different characteristics of countries and regions around the world, while valuing our Japanese qualities.
Our corporate philosophy is FUJITSU Way, which is the basis of the FUJITSU Brand platform. FUJITSU Way states our corporate vision as below:
"Through our constant pursuit of innovation, the Fujitsu Group aims to contribute to the creation of a networked society that is rewarding and secure, bringing about a prosperous future that fulfills the dreams of people throughout the world." *1
*1 Refer to Our Corporate Philosophy"FUJITSU Way" for further details.
In promoting our brand, we ensure all aspects of our company - employee behavior, communications, facilities and environment, and products and services are consistent with the brand, and customers and stakeholders can feel the essence of Fujitsu in all their contacts with us.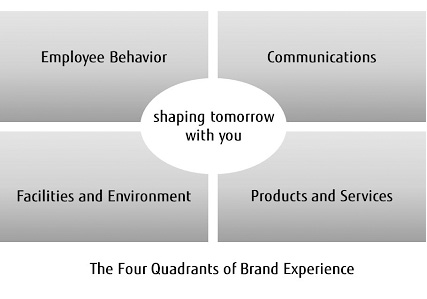 Brand Management
In collaboration with our overseas brand team, the Corporate Brand Office plans and manages group-wide brand strategy and has brand managers from each business unit manage brand related activities. The brand managers develop brand measures in each of their business areas and promote brand planning, development, and management for each product. The Corporate Brand Office, has developed, and rolled out internally, Fujitsu Brand Principles (FBP) which stipulate rules on company names, the symbol mark (logo), product and service brands, our Visual Identity (VI) and communications.
In addition, with the cooperation of our overseas brand team, we have established a Global Marketing Board as a decision making organization for all of Fujitsu's marketing. In cooperation with each unit, the Board works to strengthen the consistency.
Brand Communication
We aim for a consistent and distinctive tone of voice and visual style in all our communications.
Global Corporate Design
Fujitsu's corporate design was developed to convey the brand promise "shaping tomorrow with you" in a unique visual statement. The main VI building blocks are the Fujitsu Symbol Mark (logo mark), the Response Module (brand graphic), the Fujitsu Sans corporate font family and a distinctive photo style. In addition, the VI relies on red as the official corporate color, using a striking and differentiating color palette that resonates strongly with the international ICT market. The VI guidelines were rolled out globally for a consistent look and feel. The Fujitsu corporate design has won the internationally acclaimed 2013 iF award*2 in the communication design category.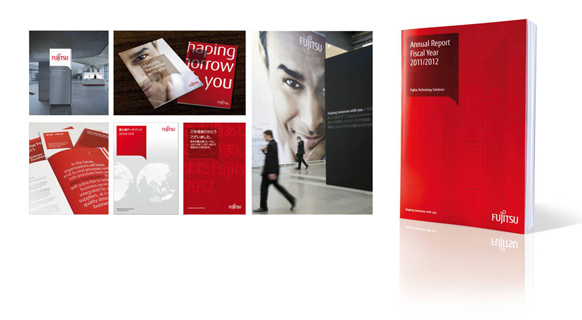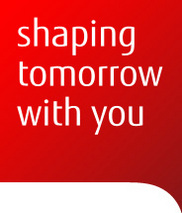 The Response Module
Symbolizing dialog, the Response Module is a powerful and effective interpretation of the brand promise "shaping tomorrow with you". The Response Module shape can also be found in the Fujitsu Symbol Mark lettering.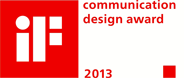 *2 Established in 1953, the iF program is one of the world's most prestigious seals of quality acknowledging design excellence. Each year, prizes are awarded in three categories: the iF communication design award, iF product design award and the iF packaging design award.
Global Brand Campaign
To provide our Japanese and overseas stakeholders with an insight as to what sort of company Fujitsu is, we have established the "Fujitsu Brand Story" website, which provides a video narrative of the various initiatives that embody the essence of Fujitsu. We have actively developed global brand campaigns utilizing online marketing, including specially designed websites and social media, as we work to boost awareness and understanding of the Fujitsu brand.
| | |
| --- | --- |
| | Global Brand Campaign |
Web communication
To enhance consistency in global communications and reduce costs through efficient operation, we have established a new CMS (Content Management System). The Corporate Brand Office plays a focal role in operating our global web portal and the web portals for 62 countries and regions. In FY2014, the overseas launch was completed, and the Japan launch is underway.
We have also defined guidelines for appropriate use of social media and we are promoting the active use of these media, which are continuing to grow rapidly.
| | |
| --- | --- |
| | Country/Regional Site |
Product and Service Brands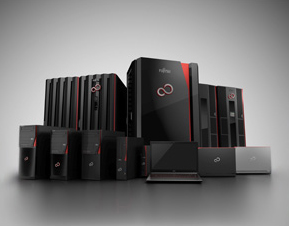 We work with our customers in all our business activities, including product development, service delivery and sales activities. Our product design reflects this approach, and our products are user friendly, reliable, and cutting edge.
Employees and Our Brand
To ensure all employees truly understand and practice the core ideas of our brand, we implement brand education programs through e-learning and other brand training programs. In addition, an internal FUJITSU brand newsletter shares our latest activities, and complements regular brand awareness surveys of all group employees.
Our new internal brand poster designs for "shaping tomorrow with you" were shaped during discussions regarding "what does 'with you' mean?" at an employee workshop. The three posters represent "leading with you," "advancing together with you," and "supporting from behind with you."

Brand posters
Brand Evaluation
We conduct a Global Brand Awareness Survey externally. The survey is a corporate recognition research targeting strategic IT and business decision makers in key countries around the world. We use these and other key performance indicators (KPI) to regularly evaluate the value of our brand.
Fujitsu was ranked 3rd by industry (Computers division) in Fortune magazine's 2015 "World's Most Admired Companies,"* as well as 28th in Interbrand's 2015 "Japan's Best Global Brands".
*3 Conducted through a partnership between Fortune Magazine and Hay Group, the annually published "World's Most Admired Companies" list is determined based on a survey of 15,000 executives at global companies, directors, and industry analysts. Companies that receive the highest scores from both within and outside their respective industries are ranked in nine categories, including quality of management, quality of products/services, and innovation.