Corporate Governance
Basic Stance on Corporate Governance
As a resolution of the Board of Directors meeting held in December 2015, Fujitsu established the " Corporate Governance Policy'' to define the company's basic stance on corporate governance. This Policy has been deliberated and established to best fit the present company conditions; however, considering the objective of corporate governance—that is, to conduct a better management—the company strives for a continuous review for the Policy not being too rigid and not losing substance as well as discussions on the Policy in the Board of Directors Meeting from time to time to maintain the best corporate governance structure. The following URL contains the latest version of the December 2019 revision.
Overview of Corporate Governance Structure (as of June 24, 2019)
The Company has established rules for the purpose of effectively supervising and advising the diverse perspectives of outside directors (hereinafter referred to as "outside directors and outside directors"). Conduct business operations as a member of the Board of Directors while utilizing the Company by the Board of Corporate Auditors system.
For more information on" Matters on Functions of Business Execution, Auditing, Oversight, Nomination and Remuneration Decisions"and "Reasons for adoption of Current Corporate Governance System" , please see the following URL.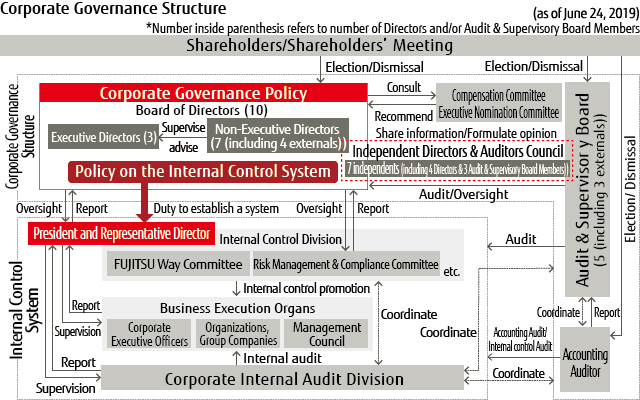 Policy on the Determination of Executive Compensation
Compensation of Directors and Audit & Supervisory Board Members is determined in accordance with the Executive Compensation Policy below, which was determined by the Board of Directors following the recommendation by the Compensation Committee.
Basic Stance on Internal Control System
To continuously increase the corporate value of the Fujitsu Group, it is necessary to pursue management efficiency and control risks arising from business activities. Recognizing this, Fujitsu is working toward the practice and penetration of the FUJITSU Way, the basic principles behind the Fujitsu Group's conduct. At the same time, the Board of Directors has articulated the Policy on Internal Control Framework as systems and rules to pursue management efficiency and control the risks arising from the Company's business activities.
For more information on "Full Text of Policy on the Internal Control System" and "Overview of the Operation on the System for Ensuring the Properness of Fujitsu Group Operations," please see the following URL.