Collaboration with External Parties
During these times, the challenges facing society and the environment have grown in number. The principle that companies have a responsibility to all of their stakeholders is becoming more common internationally, to include not just customers and investors, but employees, suppliers, and communities of all sizes.
Fujitsu supports this principle and is working towards the realization of a sustainable society, acting in conjunction with international organizations and a variety of like-minded companies.
Involvement with the World Business Council for Sustainable Development (WBCSD)

The World Business Council for Sustainable Development (WBCSD) is an organization headed by the CEOs of around 200 global corporations that aims to make sustainable communities a reality through business activities. The WBCSD advocates for economic system reforms under six programs: people, circular economy, redefining value, cities and mobility, food and nature, and climate and energy. Fujitsu has been involved with the WBCSD since 2013, and has continued to conduct activities working within several of these programs. Since 2018, CEO Tokita has been serving as part of the WBCSD executive committee.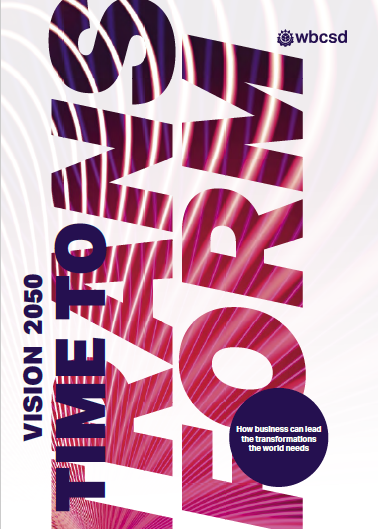 Vision2050
Fujitsu also participated in the WBCSD's formulation of "Vision 2050: Time to Transform" in March 2021, its long-term vision for the period up to 2050. "Vision 2050: Time to Transform" compiles international challenges, roadmaps, and other information with the aim of bringing about a society in which more than 9 billion people are able to live well, within planetary boundaries, by 2050. It was developed over the course of more than 18 months, with input from more than 200 companies and stakeholders in 20 countries.
In "Vision 2050: Time to Transform," the WBCSD identifies nine areas of transformation that companies need to achieve, including energy, manufacturing and resources, and health and wellbeing, and outlines specific actions for the next ten years. Fujitsu's purpose is aligned with "Vision 2050: Time to Transform," and we will continue to work toward the realization of a sustainable society.
Involvement with the World Economic Forum (WEF)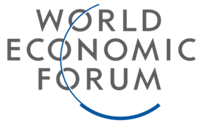 The World Economic Forum (WEF) is a not-for-profit foundation established by economist Klaus Schwab that engages in programs to improve the state of the world through cooperation between the public and private sectors in a spirit of global citizenship. It offers a venue for close collaboration among leaders from a diverse range of major international institutions as well as from the business world, government, academia and society, with the aim of shaping global, regional and industry-based agendas.
In January each year, the WEF holds its annual meeting in Davos, Switzerland. The Davos meetings bring together in one venue more than 3,000 leaders in their fields from around the globe, including company executives, political leaders, intellectuals, and journalists, to discuss the major problems confronting the world.
In 2021, due to the impact of COVID-19, the "Davos Agenda" was held as an online event for five days, starting January 25. Under the theme of "A Crucial Year to Rebuild Trust," leaders from various fields engaged in lively virtual discussions with a view to partnering to rebuild the world's economic and social systems in the post-COVID era. From Fujitsu, CEO Tokita and COO Furuta participated in various sessions and gained more in-depth insights about the role that companies should play in bringing about a sustainable society.