<!-Subtext (optional)->
Fujitsu uSCALE for Hybrid Cloud with VMware
The right cloud for the right workload with best cost transparency and agility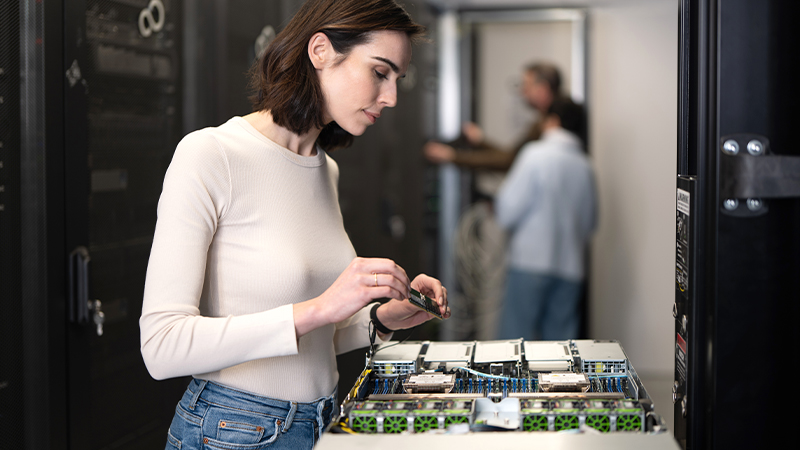 Get ready for a sustainable future with a robust hybrid cloud solution
In the dynamic world of modern digital advancements, businesses need scalable IT infrastructure solutions capable of smoothly adjusting to emerging possibilities. These solutions must facilitate sustainable transformations while upholding very best efficiency and security standards. By utilizing Fujitsu's hybrid cloud solution, you can optimize resource allocation, leading to improved performance and reduced costs. With our extensive knowledge in hybrid and multi-cloud technologies, we provide you with the tools to navigate the everchanging digital landscape and take advantage of the benefits that hybrid cloud infrastructure offers.
At Fujitsu, we are uniquely positioned to help our customers find the right cloud for the right workload. We provide an extensive range of pre-certified, pre integrated, and pre-constructed options for setting up a hybrid cloud environment, minimizing complexity, expenses, and risks. By thoughtfully allocating workloads to the most fitting environment, we assist you in attaining the ideal level of performance, security, and cost efficiency, ultimately improving business processes and results.
Embarking on the path to hybrid cloud with Fujitsu
Leveraging our range of services, platforms, and products, which encompass our PRIMEFLEX Integrated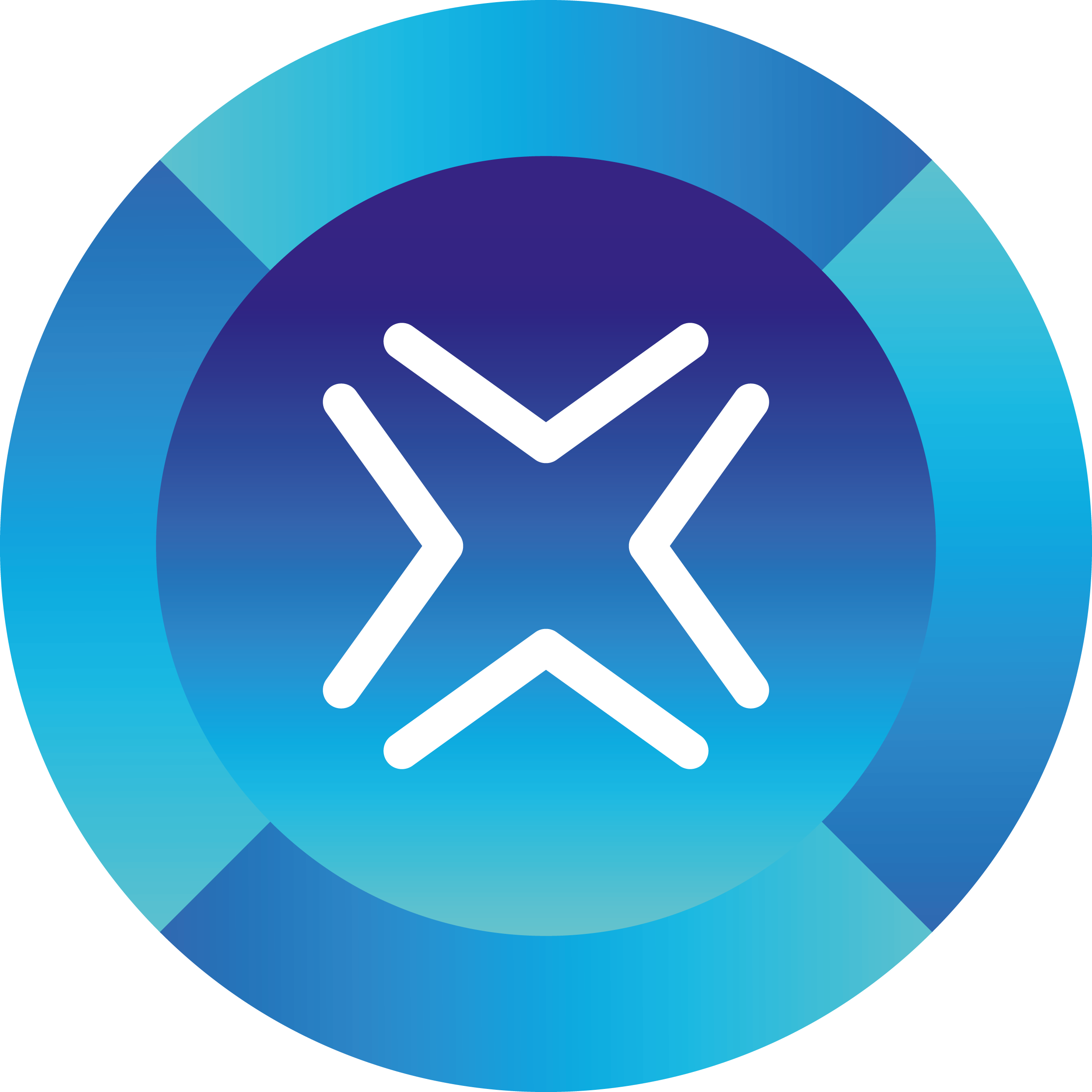 Systems portfolio designed for hybrid-enabled converged and hyper-converged infrastructures, we assist you in identifying and constructing the ideal solution tailored to your specific requirements. Collaborating closely,
we aid in the modernization and migration of workloads to their most suitable destinations, making it possible to transition as quickly, and cost-effectively as possible. By utilizing offerings such as PRIMEFLEX, we enable you to effortlessly expand the benefits of the cloud to your on-premises infrastructure. This streamlines the management of your hybrid setup and leads to cost savings through the flexible uSCALE model, where costs align with your usage.
With Fujitsu uSCALE Hybrid Cloud VMware you can enjoy a full Software-Defined Data Center (SDDC) stack, enriched with advanced networking capabilities and holistic management features. This setup ensures optimum performance and scalability, catering to even the most demanding workloads. To provide a hassle-free experience, the offering includes comprehensive services such as installation, support, and monitoring.
On-premises IT infrastructure "as-a-Service" offering
Fujitsu uSCALE is a smart alternative for a complex and sometimes disturbing move to the cloud. It will provide you with a financially transparent, technically scalable and compliant IT setup for your business strategy and your on premise data center with no need to disrupt the smooth operation of your IT department.
The easy way to your hybrid cloud
Fujitsu uSCALE brings cloud-like agility to on-premises data centers, combining the benefits of an as-a-service offering with the governance and control associated with the private cloud. Buffer capacity is provisioned ahead of demand and without charge until the service is utilized. By employing a pay-as-you-go approach, businesses can lower their IT expenses and venture beyond conventional IT solutions. To expedite the adoption of cloud services and facilitate IT modernization, Fujitsu and VMware present Hybrid Cloud as pay-as-you-use model through uSCALE for Hybrid Cloud VMware. The combination of VMware's Cloud Services Platform model and Fujitsu's infrastructure consumption model provides highest flexibility to business demands of organizations of all industries.
Your benefits with Fujitsu uSCALE for Hybrid Cloud with VMware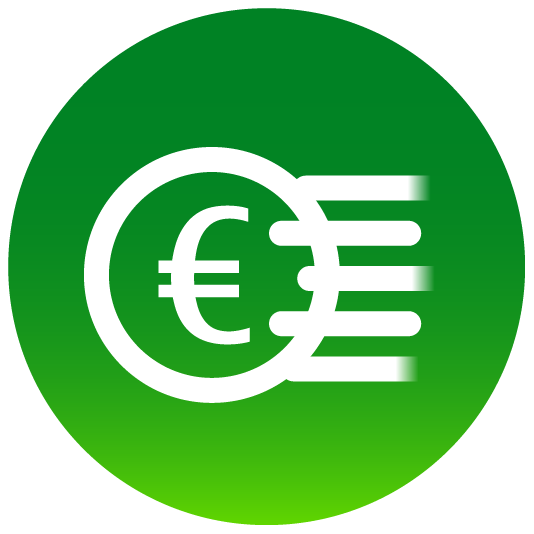 Gain advantage from an IT solution that presents more than 25% reduced Total Cost of Ownership (TCO) when comparedwith conventional infrastructures.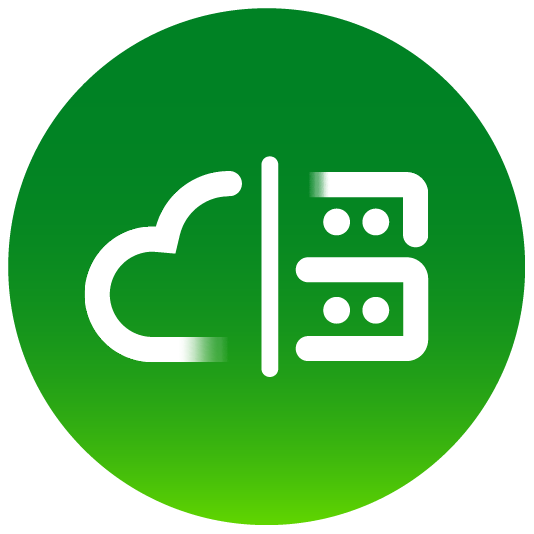 Flexible and optimizedworkload placement for business resilience, disaster recovery and operational efficiency.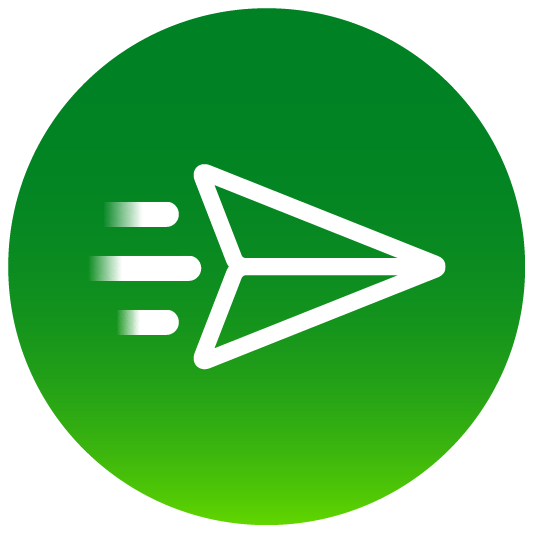 Experience the ease of on premises cloud-like usage, providing a smooth and recognizable interface while capitalizing on the benefits offered by cloud services.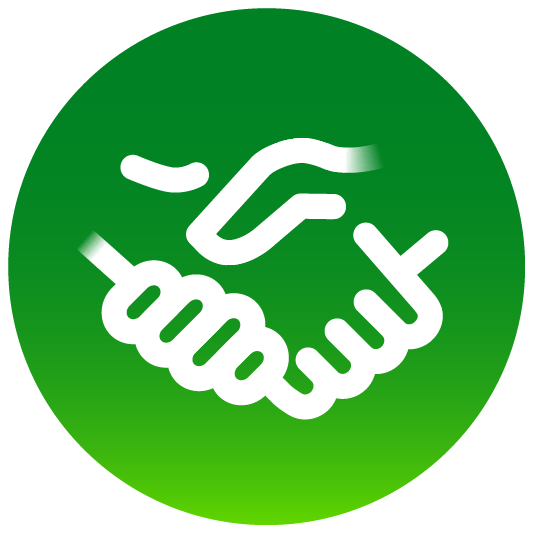 Mitigate the lowest possible risks when embracing private and hybrid cloud technologies, achieved by implementing fully certified and validated solutions from Fujitsu and VMware.
Ready-made solution examples
Fujitsu uSCALE for Hybrid Cloud with VMware offers flexible "as a service" solutions for on-premises IT infrastructures, using latest generation PRIMERGY x86 servers in combination with VMware's virtualization and cloud management technologies to create and deliver cloud services that are secure, scalable, and reliable.
| | Base Configuration & Software Suite |
| --- | --- |
| Infrastructure | PRIMEFLEX for VMware vSAN based on PRIMERGY RX2540 |
| Software | VMware Cloud Services Provider-Cloud Buider (CSP-CB) flexible licenses |
| Services | VMware CSP-CB support services |
| Service delivery | uSCALE Service Delivery Foundational Services |
| Billing | Monthly (per node/per month + per CSP-CB point used/per month) |
| Usage Flexibility | Up to 70% volume flexibility on infrastructure and CSP-CB software (flexibility levels may vary per country) |
| Service | Contract 3 or 5 year contract |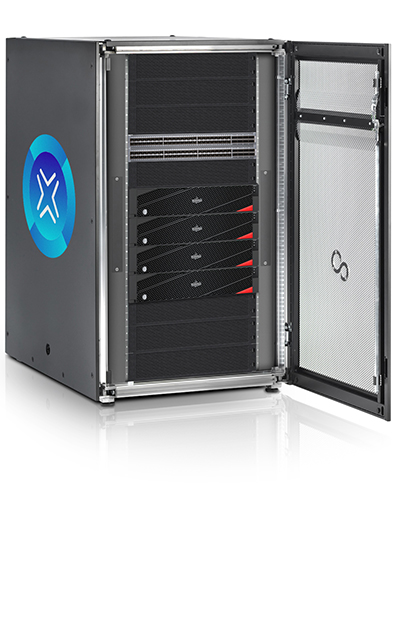 Let's take a look at your IT costs
Fujitsu uSCALE Price Estimator makes it easy to estimate monthly operating costs across IT infrastructures.Based on the tool and a few simple steps it is possible to quickly estimate the costs of a consumption-based offering for compute, storage, virtualization, or SAP environments. Follow the link to start your Fujitsu uSCALE experience.
Bring the benefits of the cloud to your data center with Fujitsu uSCALE
Get more information about Fujitsu uSCALE. Your personal contact will be pleased to assist you.