Fujitsu Integrated System PRIMEFLEX for VMware vSAN
Transform with confidence with Fujitsu - moving to VMware HCI
Fujitsu PRIMEFLEX for VMware vSAN is a ready-to-run expert integrated system that maximizes the operational efficiency of a VMware HCI environment. It delivers a turn-key experience that provides a simple and easy way to deploy and operate hyper-converged infrastructure (HCI) based on VMware vSAN.
Tightly integrating our own Fujitsu management software with VMware software, we simplify the complete life cycle of VMware-based hyper-converged IT infrastructure – from deployment and operation to scalability and maintenance. Leveraging PRIMEFLEX for VMWare vSAN supports any HCI use case, including general-purpose virtualization, VDI, big data and analytics, remote and branch office, edge and even mission-critical workloads like SAP HANA.
If your organization is looking to transition and move to a VMware hyper-converged infrastructure solution, Fujitsu PRIMEFLEX for VMware vSAN will make it a success.
Unlocking the benefits of Fujitsu PRIMEFLEX for VMware vSAN:
Enterprise-class storage services
High application performance
Grow-as-you-go
Simplified life cycle management
Business protection
Single point of contact
Reduced storage costs
Reduced infrastructure floor print - savings on space, power and cooling
Simplified path to hybrid IT
Fast time to production
One-stop 24/7 support
Fujitsu PRIMEFLEX for VMware vSAN – the simplest way to deploy VMware vSAN
Specifically engineered by VMware and Fujitsu, PRIMEFLEX for VMware vSAN streamlines the deployment, integration, management, upgrade and expansion of VMware vSAN environments.
Turn-key appliance and validated reference architectures based on a range of certified vSAN ReadyNodes™.
Single point of contact - the Fujitsu Solution Pack provides end-to-end infrastructure support covering the complete hardware and software stack.
Solution identifier enabling support calls to be routed to specialized solution aware support engineers for easier interactions and speedier resolution times.
Complete portfolio of IT leasing and financing solutions, trade-in and buy-back options.
Simplify the lifecycle management of your VMware-based hyper-converged IT infrastructure solution
While the benefits of hyper-converged infrastructure are clear to most organizations, so are the challenges around design, integration, testing, deployment, operation and maintenance.
With Fujitsu PRIMEFLEX for VMware vSAN, we introduce an HCI solution that takes care of the complete lifecycle of your VMware vSAN environment.
Fujitsu - delivering a choice of VMware vSAN deployment options
In addition to the appliance approach, for customers requiring increased flexibility of choice when building their VMware HCI environment, we offer PRIMEFLEX for VMware vSAN as validated reference architecture based on a range of certified vSAN ReadyNodes™.
Fujitsu Built4You Bundles
Refresh and future-proof your data center and remote/branch offices IT infrastructure with Fujitsu PRIMEFLEX for VMware vSAN Built4You Bundles. We offer a broad range of pre-configured, pre-tested and competitively priced configurations that can be easily scaled and adapted to existing application landscapes, modern cloud-native applications and diverse workloads.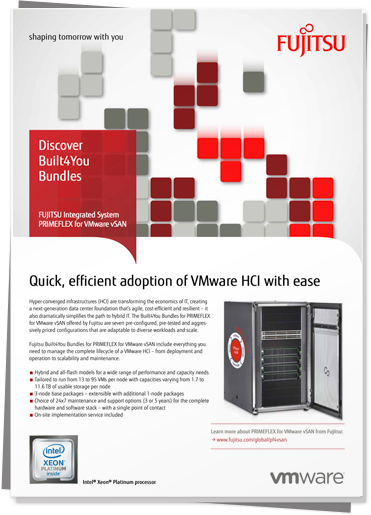 Spotlight - Drive Data Center Transformation with SAP HANA on HCI
Discover how Fujitsu PRIMEFLEX for VMware vSAN helps customers drive performance, scalability, operational efficiency and TCO reduction of SAP HANA production deployments.

Find out more about Fujitsu Integrated System PRIMEFLEX for VMware vSAN
Phone +44 (0)1235 797711 or
Contact us via an online form