- Hybrid IT : Fujitsu Netherlands

Digitalize with Confidence
Digitalization is much more than just adopting a new cloud-based digital solution. To achieve sustainable success you will need:
Access to the right digital and cloud solutions – from Fujitsu and our partners
The ability to orchestrate, integrate and manage Hybrid IT – so you have visibility of what services are being used, oversight on security and full control of costs
To help you drive and succeed in your digital transformation, we have build a Digital Business Platform called MetaArc. MetaArc comprises a comprehensive set of Solutions, Services, Cutting Edge Technologies and Engages our Eco-system of Partners, so we can support your digitalization and modernization projects wherever you operate.
MetaArc is based on a scalable cloud computing infrastructure. It is designed to offer the capabilities of mobile, data analytics, Internet of Things, Artificial Intelligence as a service, and Fujitsu K5 open stack offering. And it also includes a set of multi-cloud management capabilities which allows traditional IT to be orchestrated and managed securely. It enables you to create digital business solutions, quickly and easily, by mashing up and integrating digital technologies and services. Its cloud also enables a marketplace of third party solutions and services to help business form digital ecosystems. MetaArc offers resilience to business with its security functionality.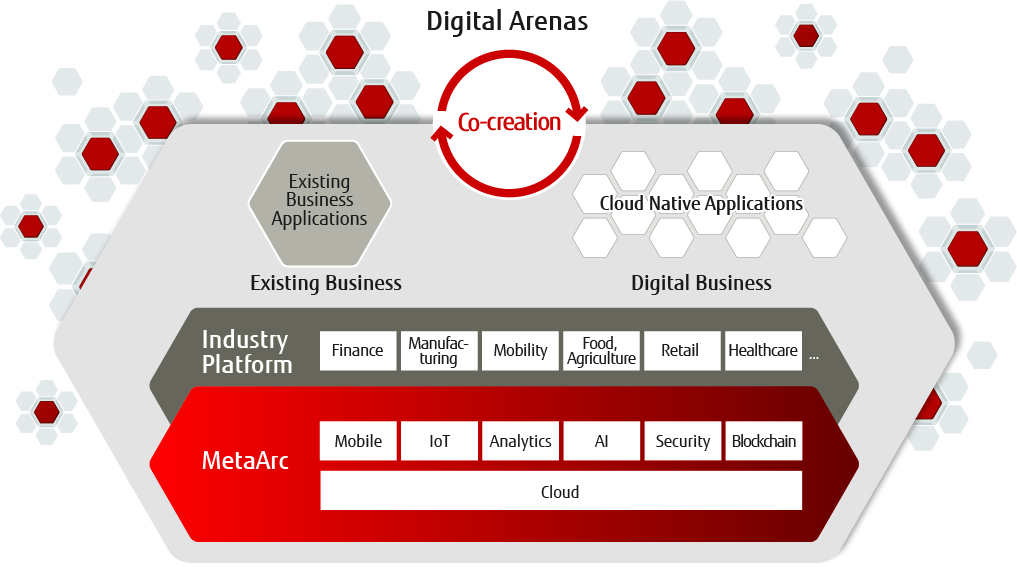 This Digital Business Platform is our answer to all of these challenges and to enable business to thrive in a digital world:
Transform your business digitally – deliver new initiatives more rapidly for competitive advantage
Drive operational efficiencies – modernize and transform your existing IT
Maximize the returns on your existing investments – extend the life and value of your core systems
Reduce complexity and improve management – comprehensive approach to delivering secure and compliant IT
See how the MetaArc portfolio can help you achieve digital transformation faster and at less risk.

| | | | |
| --- | --- | --- | --- |
| Deel deze pagina via | | | |
Naar boven