It's a data jungle out there - what's your survival strategy?
The data jungle is real!
Adventurer John Williams knows the jungle only from the tales he has heard, but he is captivated by them. The variety of species and the endless blaze of color fascinate him so much that he embarks on a journey to explore the land of his dreams. Together with Fuji, the village elder, he sets out on a voyage of discovery to get to know the jungle better. They wander through Storage Valley and to Server Falls, among other destinations, and come across interesting plants such as the rainbow tree and cacao fruit.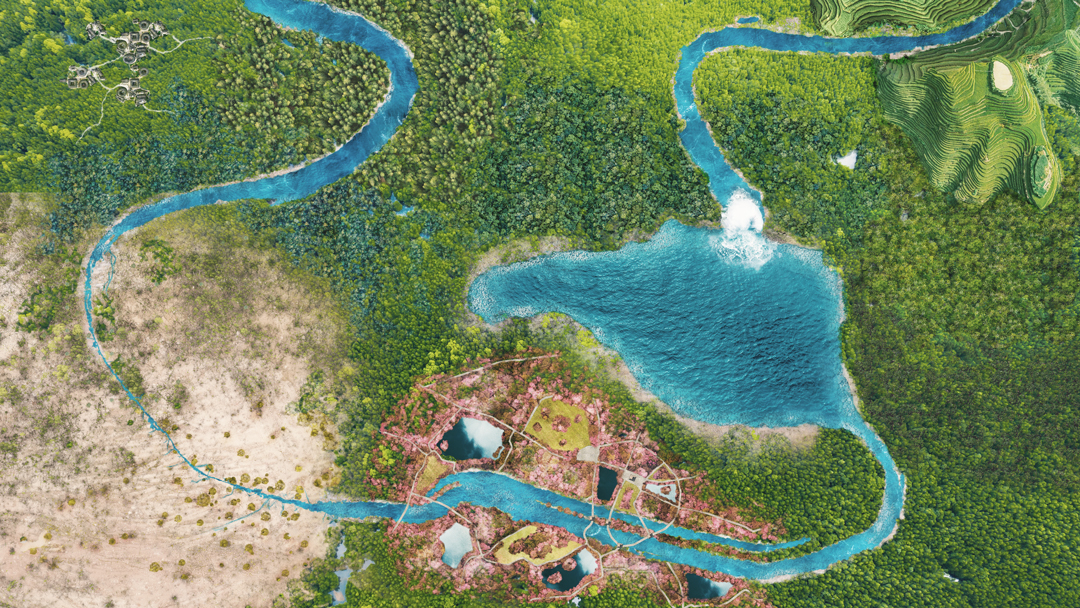 John Williams has recognized the advantage of the power from which these different trees and fruits benefit. This power is also present in your company; it is the power of data. If you want to benefit from this power and take your company to the next level of digitization, we will be happy to assist you as a guide in the data jungle. Let's find out together how you can bring the special power of data to full advantage for your company.
A place of longing, a place where dangers lurk
Listen on to discover their exciting and awe-inspiring adventures in the jungle, the legend behind this mysterious power, and how you too can use it to your benefit in the data and digitalization jungle.
Data in the wild is almost uncontrollable. It is constantly growing and is challenging to manage. It is available in various formats, characteristics and sizes. It can also be disorganized and difficult to access, while parts of it may be lost or have incorrect values. But data is the driving force that enables companies to improve the customer experience, increase employee productivity and operational efficiency.
Businesses have to become data-driven if they want to successfully navigate this data jungle. The journey of digital transformation depends on how well organizations can collect, process, store and manage data, and integrate it into their enterprise operations to transform data into money. The trees in this data wilderness are your guiding lights – they represent various data center technologies and equipment. The more you understand them, the easier your journey will be to find the right path through the jungle and find the right storage and server technology for you.
All the different trees absorb the water in the form of data. Water from the river ensures that various fruits grow on the trees. The fruits of the jungle represent the valuable insights - your business outcomes - that differentiate you from your competition and ensure at the same time that your business grows.
So come with us on this journey – to get up-close and personal with the trees of the data jungle – the technologies and options that will help you tame data in the wild and unlock its real power.


Click here to open the Data Jungle Book and read more about the Adventures of John Williams »
Explore. Experience. Evolve
Explore the data-driven storage jungle:
Fujitsu helps synchronize storage solutions with your business priorities, transforming you into a data-driven enterprise.
Learn more »
Explore the data-driven server jungle:
With the right choice of servers, your IT can become the business enabler transforming you into a data-driven enterprise.
Learn more »
There is more than trees
Explore the bridges of the jungle
FUJITSU Software Infrastructure Manager (ISM) is the liana in the data jungle – the one connecting element that your data center needs.
Learn more »
Explore pay-per-use agility
Achieve financial certainty with the cloud-like consumption-based uSCALE approach across your entire IT landscape.
Learn more »
Let's co-create your data-driven enterprise.
Building a Data-Driven Enterprise - A foundation to digital transformation
Fujitsu's proven methodology enables organizations to unlock the value of data to drive disruptive business decisions regardless of where it is located across multiple hybrid environments.


Learn more »
Data-centric storage at its best - Rely on a well-synchronized portfolio
With more than 50 years of experience in storage, Fujitsu provides all-flash arrays, hybrid systems, software-defined storage, tape libraries and data protection appliances, to synchronize storage resources with business priorities.
Learn more »
Servers for the data-driven
world - FUJITSU Server
PRIMERGY Systems
Our servers are available as expandable tower servers, versatile rack-mount servers and density-optimized multi-node servers as well as GPU servers optimized for AI, Data-Science, VDI, HPC and Graphics.


Learn more »