- Fujitsu Forum 2015 : Fujitsu Netherlands

Channel Offering
Channel Partners meet Fujitsu
Fujitsu Forum 2015: Human Centric Innovation in Action with Channel partners
The Fujitsu Forum 2015 is the place to meet customers and exchange ideas with other channel partners. And you should be there!
Find out what is relevant in terms of trends, technologies and portfolio that will impact future market developments and be key to our joint business success. In Munich you will have access to countless new ideas and innovations that can drive your business growth. Discover ideas and approaches that will help support customer retention and even enable you to tap into new business opportunities.
A complete program especially for our channel partners:
Channel Session (18th of November, 13:00-13:45, Room 5)
Fujitsu is renowned for its unique approach to innovation. Our portfolio of products and solutions provides excellent reliability and increased ROI based on longevity, performance and flexibility. At Fujitsu, we recognize that innovation is based on shared expertise. Channel partners are the central focus of our business. We recognize that our success is dependent on them. We're focused on building a lasting relationship with our channel partners. Fujitsu relies 100 % on its channel partners to supply products, solutions and services to end customers and to create innovation.
Join Veerle Limbos, Vice President Global Channel Business, and her exclusive guests to learn more about Human Centric Innovation and Channel strategy
SELECT Awards Ceremony (18th of November, 13:45-14:45, Room 5)
As one of the most channel-centric global vendors of technology products, solutions and services, the SELECT Awards is just one of the ways that Fujitsu is incentivizing channel partners of all sizes, specializations, and locations to share in its success. Join our prestigious SELECT Awards ceremony where the top 5 EMEIA Channel Partners and the firt Global SELECT Innovation Partner will be awarded.
Channel Cocktail, 18th of November 17:30
After a fruitful first day on Fujitsu Forum, you will have the chance to join an exclusive partner event enjoying some good Bavarian beer. The Partner event will take place at International Congress Center (ICM) Munich, on 18th of November, at 5:30 pm.
Please contact your local Partner Account Manager for more information.
Exhibition
Experience the diversity of IT
Visit the extensive exhibition area to experience the diversity of products, solutions and services available that enable you to support your customers and drive the success of your business.
To make sure you don't miss anything ...we offer special "Guided Tours" of the Fujitsu Forum.
| | | | |
| --- | --- | --- | --- |
| Deel deze pagina via | | | |
Fujitsu Vision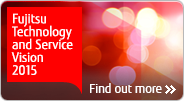 Naar boven