Ireland Following an EU tendering process, the Fujitsu led consortium was awarded this Technology contract by the Courts Service.
The brief was to design, implement and support a high-end, fully integrated technology solution for 3 of the courtrooms in the refurbished Cork Courthouse.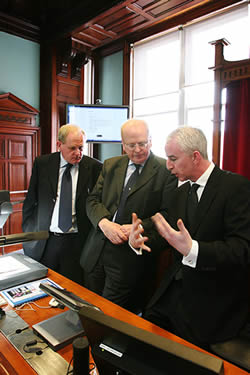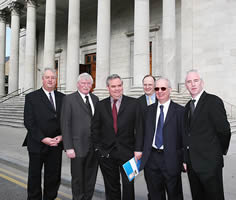 Fujitsu Managing Director, John Clare, pointed to the company's impressive track record in implementing the latest technology in a courtroom setting.
"Fujitsu has a great deal of experience in delivering working technology-enabled courtrooms in The Republic of Ireland, Northern Ireland and the UK. The company has been involved in providing the technology for a number of high profile Inquiries; including the Bloody Sunday enquiry, the Bristol Royal Infirmary and Shipman Inquiries. Fujitsu has also delivered a number of similar courtroom technology projects in the Laganside Court Complex in Belfast and the new Commercial Court in Bow Street, Dublin. Fujitsu is also leading Northern Ireland's Causeway project, which will enable all justice agencies in Northern Ireland electronically share information easily, confidently and efficiently thereby enhancing the overall performance of the criminal justice system.
About Fujitsu Services
Fujitsu Services is a leading European information technology services company. Its business is helping its customers realise the value of information technology through the application of consulting, systems integration and managed service contracts. It serves customers in the private and public sectors across Europe including retail, financial services, healthcare and government. With an annual turnover of £2.56 billion (€3.22 billion), it employs over 21,000 people across 20 countries. Headquartered in London, Fujitsu Services is the European IT services arm of the US$53 billion (€32.9 billion) Fujitsu Group. Visit pt.fujitsu.com or uk.fujitsu.com for more information.
About the Courts Service
The effective operation of the courts system is a critical element of the well being of any society. Courts, by virtue of their role, have a significant impact on lives and welfare. Their effectiveness is therefore of considerable importance. Effectiveness is not influenced solely by the manner in which cases are dealt with by judges in the courtroom environment, but also by the administrative and institutional framework, which exists to support and facilitate the operation of the courts. In Ireland this framework is provided by the Courts Service, which was established on 9 November 1999 following on from the enactment of the Courts Service Act, 1998. The legislation establishing the new Service set out its mains functions as being to: • manage the courts • provide support services for the judges • provide information on the courts system to the public • provide, manage and maintain court buildings, and • provide facilities for users of the courts
Catherine Casey

Phone: + 353 (0) 1 813 6000


E-mail: catherine.casey@ie.fujitsu.com
Company:Fujitsu Services

Date: 27 February, 2005

Top of Page