<!-Subtext (optional)->
Responsible Business
Delivering for our people, our customers, society and the planet.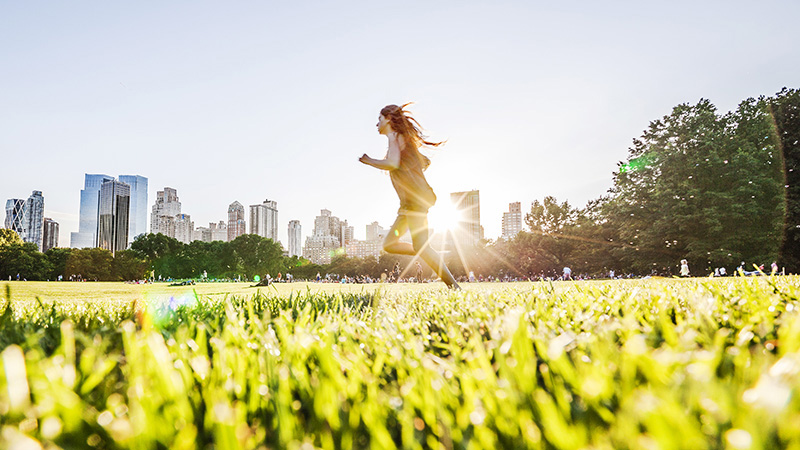 Across Fujitsu we recognise that, when implemented correctly and genuinely, responsible, and ethical behaviours create shared value. Responsible Business has been a substantial part of the Fujitsu Way (our corporate philosophy) since its inception, making it an integral part of our company DNA.
In this digital age, IT is essential to our everyday lives. As a global technology organisation, Fujitsu strives to make a positive impact to the society in which we operate through the solutions we develop and through our commitment to the UN Sustainable Business Goals. Our practices have been recognised and applauded externally in many benchmarks and indices, but there's always more we can do.
The approach and framework outlined below relate to the work we do across Europe. This fully aligns to our global policy and the vision of Fujitsu's President Tokita.
Our approach in Europe
Responsible practices are driven across the entire company, from protecting intellectual property rights and enforcing our human rights policy to encouraging all employees to get involved with community action projects. Our responsible business pillars – Environment, Community Involvement & Development, Diversity & Inclusion, Wellbeing and Operating Practices - are the foundation for our country level strategy whilst defining common themes across Fujitsu.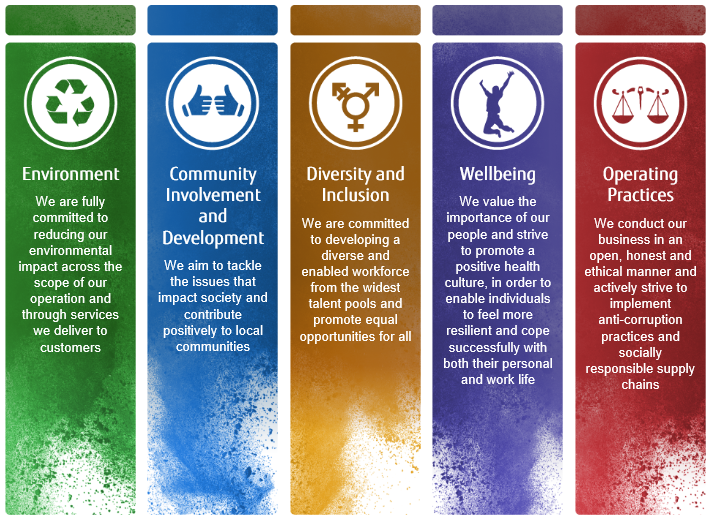 Fujitsu's Responsible Business activities in Ireland
In Fujitsu Ireland, we are committed to running a responsible business and we are passionate about improving our contribution to a more positive, safer, and prosperous society. As an organisation, we are at the forefront of innovation development in our industry and we strongly believe putting people at the centre of this is the best way to leverage advances to drive positive societal and environmental impacts. Strong leadership has ensured we have become thought leaders in topics that surround Responsible Business, including responding to global issues.
Our Corporate Social Responsibility journey began in 2013 and since then our programme has continually grown and become well established. These achievements are attributed to the dedicated support, commitment and participation of our employees coupled with our customers and community partnership organisations. Sustainable work practices are key to the effective development of our CSR strategy in all aspects of our business, and it is our duty to uphold these moral pillars in the years to come.
At Fujitsu Ireland, we believe that being a truly responsible business is about embedding responsible thinking in everything we do. Our regional framework enables all employees to present and speak about Responsible Business in an aligned way, building a powerful narrative and strong cohesion. To be a fully responsible business, we must question our practices, challenge our assumptions, and continually strive to improve the way we work.
Working with our customers
Fujitsu is taking a leadership role, proactively pursuing our goals across our entire global value chain, with customers, partners, and suppliers. We want to work with organisations who share our values and collaborate to make positive change. We continue to respond to social and environmental challenges by increasing sustainable ICT products and solutions and developing innovative technologies which reduce the environmental impact of our customers' businesses.
In Ireland we work to transform our customers' businesses. Our Responsible Business report covers our work with customers in supporting them as well as the work we do internally with and for our employees and externally to support society and the communities we reach.
Our Sustainability Engagement Team aims to increase the value of both Fujitsu and our customer's brands with consumers and stakeholders, to meet legislation targets, and deliver solutions which reduce power consumption and emissions. We can quantify the environmental benefits of activities carried out across the business. Through the carbon foot printing tool, the team has created, a wide range of analyses can be carried out, and "next steps" consultancy services can be applied. This is further detailed in our report.