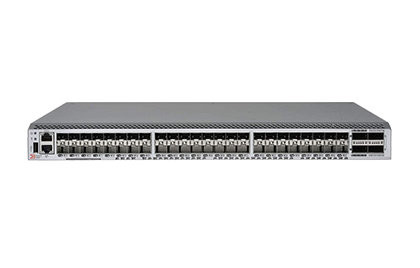 Brocade G620
Provides high scalability in an ultra-dense, 1U, 64-port switch to support high-density server virtualization, cloud architectures, and flash-based storage environments

Increases performance for demanding workloads across 32G links and shatters application performance barriers with up to 100 million IOPS

Organizations can scale from 24 to 64 ports with 48 SFP+ and 4 Q-Flex ports, all in an efficient 1U package

Provides proactive, nonintrusive, real-time monitoring and alerting of storage I/O health and performance with IO Insight
| | | | |
| --- | --- | --- | --- |
| | | | |
| Maximize Performance for Application and Solid State Storage Architectures | Simplify Scalability and Management Complexity | Gain Control and Insight to Quickly Identify Problems | Simplified Management and Robust Network Analytics |
| The Brocade G620 delivers increased performance for growing and dynamic workloads through a combination of market-leading throughput and low latency across 32G. With Gen 6 ASIC technology providing up to 566 million frames switched per second, the Brocade G620 Switch shatters application performance barriers with up to 100 million IOPS to meet the demands of flash-based storage workloads. | It features up to 64 Fibre Channel ports in an efficiently designed 1U form factor, delivering industry-leading port density and space utilization for simplified scalability and data center consolidation. With this high-density design, organizations can pack more into a single data center with a smaller footprint, reducing costs and management complexity. | The Brocade G620 with Gen 6 Fibre Channel technology and integrated network sensors helps organizations achieve greater control and insight to quickly identify the root cause of problems at the storage or VM tier. | The switch leverages Brocade Fabric Vision technology to simplify administration, quickly resolve problems, increase uptime, and reduce costs. It simplifies troubleshooting with real-time and historical visibility in a single dashboard. |
Maximize Performance for Application and Solid State Storage Architectures

The Brocade G620 delivers increased performance for growing and dynamic workloads through a combination of market-leading throughput and low latency across 32G. With Gen 6 ASIC technology providing up to 566 million frames switched per second, the Brocade G620 Switch shatters application performance barriers with up to 100 million IOPS to meet the demands of flash-based storage workloads.

Simplify Scalability and Management Complexity

It features up to 64 Fibre Channel ports in an efficiently designed 1U form factor, delivering industry-leading port density and space utilization for simplified scalability and data center consolidation. With this high-density design, organizations can pack more into a single data center with a smaller footprint, reducing costs and management complexity.

Gain Control and Insight to Quickly Identify Problems

The Brocade G620 with Gen 6 Fibre Channel technology and integrated network sensors helps organizations achieve greater control and insight to quickly identify the root cause of problems at the storage or VM tier.

Simplified Management and Robust Network Analytics

The switch leverages Brocade Fabric Vision technology to simplify administration, quickly resolve problems, increase uptime, and reduce costs. It simplifies troubleshooting with real-time and historical visibility in a single dashboard.
Tech Specs
Fibre Channel performance
Fibre Channel: 4.25 Gbps line speed, full duplex; 8.5 Gbps line speed, full duplex; 14.025 Gbps line speed, full duplex; 28.05 Gbps, full duplex; 112.2 Gbps, full duplex; auto-sensing of 4, 8, 16, 32 Gbps port speeds and capable of supporting 128 Gbps speeds

Fibre Channel ports
Switch mode (default): Minimum of 24 ports and maximum of 64 ports configuration. Port numbers above minimum are enabled through 12-port SFP+ increments via Ports on Demand (PoD) licenses and through one 4-port QSFP PoD, providing 16-port increments through a Q-Flex license; E_Ports, F_Ports, D_Ports,EX_Ports.
Brocade Access Gateway default port mapping: 40 SFP+ F_Ports, 8 SFP+ N_Ports

Maximum fabric latency
Latency for locally switched ports is 900 ns; compression is 1 ms per node

Scalability
Full-fabric architecture with a maximum of 239 switches

Certified maximum
6,000 active nodes; 56 switches, 19 hops in Brocade Fabric OS fabrics; larger fabrics certified as required

ISL trunking
Frame-based trunking with up to eight 32 Gbps SFP+ ports per ISL trunk or up to two 128 Gbps QSFP ports per ISL trunk. Exchange-based load balancing across ISLs with DPS included in Brocade Fabric OS.

Aggregate bandwidth
2 Tbps

Maximum frame size
2,112-byte payload

Frame buffers
15,360 dynamically allocated

Classes of service
Class 2, Class 3, Class F (inter-switch frames)

Port types
D_Port (ClearLink Diagnostic Port), E_Port, EX_Port, F_Port, AE_Port; optional port-type control Brocade Access Gateway mode: F_Port and NPIV-enabled N_Port

Data traffic types
Fabric switches supporting unicast

Media types
128 Gbps: Brocade G620 requires Brocade hot-pluggable QSFP, MPO connector; 128 Gbps SWL
64 Gbps: Brocade G620 requires Brocade hot-pluggable QSFP, MPO connector; 64 Gbps SWL
32 Gbps: Brocade G620 requires Brocade hot-pluggable SFP+, LC connector; 32 Gbps SWL/LWL
16 Gbps: Brocade G620 requires Brocade hot-pluggable SFP+, LC connector; 16 Gbps SWL/LWL
Fibre Channel distance subject to fiber-optic cable and port speed.

Fabric services
Monitoring and Alerting Policy Suite (MAPS); Flow Vision; Brocade Adaptive Networking (Ingress Rate Limiting, Traffic Isolation, QoS); Fabric Performance Impact (FPI) monitoring; Slow Drain Device Quarantine (SDDQ); Brocade Advanced Zoning (default zoning, port/WWN zoning, broadcast zoning, peer zoning, target-driven zoning); Dynamic Fabric Provisioning (DFP); Dynamic Path Selection (DPS); Brocade Extended Fabrics; Enhanced BB Credit Recovery; FDMI; Frame Redirection; Frame-based Trunking; FSPF; Integrated Routing; IPoFC; Brocade ISL Trunking; Management Server; NPIV; Time Server; Registered State Change Notification (RSCN); Reliable Commit Service (RCS); Simple Name Server (SNS); Virtual Fabrics (Logical Switch, Logical Fabric); Read Diagnostics Parameter (RDP)

Maximum IP MTU size
Jumbo Frames at 9,216 bytes

Service Weblink
http://www.fujitsu.com/global/services

Service Weblink
http://www.fujitsu.com/global/services

Support Pack Options
Available in major metropolitan areas:
9x5, Next Business Day Onsite Response Time
9x5, 4h Onsite Response Time (depending on country)
24x7, 4h Onsite Response Time (depending on country)
Recommended Service
24x7, Onsite Response Time: 4h
Support Pack Options
Available in major metropolitan areas:
9x5, Next Business Day Onsite Response Time
9x5, 4h Onsite Response Time (depending on country)
24x7, 4h Onsite Response Time (depending on country)
Recommended Service
24x7, Onsite Response Time: 4h