<!-Subtext (optional)->
Global Fujitsu Distinguished Engineer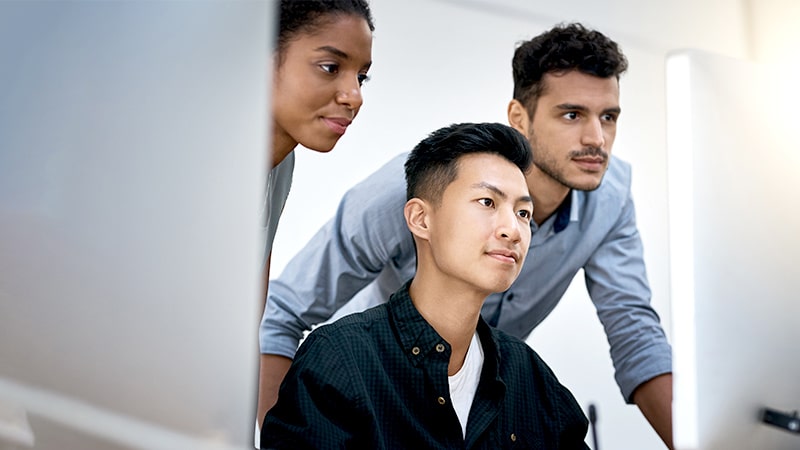 Hidekazu Tanaka
Message
Originally, I was a system engineer involved in accelerating system development and developing tools. While I was doing the development and researching new technologies at a U.S. research institute in Silicon Valley, I learned about the startup ecosystem there and about the essence and mindset of agile development, which brings together management and technology.
After returning to Japan, I transferred to a department for new business creation and changed my career to become a designer because I realized I couldn't get past the limits of development efficiency by thinking only as an engineer. To create mechanisms allowing members with the same vision in a large company to go from problem discovery to finish at product release, I was engaged in designing and implementing new businesses for companies and regions based on design thinking, lean startup, and agile. My experience includes collaborative projects with the Ministry of Education, Culture, Sports, Science and Technology, students, and adults, creating businesses connecting small factories to medical professionals, and taking charge of strategy in medical device development. A few years later, while promoting new businesses, I realized that the transformation of the entire company by top management was still essential in order to truly increase business agility, and then I switched to become a DX consultant. I am engaged in management, organization, and technology consulting to help in corporate DX. Based on extensive experience in connecting management and technology, an approach driven from my standpoint as an engineer, designer, and consultant, I am currently working on cross-organizational transformation initiatives throughout all of Fujitsu for transformation to agile mindsets, organizations, and processes.
I'm working to spread this change to organizations and processes across Japan and the world so that fast commercialization from idea to manufacturing is possible even at existing companies, and anyone can take on this challenge.
Achievements
Individual lectures related to new business creation and agile software development (Major automobile companies A and B, general trading company C, Osaka Gas Business Create, Doshisha University, Unicornfarm, etc.)
Founder and MC, Startup Grind Fukuoka; Founder and MC, Startup Grind Nagoya; MC, Startup Grind Tokyo (MC in multiple chapters of Startup Grind, the world's largest startup community in 600 cities and 125 countries. As of 2023, over 3,000 members participate in the operating chapters.)
Partner, XPonential Technology Partners (Founder and MC of the global accelerator)
Director, Industry-Academia Collaboration Promotion Center, Inc. (Consulting on new business creation and agile software development, etc.)
Researcher, Doshisha University Well-being Research Center (Research, discussion and lecture on Agile, SDGs, organization theory and psychology)
Part-time lecturer, Tsuda University
Certified Scrum Professional (CSP-SM/CSP-PO, the top certifications for each role of the Scrum Alliance, an international certification organization for Scrum. There are about 60 certified Scrum professionals in Japan.)
Writing, contributing to books, reviewing translations, etc. ("Introduction to Agile Software Development: To consider a new type of organizations towards well-being", "Contemplating Well-being: Possibilities of Multifaceted Approach", "Knowledge Integration for the Future", "SCRUMMASTER THE BOOK")
Planning and organizing many other external events, study groups and workshops
Value Creation
Building a common cloud development environment and proposing a development process for the introduction of DevOps, and applying the new approach to projects
Building a new business creation workshop based on design thinking, Lean Startup, and agile software development, and creating businesses by mixed teams of students, designers, and Fujitsu engineers in collaboration with the MEXT
Creation of open innovation businesses for nurses and town factories in collaboration with local government
Consulting for companies aiming to become DX companies, including management reform roadmaps, DX vision building, support for company-wide reform of management, human resources, organization, and technology, strategic technology selection, new business processes, and mind change
Lecturer on new business creation and agile mindset training for internal and external directors and executives
Investigation of commercialization strategy for medical device research
Speaker at external events (Fujitsu Forum, SAFe Day Japan, Agile Japan, etc.)