FUJITSU Server BS2000 SE700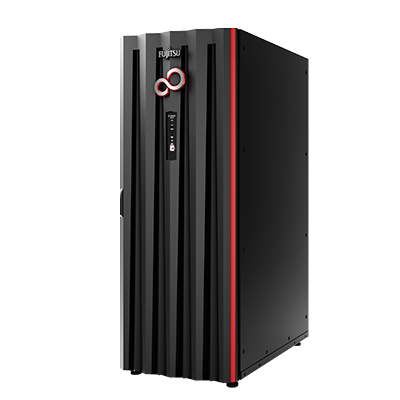 The new Fujitsu BS2000 SE700 servers are a valued platform for the management of very large quantities of data in the high-end performance range. Compared to earlier server lines significant performance gains as well as more scalability and high availability are achieved.
Due to the unique integration ability of SE700 all applications and application parts can use the optimal system platform without losing control of central system administration.

Bearing in mind that applications depend on many different IT systems, the unique architecture concept of the SE700 series offers the optimal platform for every usage scenario – both for classic mainframe and standard applications on /390 and x86 technology. At the same time, the modular construction of the SE700 infrastructure creates completely new capabilities for companies in the data center.
/390 based server units for BS2000
x86-based server units for BS2000, Linux or Windows guest systems
x86-based application units for operation under Linux, Windows or VMware
Shared tape or disk peripherals
Fast internal server infrastructure to connect components to each other and to the customer SAN
An important objective in developing the SE servers was a standardized management concept which offers a very high degree of integration and ensures very economic IT operations. This includes cross-system administration with a modern browser-based interface as a single point of administration, common system monitoring of all components, a shared service procedure and all the options of consolidation by virtualization. Thus, the new SE700 servers enable very stable system operation, which not only includes the mainframe platforms that were already proven as very fail-safe, but also comprises application units as well as the infrastructure and peripherals used by the SE server.
---
Features

Benefits

Outstanding properties of the SE700 infrastructure for use in the high-performance range

Newly developed processor module with 8 CPUs
2 – 15 processors
High performance range with 10 models
Integration of HW technologies in a 19-inch standard rack
New I/O system with up to 126 Fibre Channel channels and 8 Gbit/s throughput each
Support of 10 Gbit/s LAN
Hot-spare processor with dynamic activation
Capacity on Demand for temporary processor activation
Integration of up to two SU300 server units, based on x86 Intel technology
Up to 50% less energy consumption

High overall productivity due to excellent mono / system performance
Maximum performance for all applications
Individual scalability and optimal performance
Attractively priced model entry, high system flexibility, low operating costs
Maximum performance between the SE units and to the customer network
No interrupt, no loss in performance
Flexible modification of existing performance to meet the requirements of customer applications
Optimal utilization of resources on the respective platform
Comprehensive, intelligent energy management reduces energy consumption

Openness and integration of various server systems and the peripherals

Conventional mainframe applications and applications from the open world are run in coexistence on an SE server on various HW technologies with different operating systems
Shared tape and disk peripherals and fast internal server infrastructure to connect components to each other and to the customer LAN or SAN

The consolidation of different applications from the mainframe world and the open world creates advantages for the performance and utilization of the server
Standardized SLA and service management with central remote service access increases data security
Optimal support of business processes by a standardized service concept
Maximum availability of all applications and services in mainframe quality

Central, comfortable and cross-system web-based management

Integrated HW management for servers, storage and network
VM management
Performance and Energy monitoring

Central and comfortable operation and administration of all applications on the SE server on one web-based interface
Common system monitoring of all components enables end-to-end, low-cost operation with optimal use of resources
---