Take your productivity to the next level with the latest
FUJITSU Ultra-Mobile Premium products.
Giving you the freedom you deserve.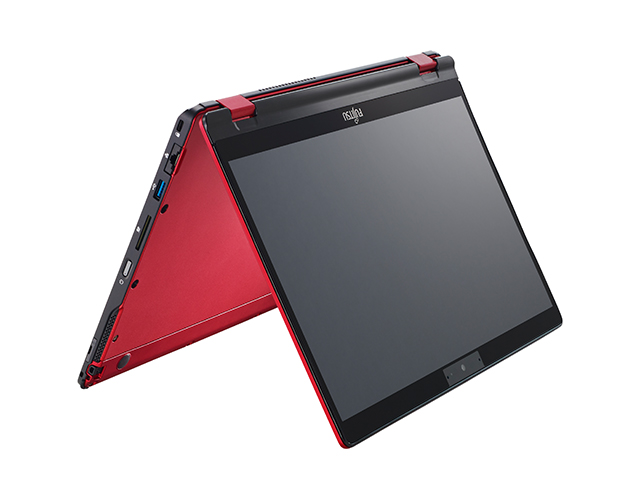 The FUJITSU Ultra-Mobile Premium portfolio is designed for business professionals seeking optimum mobility when on the road. A robust magnesium casing houses the 10th generation Intel® Core™ processor, while FHD anti-glare displays ensure ergonomic working wherever you are. Integrated PalmSecure™ or fingerprint sensors protect your data at all times and once back in the office, your device can be quickly and easily connected via a USB port replicator. Whichever you choose, each Notebook or Tablet offers you:
Convenient mobility
Superior security
Slim and light form factor
Excellent connectivity
All-day battery life
Maximum Protection with PalmSecure™
While a Kensington lock secures your FUJITSU Device, the sensitive enterprise data inside is safe from unauthorized access thanks to industry- leading PalmSecure™ authentication technology, a SmartCard reader, TPM 2.0 and a full HD InfraRed camera with Windows Hello support.
Secured-core PC
The new FUJITSU Ultra-Mobile Premium portfolio provides Secured-core PC for the current generation devices. This new level of security based on Microsoft's operating system features completes FUJITSU's state of the art hardware-based security features like PalmSecure™ to offer highest security for your data.
What is the Secured-core PC?
Secured-core PCs combine the hardware, BIOS, firmware and OS advocated by Microsoft to prevent unauthorized access to the BIOS and firmware from outside.
What constitutes Secured-core PC technology?
To name but a few, Secured-core PCs meet the following features:

DRTM Protection (Dynamic Root of Trust for Measurement Protection)
The risk of tampering with malicious code is reduced by confirming the reliability between the BIOS, firmware and OS when starting and using the PC
Kernel DMA Protection (Kernel Direct Memory Access Protection)
It reduces the risk of malicious access via USB ports from certain externally connected devices.
VBS/HVCI Protection (Virtualization Based Security / Hypervisor Core Isolation)
By applying the virtualization technology, a virtual area separated from the OS is provided in the same device. The presence of malicious code in the virtual area is detected and its execution prevented.
SMM Protection (System Management Mode Protection)
Detects tampering of the BIOS code and stops the execution of system management manipulations such as power control and special processing.
Modern Standby
Prevents malicious access aimed at standby and during the timing from standby to power on.
FUJITSU Tablet LIFEBOOK U9310X Product Features
World's Lightest Convertible with a Pen
Weighing in at just over 1 kg and only 16.9 mm thin, the new FUJITSU Tablet LIFEBOOK U9310X is a 360° foldable, 2-in-1 tablet for ultimate flexibility. The durable magnesium housing in stylish black or red packs the latest 10th gen Intel® Core™ i7 processor for high power along with best-in-class connectivity. While embedded PalmSecure™ technology and a full HD InfraRed camera for face recognition keep your data safe and secure.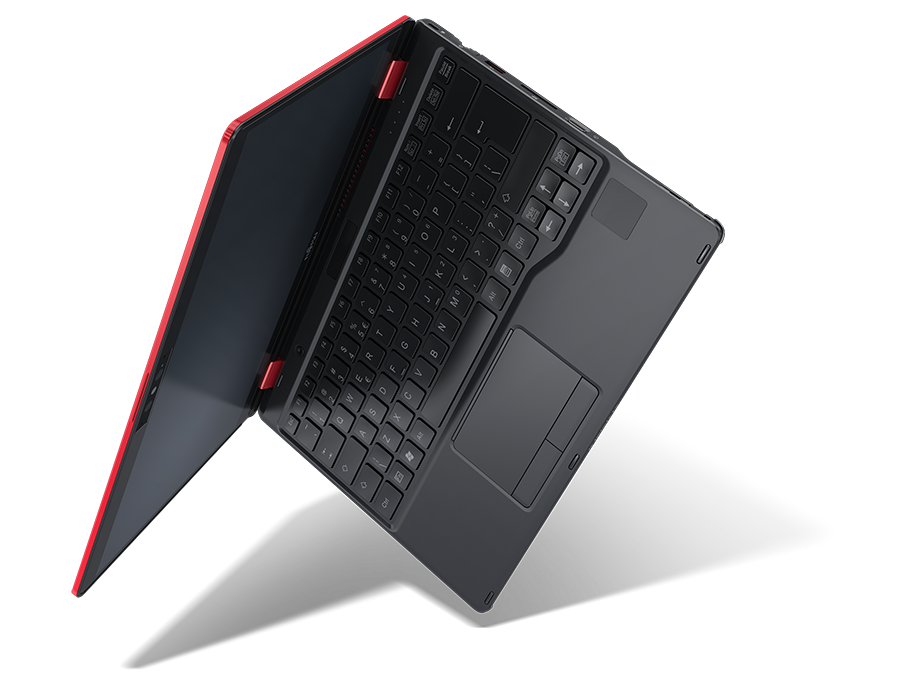 Pen with Wacom AES Technology™
Doubling as a Notebook or Tablet, the FUJITSU Tablet LIFEBOOK U9310X provides no fewer than four functional working modes. The backlit keyboard is supplemented by a multi-gesture touchpad with integrated mouse button functionality, while the anti-glare FHD display allows both touch and pen input. The Wacom AES pen supports 4,096 pressure levels and is automatically recharged when replaced in its integrated pen garage.
Best-in-class Connectivity
All the interfaces on the FUJITSU Tablet LIFEBOOK U9310X are full size, removing the need to pack adapters on your business trips. Alongside HDMI, this hyper-connected convertible features a LAN connector and USB Type-C with Intel® Thunderbolt™ 3 as well as embedded WLAN (Intel® Wi-Fi 6), Bluetooth and optional Global 4G/LTE (Cat 6).
360° Foldable
The attractive, ultra-slim casing in red or black can be easily folded through 360° to enable an uncompromising viewing experience on the 13.3-inch FHD (1920 x 1080) display as well as the best use of the optional 5MP rear camera. Indoors and out and about.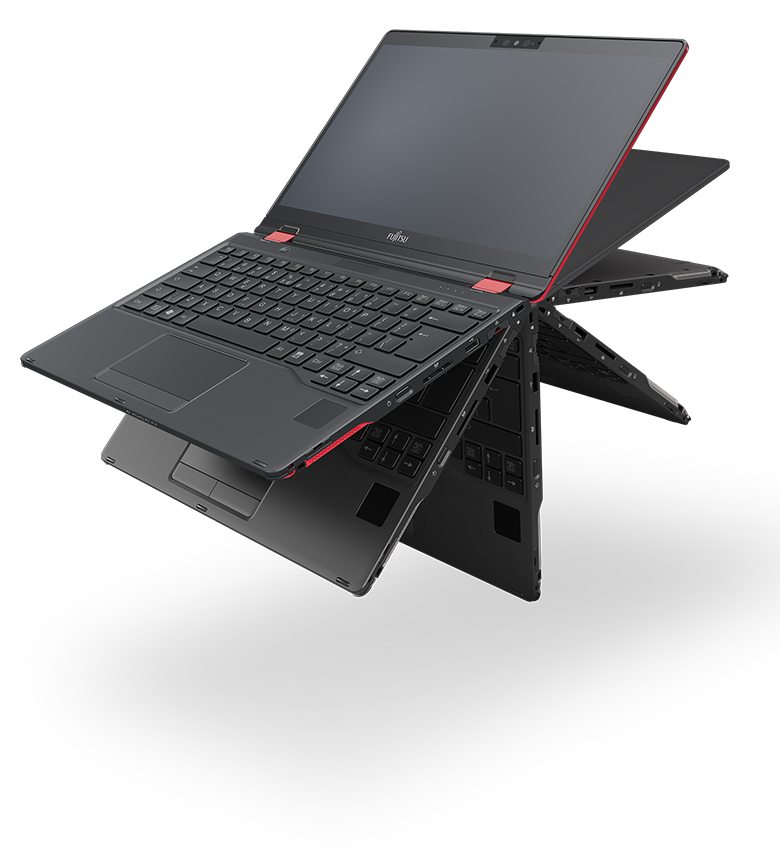 Lifebook U9310X Technical Specifications
33.8 cm (13.3-inch), anti-glare touchscreen,1,920 x 1,080 pixel, 1000:1,400 cd/m²

Up to Intel® Core™ i7-10610U processor (4 Cores / 8 Threads, 1.9 GHz, up to 4.8 GHz)

256 - 1024 GB internal SSD with Intel® Optane™ option

8 or 16 GB onboard LPDDR3 (2,133 MHz)

Intel® UHD Graphics 620, up to 4,096 x 2,160 @ 60Hz

Backlit keyboard, multi-gesture touchpad with integrated mouse button functionality

Intel Dual Band Wireless-AC9560NV with integrated Bluetooth 5.0, LTE Sierra Wireless EM7455 (Cat. 6), LTE Fibocom L850-GL (Cat.9)

Built-in infrared webcam, full HD (1,920 x 1,080) (2.073 megapixel)
5MP Rear Camera

Realtek ALC255 on board, 2x digital array microphones, 2x built-in speakers (stereo)

Lithium polymer battery 4-cell, 50 Wh, quick charge: 80% in 1 h

5 - 35 °C (41 - 95 °F), 20 - 80% relative humidity

309 x 214.8 x 16.9 mm (12.18 x 8.41 x 0.62 inch), starting at approx. 1 kg
The FUJITSU Tablet LIFEBOOK U9310X joins the Ultra-Mobile Premium Family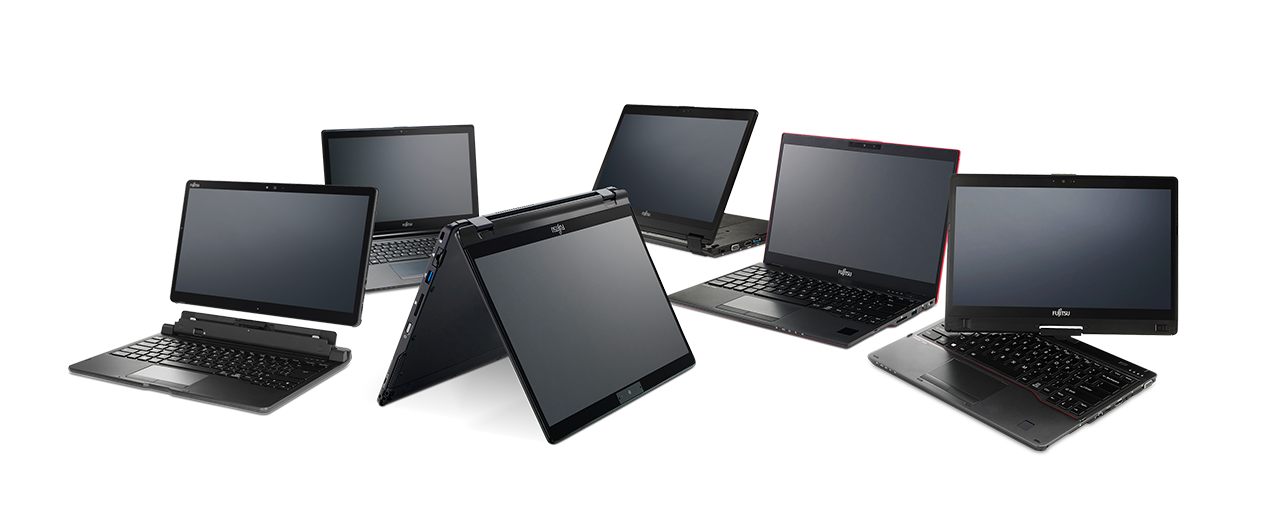 Whether foldable, convertible or detachable, the Fujitsu portfolio has a traveling companion to fulfill your computing needs both in and out of the office.




LIFEBOOK U9310X
LIFEBOOK U9310
LIFEBOOK U7310
Claim
World's Lightest Convertible With A Pen
Your Light and Elegant Travel Companion
Ultra-Mobile Meets Ultra Secure
Ultra-Mobile Meets Ultra Secure
Product Type
2-in-1 Convertible
Notebook
Notebook
Notebook
Hinge
360° Foldable Hinge
---
---
---
Display
13.3" FHD Anti-Glare
13.3" FHD Anti-Glare
12.5" FHD Anti-Glare
13.3" FHD Anti-Glare
Pen Support &
Pen Garage
Yes
No
No
No
Processor
Intel® Core™ i7-10610U
Intel® Core™ i5-10310U
Intel® Core™ i5-10210U
Intel® Core™ i7-10610U
Intel® Core™ i5-10310U
Intel® Core™ i5-10210U

Intel® Core™ i7-8665U
Intel® Core™ i7-8565U
Intel® Core™ i5-8365U
Intel® Core™ i5-8265U
Intel® Core™ i3-8145U
Intel® Core™ i7-10610U
Intel® Core™ i7-10510U
Intel® Core™ i5-10310U
Intel® Core™ i5-10210U
Intel® Core™ i3-10110U
RAM
Up to 16 GB
Up to 16 GB
Up to 16 GB
Up to 40 GB
SSD
Up to 1024 GB
Up to 1024 GB
Up to 1024 GB
Up to 1024 GB
Camera
2 MP Front Camera (IR)
5 MP Rear Camera


2 MP Front Camera (IR)
Optional 1 MP Built-in webcam
Optional 1 MP Built-in webcam
Security Options
PalmSecure™
Fingerprint
IR Cam
SmartCard Reader
PalmSecure™
Fingerprint
IR Cam
SmartCard Reader
PalmSecure™
Fingerprint
SmartCard Reader
PalmSecure™
Fingerprint
IR Cam
SmartCard Reader
ePrivacy Filter
Webcam Shutter
Battery Runtime
Up to 12 hours
Up to 11:30 hours
Up to 12 hours
Up to 13:20 hours
Misc.
Intel® Thunderbolt™ 3
Intel® Optane™
Intel® Wi-Fi 6
Backlit Keyboard
Global LTE (Cat 9)
MS Modern Standby
Intel® Thunderbolt™ 3
Intel® Optane™
Intel® Wi-Fi 6
Backlit Keyboard
Global LTE (Cat 9)
MS Modern Standby
Intel® Thunderbolt™ 3
Backlit Keyboard
Intel® Thunderbolt™ 3
Intel® Optane™
Intel® Wi-Fi 6
Global LTE (Cat 9)
Backlit Keyboard
MS Modern Standby
Dimensions
309 x 214.8 x 16.9 mm
309.3 x 213.5 x 15.5 mm
302 x 209 x 19.0mm
311.4 x 216.8 x 19.2 mm
Weight
From 1015 g
From 916 g
From 1150 g
From 1170 g






LIFEBOOK U7410
LIFEBOOK U7510
LIFEBOOK U729X
LIFEBOOK T939
STYLISTIC Q7310
Claim
Ultra-Mobile Meets Ultra Secure
Ultra-Mobile Meets Ultra Secure
Multi-Mode Productivity
Top Performer with a Twist
Tablet Mobility Meets Notebook Productivity
Product Type
Notebook
Notebook
2-in-1 Convertible
2-in-1 Convertible
Detachable Tablet
Hinge
---
---
360° Foldable Hinge
360° Swivel Hinge
---
Display
14.0" FHD Anti-Glare
15.6" FHD Anti-Glare
12.5" FHD Anti-Glare
13.3" FHD Anti-Glare
13.3" FHD Anti-Glare
Pen Support &
Pen Garage
No
No
Yes
Yes
Yes
Processor
Intel® Core™ i7-10610U
Intel® Core™ i7-10510U
Intel® Core™ i5-10310U
Intel® Core™ i5-10210U
Intel® Core™ i3-10110U
Intel® Core™ i7-10610U
Intel® Core™ i7-10510U
Intel® Core™ i5-10310U
Intel® Core™ i5-10210U
Intel® Core™ i3-10110U
Intel® Core™ i7-8665U
Intel® Core™ i5-8365U
Intel® Core™ i5-8265U
Intel® Core™ i3-8145U
Intel® Core™ i7-8665U
Intel® Core™ i5-8365U
Intel® Core™ i5-8265U
Intel® Core™ i7-10610U
Intel® Core™ i5-10310U
Intel® Core™ i5-10210U
RAM
Up to 32 GB
Up to 32 GB
Up to 16 GB
Up to 16 GB
Up to 16 GB
SSD
Up to 1024 GB
Up to 1024 GB
Up to 1024 GB
Up to 1024 GB
Up to 1024 GB
Camera
Optional 1 MP Built-in webcam
Optional 1 MP Built-in webcam
Optional 2 MP Front Camera
Optional 5 MP Out Camera
2 MP Front Camera
Optional 5 MP Rear Camera
2 MP Front Camera
5 MP Rear Camera
Security Options
PalmSecure™
Fingerprint
IR Cam
Webcam Shutter
SmartCard Reader
PalmSecure™
Fingerprint
IR Cam
Webcam Shutter
SmartCard Reader
PalmSecure™
Fingerprint
SmartCard Reader
PalmSecure™
SmartCard Reader
Fingerprint
SmartCard Reader
IR Cam
Battery Runtime
Up to 11:30 hours
Up to 10:30 hours
Up to 10.1 hours
Up to 11.5 hours
Up to 10 hours
Misc.
Intel® Thunderbolt™ 3
Intel® Optane™
Intel® Wi-Fi 6
Global LTE (Cat 9)
Backlit Keyboard
MS Modern Standby
Intel® Thunderbolt™ 3
Intel® Optane™
Intel® Wi-Fi 6
Global LTE (Cat 9)
Backlit Keyboard
MS Modern Standby
Backlit Keyboard
Backlit Keyboard
Backlit Keyboard Dock
Intel® Wi-Fi 6
IP 42 compliant housing
Dimensions
332.6 x 234 x 19.0 mm
378 x 256 x 19.2 mm
299 x 209 x 18.79 mm
318 x 224 x 19.8 mm
315 x 200.9 x 10.5 mm
Weight
From 1460 g
From 1740 g
From 1.2 kg
From 1.3 kg
From 796 g