RFID and Sensor (AIT) Solution
What's New
April 24, 2017
Fujitsu to Supply Boeing with RFID Technology to Manage Aircraft Components.
May 14, 2014
Fujitsu announced that Airbus S.A.S, has selected Fujitsu Limited, as its RFID solution provider for Airbus RFID Integrated Labels project.
See HERE for more information on Fujitsu RFID Integrated Labels and Solutions.
What is the Fujitsu RFID and Sensor Solution for?
Fujitsu RFID and Sensor Solution is based on advanced Automated Identification Technologies (AIT). It is designed to optimize asset management by increasing visibility and traceability of individual parts in the internal manufacturing and the supply chain processes. Fujitsu's offering has a full range of RFID products such as rugged RFID tags and flexible software as well as application deployment tools. It provides all the components that would be needed for automating the tracking of parts in real time, from attaching RFID tags onto the parts to capturing accurate identification data through a network of RFID-enabled control points.
Fujitsu RFID Integrated Labels can perform on or off metal with two memory sizes (1KByte/8KBytes); they have been selected by Airbus and Boeing for RFID parts marking project and are both ABS1860 and D6 standards-compliant. The tag can survive harsh operational environment typically encountered in industries such as aerospace, automotive and oil & gas. The tag can also store serial numbers, part numbers, date codes, even asset and maintenance data, providing anywhere, anytime access to critical information even in remote locations.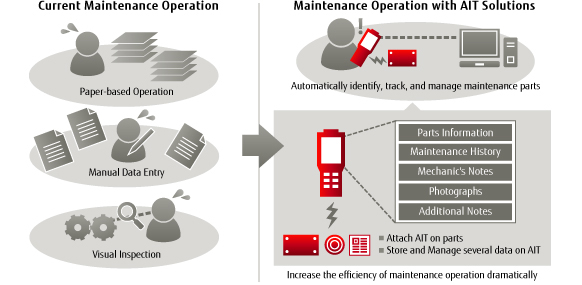 A Key Benefit: Maintenance Made Easy
Maintenance-intensive industries such as aviation, ship and railroad, are increasingly challenged to balance safety with maintenance operations costs. In the aviation industry, for example, airlines need to adhere to flight schedules while ensuring safe operations; therefore efficiency of the maintenance operation is a critical factor in controlling costs and ensuring compliance with rigorous safety standards.
In the specific area of the maintenance and repair processes involving global organizations or multiple players (ex. MRO, Parts supplier, assembly shop and operator), there are typically a significant amount of paper-based work and/or no commonly shared database. As a result, incomplete or missing maintenance paper trails are frequently a hindrance to efficient operations. Incomplete maintenance history not only makes maintenance more difficult but also presents CEOs with a safety issue.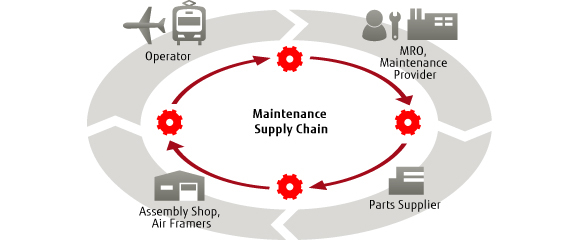 The Fujitsu RFID and Sensor Solution resolves these types of challenges for companies. By logging the maintenance history on RFID tags attached to aviation, shipping or rail parts, for instance, and automatically transferring this data to maintenance systems, we can ensure gap-free part maintenance history. The solution help reduce administrative and logistics costs across a wide variety of industries by increasing data accuracy (eliminating errors), speeding up the collection and transmission of data, and making the entire data entry/collection process more efficient. Our RFID and Sensor Solution also helps mechanics accomplish their tasks more efficiently by providing them with direct access to information like manufacture date, maintenance history, and inventory status from the RFID tag attached to the part. It also allows them to record maintenance information to a part tag directly using more effective methods to capture information than the traditional paper-based methods. This same information can also be forwarded to the maintenance system of record once the tasks are completed.
Concept of the Fujitsu RFID and Sensor Solution
"One-stop Shop Solutions"
For non-RFID experts, it may be difficult to design and assemble an effective and easy-to-operate solution given the broad variety of technologies and providers in the market. Building solutions from components (such as RFID tags, RFID application software, RFID readers) obtained from various vendors often leads to higher risks in deployment problems and development costs.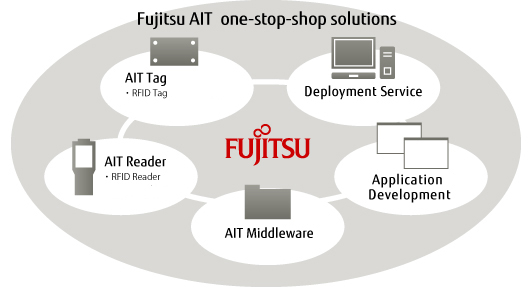 Fujitsu offers you the most advanced Automated Identification Technologies as a "One-stop Shop" solution, providing you with an integrated suite of products (i.e., RFID tags, readers, printer and application software) and also system integration and deployment services, utilizing our partnership with industry leading AIT suppliers. This provides the fastest path to a successful deployment for managing your assets in a cost-effective, timely and efficient manner.
Fujitsu offers a customized AIT Solution
Fujitsu will meet your individual AIT needs, integrating commercial off-the-shelf products, third-party products included, in your IT landscape and developing proprietary solutions for your business if necessary.
Fujitsu provides the AIT Solution for your global interoperability
Fujitsu will select the products best suited to your operational and interoperability needs. If you operate a global organization, we will help you ensure that your RFID solution is compatible with all local frequency regulations where the solution is deployed.
Brochure of Fujitsu RFID and Sensor (AIT) Solution DOWNLOAD (535 KB)  

Video of Fujitsu AIT Solution CLICK HERE(4:26MIN)  

Structure of the Fujitsu RFID and Sensor Solution
The Fujitsu RFID and Sensor Solution consists of a complete suite of RFID products (i.e., RFID tags, hardware and software and applications), as well as system integration and deployment services. Cloud Services are also available worldwide to host your customized solution. Fujitsu can also help you take advantage of new opportunities for process optimization by leveraging the real-time tracking of RFID tags and the management information contained in the backend systems. For example, a better determination of when to replace an in-service aircraft part could be made by using a knowledge engine that can combine the part information associated to the RFID tag with future flight plans and historical trends. Fujitsu can help you create new maintenance services by integrating data in RFID and data in database, and analyzing them.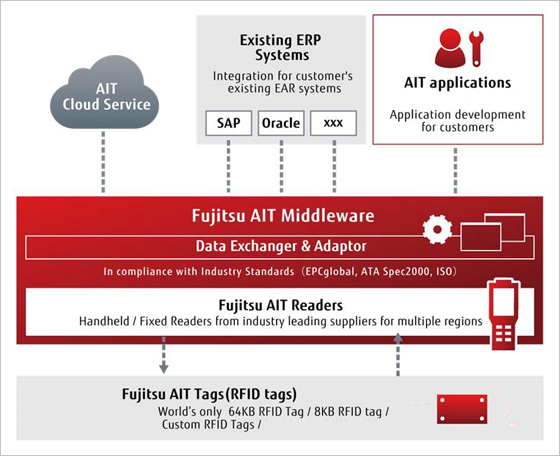 RFID Tags
Fujitsu offers variety of RFID Integrated Labels which are compliant with Aerospace Standard SAE AS5678 specification.
RFID Readers/Printer
Fujitsu partners with leading global companies that provide RFID devices supporting RFID frequency bands used in all countries.
Software
RFID Label Design and Encoding Management Pro is Fujitsu's comprehensive commissioning utility tool. It has the features to allow your company to create its own label layouts and print/encode data configurations. RFID Data Management Pro is another utility application to read and initialize ATA-compliant RFID tags that carry part maintenance history and/or Lifecycle records.
Customized Applications
As a service, Fujitsu can develop customized applications to meet your specific business needs and also provide total support for all aspects of the solution from installation to operations and maintenance, including integration with your ERP system.
Top of Page