Highlight
PC World
Best profitability, Fujtisu Display SL27T-1 LED,
Poland – May 2011
PC Games Hardware
PC Games Hardware, Fujitsu Display SL27T-1 LED, Test result: Good, Germany - May 2011
ESCAPE DOPRA CENA
ESCAPE DOPRA CENA, Fujitsu Display SL27T-1, Slovakia June 2011
CHIP CZ
CHIP CZ, Fujitsu Display SL27T, Test result: Excellent, Czech Republic August 2011
Multimedia performance
These displays with HDMI connectivity are equally capable of handling office and entertainment applications, including digital audio. Accelerated reaction times combined with full compatibility with other HDMI devices optimize video performance, enjoyment and comfort.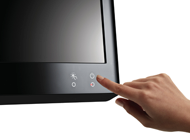 Smart touch keys
Fujitsu SL Line provide touch sensor keys for smart picture adjustments. The sensor contacts are completely embedded in the absolute plane and elelgant finish.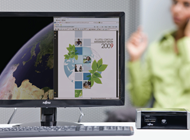 Eco system
Eco mode is a preset brightness adjust that fits for typical office environment delivering optimum brightness for most office applications. Eco button comfortably switches between Eco mode and best picture performance. Eco LED indicator makes energy saving visible.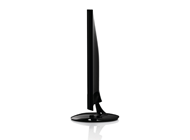 LED backlight technology
Benefit from ultra-high contrast and allover illumination for less eye strain, economical power consumption and environment-conscious, mercury-free panels.