Hot articles
R&D Initiatives
Fujitsu Laboratories is conducting research and development on technologies for implementing " Hyperconnected Cloud, " which is a future Digital Co-creation platform.
Technology Topics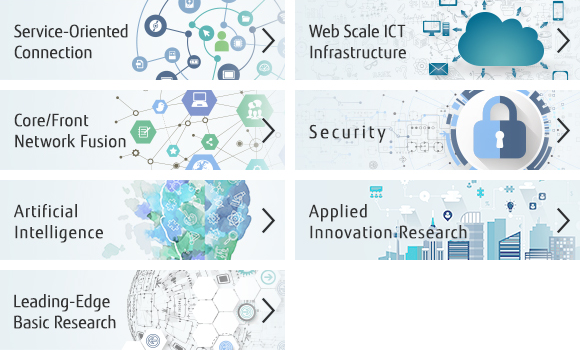 Press Releases
more

[March 13, 2018] Fujitsu and The University of Tokyo Begin Joint Field Trial to Visualize Active Learning Processes, Invigorate Classes

The Center for Advanced School Education and Evidence-Based Research (CASEER), an institution affiliated with the University of Tokyo Graduate School of Education and the Secondary School attached to the Faculty of Education, the University of Tokyo, Fujitsu Limited and Fujitsu Laboratories Ltd. today announced the launch of a joint field trial to visualize students' activities during active learning using Creative Digital Space User-Interface (UI) technology developed by Fujitsu Laboratories, which can digitalize an entire room. The trial will be conducted in classes at the Secondary School from April 10, 2018 through March 20, 2019.

[March 12, 2018] Fujitsu Applies Deep Learning to Develop Estimation Technology for Optical Transmission Signal Parameters

Fujitsu Laboratories Ltd., Fujitsu Laboratories of America, Inc., and Fujitsu R&D Center Co., Ltd. today announced the development of technology for a framework to estimate optical signal transmission parameters from optical receivers. The companies have embarked on this development to simplify the building, operating, and managing of optical networks.

Fujitsu Laboratories Ltd. and Fujitsu Research and Development Center Co., Ltd. today announced development of technology that can verify, in advance, risks associated with smart contracts, which are programs that automatically execute transactions on blockchain platforms. The technology also identifies relevant locations in the source code.
What's New
more

This is an event review written by Mr. Geoff Woollacott from Technology Business Research, Inc. (TBR), about Fujitsu Laboratories Advanced Technology Symposium, which was held at Mountain View, CA, USA.

Inamori Foundation, 2017 Kyoto Prize (Advanced Technology, Electronics)

Published a new tool "COMEVIZZ."