Digital Annealer
FUJITSU Quantum-Inspired Computing Digital Annealer provides the ability to find solutions for combinatorial optimization problems, which have traditionally been difficult to solve due to the enormous amount of calculations required.
What is Digital Annealer?
Digital Annealer is a new technology that is used to solve large-scale combinatorial optimization problems instantly. Digital Annealer uses a digital circuit design inspired by quantum phenomena and can solve problems which are difficult and time consuming for classical computers.
The most practical technology to solve combinatorial optimization problems for business
Digital Annealer Services
We offer both Digital Annealer Cloud Services and Digital Annealer Technical Services
Optimize and Innovate with Digital Annealer

Reducing travel distance for parts-picking operations by up to 45%, Digital Annealer finds the shortest possible route instantly.
Fujitsu IT Products Limited
Faster Molecular Similarity Search

Chemical and pharmaceutical laboratories use molecular similarity searching, which partially extracts the properties of molecules, to search for new substances and develop new drugs. Digital Annealer searches entire molecular structures without relying on extraction, thereby enabling accurate, instant similarity searching.

Low-Risk, Diversified Investment

Digital Annealer finds ideal investment allocations to maximize returns by grouping stocks that correlate with price variations, thus optimizing portfolios and reducing risk. Digital Annealer finds the best permutation from among 20 or more stocks instantly (equivalent to more than one quintillion permutations).

Optimized In-Stock Parts Placement

In factories and distribution warehouses, the time taken by workers to walk around picking parts can be minimized by optimizing routes and in-stock parts placement. In fact, the introduction of Digital Annealer in Fujitsu group factories has successfully reduced worker travel distances by 45% per month, significantly increasing productivity.

Personalized Digital Marketing

Digital marketing accuracy can be improved by delivering precise individually personalized content to webpage visitors, thereby increasing their willingness to buy. Digital Annealer allows for the instant display of customized content using demographic data.
Business Insight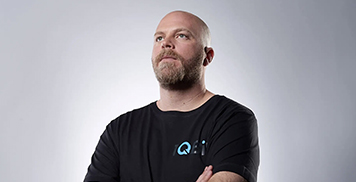 Harnessing quantum to build the computers of the future

Quantum computing is moving from physics theory to business reality. 1QBit CEO Andrew Fursman outlines how the promised surge in processing power could help solve some of the world's most intractable problems.
Applications of Digital Annealer
Route optimization: Finding the shortest path; ideal for identifying the quickest routes and public transportation planning
Identify network design problems: Designing optimal communication networks and oil and gas pipelines
Optimizing delivery plans: Ideal for postal and logistics services
Optimized placement of in-stock parts: In stores, factories and distribution warehouses
Optimized scheduling: For planning factory worker shifts and sports tournament brackets
Disaster recovery planning: Providing efficient and quick recovery, rescue and aid plans
Collaboration with Top-Tier Global Partners
Fujitsu has established strategic partnerships with 1QBit (a Canadian company and currently the only vendor of commercial quantum computer software) and the University of Toronto (an international top-tier innovation hub).
The Fujitsu Digital Annealer solution uses 1QBit software and 1Qbit quantum algorithms that have become the standard in quantum computing.
This makes it easy for customers currently researching or using quantum computers to adopt and leverage the benefits of Digital Annealer. There is no need to modify applications.
Fujitsu Opens New Research Lab in Toronto to Accelerate the Implementation of Digital Annealer for Societal Benefit

On March 14, 2018 at the University of Toronto, Fujitsu held an opening ceremony for the Fujitsu Co-Creation Research Laboratory at the University of Toronto. The laboratory is Fujitsu's new research hub and will be used to accelerate the study of innovative computing technologies including Digital Annealer.
Of course, our relationship with Fujitsu is a real honor for all of us here at 1QBit. 1QBit has been working with a number of companies that are focused on producing quantum hardware, but the Fujitsu Digital Annealer is one of the first pieces of really usable hardware that can leverage all of the research that 1QBit has engineered over the past four years.
Andrew Fursman, CEO, 1QB Information Technologies Inc.
1QBit Press Releases