Fujitsu Forum 2016 - Fujitsu Forum 2016 : Fujitsu Česká republika

What's on
This year's Fujitsu Forum theme is Human Centric Innovation – Driving Digital Transformation, and will feature MetaArc our digital business platform.
Our focus will be on digitalization across all industry sectors, from retail, transport, manufacturing and financial services to the public sector, education and healthcare. Through executive keynotes, expert talks, breakout sessions and demonstrations, you will discover how digital innovation can improve your organization's performance and efficiency.
Keynotes
Executives from both Fujitsu and our partners, will deliver keynote speeches focused on digitization.

Expert talks
Industry experts will deliver in excess of 600 talks lasting up to 45 minutes each. These will address the latest trends, discuss the challenges facing organizations today and highlight the Fujitsu solutions that are available. Areas covered; Enabling Digital, Digital Infrastructure, Workplace Anywhere, Hyperconnectivity and Cyber Security. Highlights include; Mobilising your business.

Breakout sessions
More than 50 breakout sessions are planned. Highlights include; Deliver business value with a digital workplace.

Demonstrations
We will be showcasing a great many Fujitsu products and solutions. Highlights include; MetaArc, K5, PalmSecure. In addition, we will also be offering a sneak preview of some of our future products.

Factory tour
Friday 18th November, you will have the opportunity to take part in the Fujitsu Augsburg factory tour. There will also be customer visits and sightseeing.
Entertainment
In addition to talks and demonstrations, on Wednesday November 16th there will be an Oktoberfest event which will include food, drink and entertainment.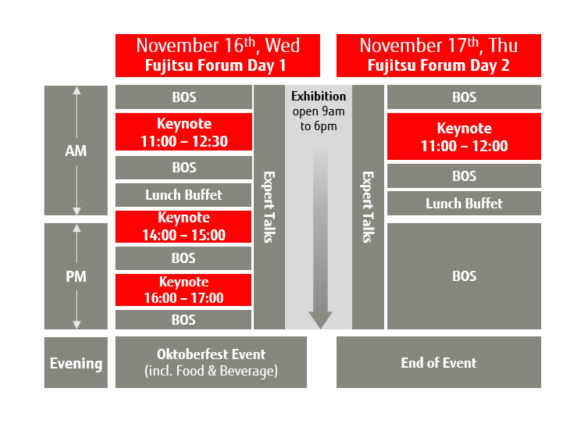 What you missed at Fujitsu Forum 2015
At Fujitsu Forum 2015 we welcomed more than 14,000 customers and partners and 140 journalists from over 80 countries. The two days were packed with inspiring information about industry trends, innovation and research.
If you missed it, there's still time to register for Forum 2016. We hope to see you there.
If you want to see some of the presentations for last year, these are now available online.
>> Download presentations from the breakout sessions
>> Watch Forum 2015 videos on YouTube

Highlights from last years Fujitsu Forum


Nahoru