Fujitsu Responsible Business
How Fujitsu is making a positive impact to society and building a sustainable future.
Across Fujitsu we recognise that, when implemented correctly and genuinely, responsible and ethical behaviours create shared value. Responsible Business has been a substantial part of the Fujitsu Way (our corporate philosophy) since its inception, making it an integral part of our company DNA.
In this digital age, IT is essential to our everyday lives. As a global technology organization, Fujitsu strives to make a positive impact to the society in which we operate through the solutions we develop and through our commitment to the UN Sustainable Business Goals. Our practices have been recognised and applauded externally in many benchmarks and indices, but there's always more we can do.
The approach and framework outlined below relate to the work we do across Europe. This fully aligns to our global policy and the vision of Fujitsu's President Tokita.
Our approach in Europe
Responsible practices are driven across the entire company, from protecting intellectual property rights and enforcing our human rights policy to encouraging all employees to get involved with community action projects. Our responsible business pillars – Environment, Community Involvement & Development, Diversity & Inclusion, Wellbeing and Operating Practices - are the foundation for our country level strategy whilst defining common themes across Fujitsu.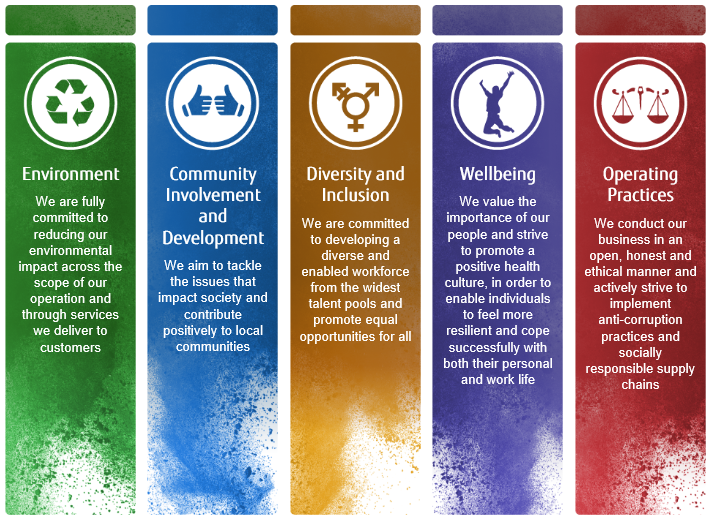 Working with our customers
Fujitsu is taking a leadership role, proactively pursuing our goals across our entire global value chain, with customers, partners and suppliers. We want to work with organisations who share our values and collaborate to make positive change. We continue to respond to social and environmental challenges by increasing sustainable ICT products and solutions and developing innovative technologies which reduce the environmental impact of our customers' businesses. 
In Spain for example, we worked with Caixa Bank who has one of Europe's largest ATM networks. Fujitsu replaced all ATMs to not just enhance speed, flexibility and forge detection, but also to introduce special features to improve usability for the older and disabled community. In Netherlands major utility hubs are supported by Fujitsu solutions. At water company Clear Water, we do not just deliver datacentre and network management services, but enable a reduction in energy usage and CO2 footprint. We contribute with durable, sustainable and energy efficient hardware. 
Siemens Gamesa partnered with Fujitsu to create an Artificial Intelligence platform that can identify flaws in wind turbines.