TAIRA Co., Ltd.
TAIRA Co., Ltd. commercializes an idea from local university students! Development of the scented vocabulary notebook "FLAROMA"
[Representative patent: Patent No. 5595698]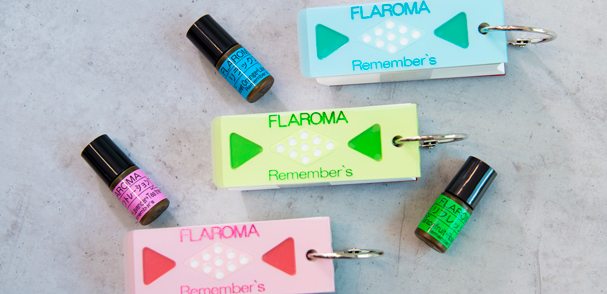 TAIRA Co., Ltd. is a manufacturer of packing materials and heat insulating materials used in electronic equipment as well as building materials in Tokorozawa City, Saitama Prefecture. An idea for a scented vocabulary notebook that utilized Fujitsu's "fragrance emission technology" proposed by a local university student in an open patent idea contest led to the development of the company's first in-house product, FLAROMA. We asked Representative Director Jun Tateishi about the product's development and features.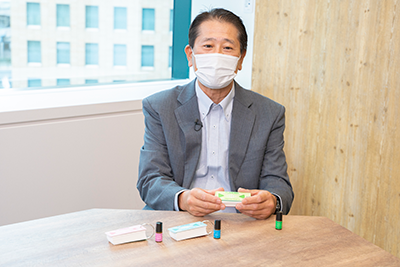 What made you decide to make use of intellectual property in your business?
We are a company that mainly produces chemical products on consignment, but one of our dreams was to produce our own products. With this dream in mind, I went to see an idea presentation meeting in 2017, which was held by Saitamaken Shinkin Bank based on an open patent for the "Saishin Collaboration: Industry-Academia-Government" project, and the winning idea was the Saitama University team's "Scented Word Book." They asked if our company could commercialize the idea, and we quickly decided to do so.
What kind of product is the developed FLAROMA?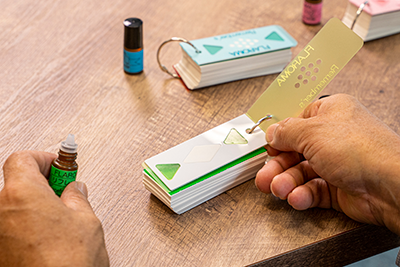 Scented Vocabulary Notebook FLAROMA Based on Students' Idea
Urethane chips are incorporated into the cover. Soaking the chips with aroma oil causes the scent to spread softly. Aroma emission technology is applied to the structure in order to diffuse the fragrance. For example, it makes use of the relationship between fragrance and memory, such as "When I smell a fragrant osmanthus, autumn comes to mind. " Three different aromas are included: "Relax," "Refresh," and "Concentration." The aromas are 100% natural essential oil. We couldn't make the product entirely by ourselves, so with the help of cosmetics makers and aromachologists, we tried dozens of different combinations and spent six months completing the original.
It is definitely a product created by collaboration.
Since this product was created through successful collaboration among industry, academia, government, and finance, we received many inquiries from the media upon launch. Surprisingly, it is popular among elderly people who enjoy haiku and senryu poetry. Ultimately, our mission as a manufacturing company is to create useful products for the world. I hope to continue taking on various challenges.
[Posted on September 15,2022]