Matsumoto Seisakusho Co., Ltd.
Development of a "fragrance clip for masks" that uses titanium apatite, a photocatalytic material with antibacterial and deodorizing effects
[Representative patent: Patent No. 3928596]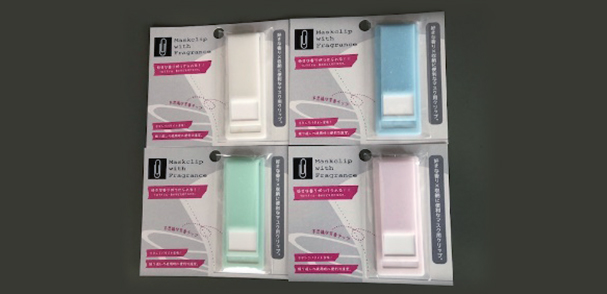 Matsumoto Seisakusho Co., Ltd. has been engaged in plastic processing and molding as well as mold design in Kawasaki City, Kanagawa Prefecture for 50 years.
In 2012, they partnered with Senshu University's student group to commercialize "Aroma LesFreres," a fragrance card that makes use of our aroma-diffusing technology.
In 2020, as the second product to utilize other IP, they commercialized a mask fragrance clip that employs titanium apatite, a photocatalyst.
We interviewed Mr. Hirohide Matsumoto, Matsumoto Seisakusho's representative director, about the newly developed mask fragrance clip.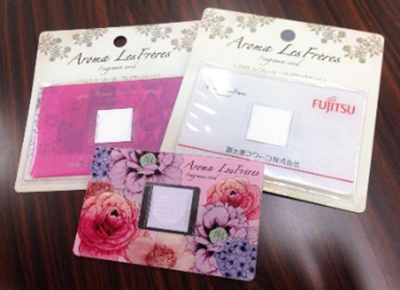 Fragrance card "Aroma LesFreres"
What made you decide to use the IP in your business?
Though we were using social media to promote our company, it was hard to build buzz, so we wanted to do something to raise our profile. At the "Intellectual Property Matching Program" in Kawasaki City in 2012, we were introduced to Fujitsu's aroma-diffusing technology, and we decided to make use of it.
Together with a group of students from Senshu University, we came up with a portable fragrance product that can "enable the use of different fragrances" and proceeded to commercialize "Aroma LesFreres: The Fragrance Card" based on the results of the students' marketing surveys.
What kind of product is the newly developed "fragrance clip for masks"?


Newly developed fragrance clip for masks
Mask clip made of plastic equipped with an "aromatic chip" that emits a fragrance and is also used for "Aroma LesFreres: The Fragrance Card"
Since the time the novel COVID-19 started to spread, everyone has been wearing masks basically daily, but wearing a mask for a long time causes discomfort, such as stuffiness and unpleasant smells. By attaching a clip with your favorite fragrance to the mask you are wearing, that fragrance is transferred to the mask, giving you a refreshing feeling.
Also, because the product can be used repeatedly, we decided to knead titanium apatite, a photocatalyst with antibacterial and antiviral effects, into the clip body to facilitate safe use.
This is certainly a useful product for our lives going forward. What developments does the future hold?
Next, we will do PR via social media, and if you invite us to attend events or go to other places where we can sell directly, we will show up and advertise. Of course, I would like to expand distribution to companies that handle novelty goods, sports teams, and character goods dealers. Kawasaki's original intention has been to advertise throughout Japan and even overseas.
[Posted on December 14,2020]