Alco Ex Co., Ltd.
Development of the "Patient Watcher" Bed Monitoring System
[Representative patent: Patent No. 5782737]
Alco Ex Co., Ltd., based in Hitachinaka City, Ibaraki Prefecture, primarily designs and develops control software, such as software for railway operation management, and designs hardware using 3DCAD.
We interviewed Mr. Bunji Kota, the company's representative director.
What made you decide to use the IP in your business?
At present, we undertake software development on contract, but for our company to grow in the future, we wanted to have our own products. In 2015, Fujitsu introduced us to some IP, and in the course of subsequent communication, we became interested in Fujitsu's "patient-watching technology," so we decided to make use of it.
What kind of product did you develop?
Our system uses an infrared camera to recognize the head of a patient lying on the bed, and it can tell when the patient gets up or falls out of bed. The image analysis part is technology licensed from Fujitsu, but we are also making our own efforts such as uploading the information obtained from image analysis to the cloud, contacting the smartphones of family members or the tablet of the care manager, and linking the bed with the nurse call system.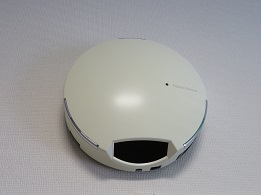 ["Patient Watcher" bed monitoring system]
We hear that the design features an innovation.
The current "Patient Watcher" is shaped like a wall clock with a diameter of 25 cm, but at first it was square and rugged. The female employees said, "I feel uncomfortable like someone is watching me." Using 3D-CAD and a 3D printer, the company made numerous prototypes and improvements, which resulted in the gentle, rounded design you see today.
What did you enjoy about trying to develop your own products?
During our previous contract development, developers dedicated themselves to development and had no experience listening to end users. However, with our products, we have come to feel how the things we have made are used and appreciated. This is a new experience and motivates our developers.
Message from the sales representative

Yuta Takimura, Sales Department
The nursing care business was a new endeavor for us. As a pre-development market survey, we administered a questionnaire survey to more than 100 nursing homes and hospitals in the prefecture, and we received responses from many people doing work in the field. As a result, we were able to learn about the problems with conventional mat sensors. The results of that extensive questionnaire are still important to the president's office. We have been listening to the needs of the field from the early stages, and we conducted demonstration tests for more than six months after completing development. We are listening to those actually in the field in order to add functions and pursue ease of use, and as a result, we believe that we have been able to create something that is truly useful in practice.
[Posted on December 1, 2017]