Hot articles
R&D Initiatives
Fujitsu Laboratories is conducting research and development on technologies for implementing " Hyperconnected Cloud, " which is a future Digital Co-creation platform.
Technology Topics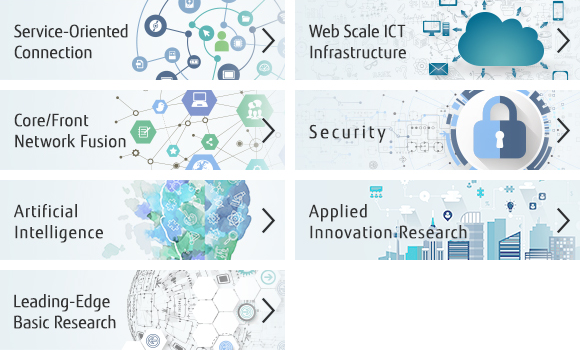 Press Releases
more

Fujitsu Laboratories Ltd. and the University of Toronto have entered into a new partnership, with Fujitsu Laboratories establishing a new research center in Toronto focused on bolstering R&D into breakthrough quantum computing technologies.

[September 20, 2017] Fujitsu Technology Facilitates Application of Combinatorial Optimization Methods to Real-World Problems

Fujitsu Laboratories Ltd. today announced the development of technology to solve combinatorial optimization problems without setting complex parameters, using "Digital Annealer" computational architecture, which is a versatile hardware accelerator for solving combinatorial optimization problems.

[September 20, 2017] Fujitsu Fuses Deep Tensor with Knowledge Graph to Explain Reason and Basis Behind AI-Generated Findings

Fujitsu Limited and Fujitsu Laboratories Ltd. today announced that they have developed technology that shows the reason and academic basis for findings from AI that have been trained on large volumes of data. This is done by connecting the proprietary AI technology Deep Tensor, which performs machine learning on graph-structured data, with graph-structured knowledge bases called a knowledge graph, which brings together expert knowledge such as academic literature.
What's New
more