Hot articles
R&D Initiatives
Fujitsu Laboratories is conducting research and development on technologies for implementing " Hyperconnected Cloud, " which is a future Digital Co-creation platform.
Technology Topics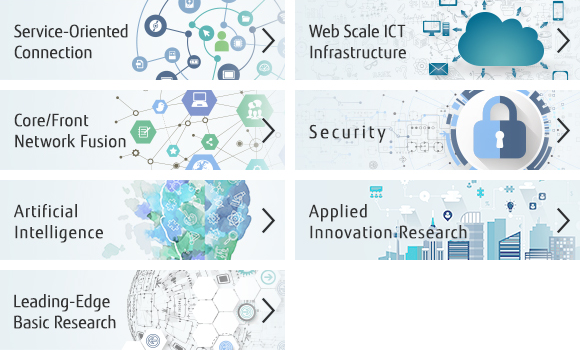 Press Releases
more

[November 24, 2017] Fujitsu in Joint Project Aiming for Tsunami Disaster Risk Reduction Using ICT in Kawasaki

The Earthquake Research Institute at the University of Tokyo, the International Research Institute of Disaster Science (IRIDeS) at Tohoku University, the City of Kawasaki, and Fujitsu Limited have today signed a memorandum determining that they will collaborate on a project that advances the utilization of disaster prevention technologies and ICT, including artificial intelligence (AI) and supercomputers. The organizations will investigate technologies to predict tsunamis and take preemptive measures aimed at mitigating tsunami disaster risk in the Kawasaki coastal zone.

Fujitsu Laboratories Ltd. today announced that it has developed its "ConnectionChain," a security technology that can safely and easily execute exchanges and payments in different virtual currencies.

[November 07, 2017] Fujitsu Launches Field Trial of Ultra High-Density Distributed Antenna Systems for 5G

Fujitsu Limited and Fujitsu Laboratories Ltd. have today commenced field trials of an ultra high-density distributed antenna, a technology aimed at increasing capacity for fifth generation mobile communications, or 5G. The trials, conducted jointly with NTT DOCOMO, Inc., are being conducted at a testing site established to trial 5G, located at the Fujitsu Shin-Kawasaki Technology Square, a central base for Fujitsu's network business.
What's New
more