Hot articles
R&D Initiatives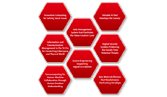 For promoting global Digital Co-creation with our customers, Fujitsu Laboratories is pushing forward with research and development by focusing on the eight emerging technologies that will lead the world.
Technology Topics
Articles and videos about Fujitsu Labs' technologies
Press Releases
more

[June 13, 2018] University of Tokyo's RCAST, Fujitsu, and Kowa Successfully Create Promising New Compounds to Fight Drug-Resistant Cancer

The University of Tokyo's Research Center for Advanced Science and Technology (RCAST), Fujitsu Limited, and Kowa Company Ltd. today announced that using IT-based drug discovery technologies, which entails computer-based virtual design and evaluation, they have successfully created new small molecule compounds that can inhibit cancer-causing "target proteins," and that demonstrate promise against cancers that have shown resistance to existing drugs.

[June 12, 2018] Fujitsu AI Technology Dynamically Automates Complex Data Integration for Knowledge Processing

Fujitsu Laboratories of Europe has developed an innovative artificial intelligence-based technology that overcomes traditional data reconciliation challenges, applying cutting edge Dynamic Data Loading (DDL) to automate complex knowledge processing. Fujitsu's technology significantly simplifies the data integration and reconciliation process, dynamically loading data during the runtime process using AI and microservice-based crawlers to create a fully scalable and intelligent platform.

Fujitsu Limited and Fujitsu Frontech Limited today announced that cumulative sales of the Fujitsu Biometric Authentication PalmSecure palm vein authentication sensor series, manufactured and sold by the two companies, has now broken through the one million unit mark.
What's New
more

Commendation for Science and Technology by the Minister of Education, Culture, Sports, Science and Technology: Prizes for Science and Technology (Development Category, Public Understanding Promotion Category)

This is an event review written by Mr. Geoff Woollacott from Technology Business Research, Inc. (TBR), about Fujitsu Laboratories Advanced Technology Symposium, which was held at Mountain View, CA, USA.

Inamori Foundation, 2017 Kyoto Prize (Advanced Technology, Electronics)