Hot articles
R&D Initiatives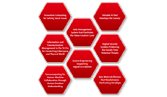 For promoting global Digital Co-creation with our customers, Fujitsu Laboratories is pushing forward with research and development by focusing on the eight emerging technologies that will lead the world.
Technology Topics
Articles and videos about Fujitsu Labs' technologies
Press Releases
more

Fujitsu and Fujitsu Laboratories today announced that they have developed a crystal structure that both increases current and voltage in gallium-nitride (GaN) high electron mobility transistors (HEMT), effectively tripling the output power of transistors used for transmitters in the microwave band.

[July 19, 2018] Academic, Corporate Collaboration Succeeds at World's Most Efficient Solar Power-Generated Hydrogen Production

A research group consisting of Assistant Professor Yasuyuki Ota and Professor Kensuke Nishioka from the University of Miyazaki, Professor Masakazu Sugiyama of the University of Tokyo, Fujitsu Laboratories Ltd., and Sumitomo Electric Industries, Ltd., designed and built a system for water electrolysis using electricity obtained from high-efficiency concentrator photovoltaic cells, successfully converting 18.8% of the solar energy (daily average) to hydrogen energy.

[June 26, 2018] Fujitsu-Developed "ABCI" System Takes 5th Place in TOP500, 8th in Green500 Supercomputer Rankings

Fujitsu today announces that its AI Bridging Cloud Infrastructure (ABCI) system has placed 5th in the world, and 1st in Japan, in the TOP500 international performance ranking of supercomputers. ABCI has also taken 8th place in the world in Green500, which ranks outstanding energy saving performance. Fujitsu developed ABCI, Japan's fastest open AI infrastructure featuring a large-scale, power-saving cloud platform geared toward AI processing, based on a tender issued by the National Institute of Advanced Industrial Science and Technology (AIST).
What's New
more

Commendation for Science and Technology by the Minister of Education, Culture, Sports, Science and Technology: Prizes for Science and Technology (Development Category, Public Understanding Promotion Category)

This is an event review written by Mr. Geoff Woollacott from Technology Business Research, Inc. (TBR), about Fujitsu Laboratories Advanced Technology Symposium, which was held at Mountain View, CA, USA.

Inamori Foundation, 2017 Kyoto Prize (Advanced Technology, Electronics)