Hot articles
R&D Initiatives
Fujitsu Laboratories is conducting research and development on technologies for implementing " Hyperconnected Cloud, " which is a future Digital Co-creation platform.
Technology Topics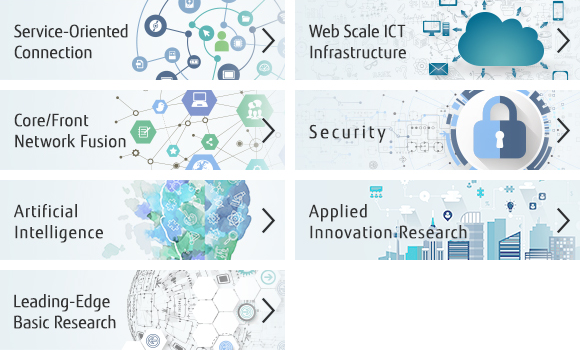 Press Releases
more

Asahi Shuzo Co., Ltd., Fujitsu Limited, and Fujitsu Laboratories Ltd. today announced that they will conduct a joint field trial to brew DASSAI sake, a rice wine brewed and marketed by Asahi Shuzo, using a Fujitsu Laboratories-developed predictive artificial intelligence model that supports the brewing of sake.

[April 16, 2018] Fujitsu Develops Deep Learning-Based Object Detection Technology Capable of Training with Limited Data

Fujitsu Laboratories Ltd. today announced the development of AI technology that uses deep learning to detect objects, even in cases when only a small amount of data is available for learning.

[April 16, 2018] Fujitsu, SMU, and A*STAR collaborate on traffic management technologies with the Maritime and Port Authority of Singapore

Fujitsu Limited, Singapore Management University (SMU), and A*STAR's Institute of High Performance Computing (IHPC), today announced their collaboration to develop innovative new technologies for vessel traffic management in the Port of Singapore, with the support of the Maritime and Port Authority of Singapore (MPA). These predictive technologies will leverage the power of artificial intelligence (AI) and big data analytics to optimize the management of Singapore's port and surrounding waters, which sees an immense volume of seaborne trade and traffic. The technologies will also be validated using real-world data to improve the forecasting of congestion and identification of potential collisions and other risk hotspots before they occur at sea.
What's New
more

This is an event review written by Mr. Geoff Woollacott from Technology Business Research, Inc. (TBR), about Fujitsu Laboratories Advanced Technology Symposium, which was held at Mountain View, CA, USA.

Inamori Foundation, 2017 Kyoto Prize (Advanced Technology, Electronics)

Published a new tool "COMEVIZZ."