Hot articles
R&D Initiatives
Fujitsu Labs presents the "Hyperconnected Cloud" as a next-generation digital business platform, and promotes advanced R&D.
Technology Topics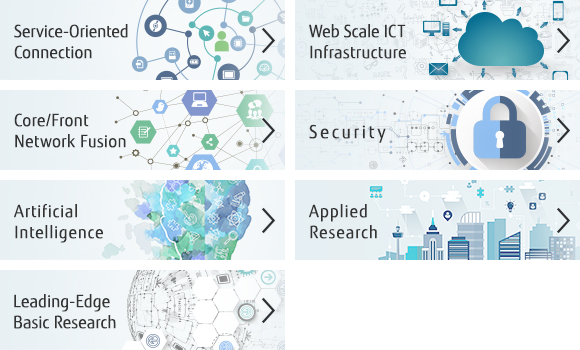 Press Releases
more

[July 24, 2017] Fujitsu Achieves World's Highest Output Density with Power Amplifier for W-Band GaN Transmitters

Fujitsu Limited and Fujitsu Laboratories Ltd. today announced the development of a gallium-nitride (GaN) high-electron mobility transistor (HEMT) power amplifier for use in W-band (75-110 GHz) transmissions.

Fujitsu R&D Center Co., Ltd. and Fujitsu Laboratories Ltd. today announced an advanced deep learning technology for helping non-professional users to employ DNN models to solve their problems. By using this system, well-balanced DNN models between the accuracy and time consumption will be automatically generated based on the given task of the user. Furthermore, the system is able to provide the DNN model to the user within couple of hours while the conventional process may take several days. We hope this technology can make further contribution to enlarge the DNN application field and realize the general AI platform.

Fujitsu Limited today announced the development of a new algorithm to estimate ongoing heat stress in workers, such as security guards, using its artificial intelligence technologies, known as Human Centric AI Zinrai. Developed together with Fujitsu Laboratories Ltd., Fujitsu aims to enhance solutions deployed on its digital business platform, "Fujitsu Digital Business Platform MetaArc", that use IoT to support on-site safety management. This new algorithm will be available from the end of July. Also from June through September, Fujitsu is implementing solutions incorporating this new algorithm in a field trial with security guards at its own Kawasaki Plant.
What's New
more