Hyperconnected Business


Do you have a 360-degree view of what is going on in real time in your organization? Do you have the information that allows you make decisions quickly and unlock new value for your customers?
Hyperconnectivity is enabling people, information and things to come together in unique ways that are fundamentally changing business and society. Transforming to a hyperconnected business with Fujitsu will allow you take full advantage of this shift, and give you a unique perspective on your organization.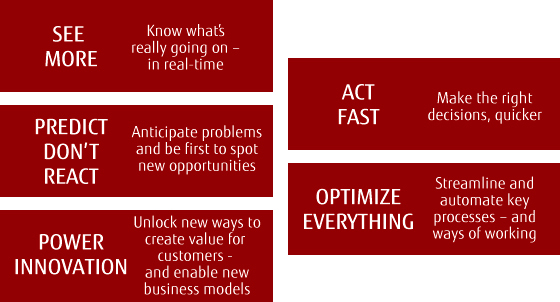 View our full solutions portfolio
---
Create business value as a Hyperconnected Business
Our proven consultative approach to Hyperconnectivity provides the reassurance you need to embrace the Internet of Things (IoT), network and digital technology solutions and artificial intelligence (AI) to drive small targeted initiatives or full scale digital transformation.
We've worked with customers around the world and across industries to co-create hyperconnected solutions.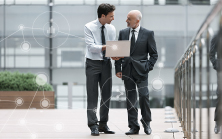 For a large retailer, we deployed IoT devices to map the movement and customer interactions of high performing sales assistants to gain analytical insight into successful selling behaviour. The result? Sales increased by 10% and customer engagement by 18%.
An augmented reality technology solution was used to assist on site utilities workers in diagnosing and correcting faults and to provide a proactive maintenance service. Operators can now work with increased efficiency and accuracy with real-time onsite access to data and central support.
We have pioneered an intelligent manufacturing system for another customer, that monitors production operations and energy consumption in real time using an intelligent dashboard. This smart factory will launch in 2018.
These are just a few of the hundreds of solutions we are developing for our customers. Let us give you a new perspective, too. Become a hyperconnected business with Fujitsu.
---
Key insight materials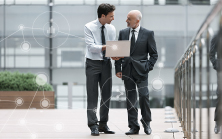 Fujitsu IoT 2017 predictions
IoT is becoming increasingly popular, and businesses are using it in more innovative ways.
How to thrive in a hyperconnected world
You've heard all the buzzwords. But what do they mean for you – and how can you succeed?
How do you unlock the true value of IoT?
When it comes to IoT, a technology transformation isn't enough. You need a cultural change too.
---

Top of Page