The Fujitsu Technology and Service Vision sets out our vision of the future and how we can achieve it. In it we provide insights to leaders of business and the public sector of how together we can co-create and build a different future. We first launched our vision in 2013, and have updated it annually ever since. It underpins all of our operations, from research and development to customer engagement and delivery.
Discover the key points of "Fujitsu Technology and Service Vision 2018" with our 5 minute slide show
Our central idea is Human Centric Innovation. We first articulated this in 2014 to describe Fujitsu's unique approach to creating business and social innovation by empowering people with advanced technology. It is realized by combining three key value drivers: the creativity of people, intelligence derived from information, and connectivity of things and infrastructure.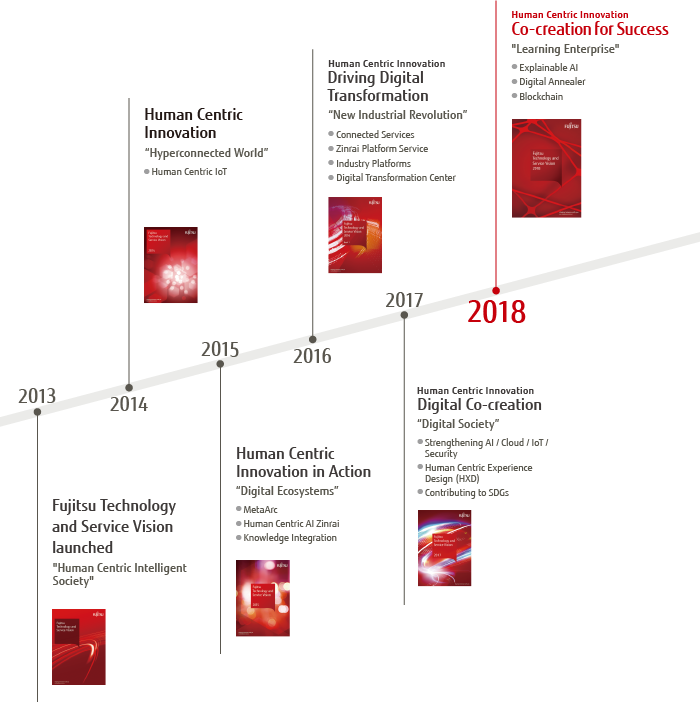 The theme of this year is 'Human Centric Innovation: Co-creation for Success'. We want to show how you can turn data into value and deliver success through co-creation. Building on last year's theme, 'Digital Co-creation', we have seen many Proof of Concept (PoC) projects that we have developed together with our customers. Now Digital co-creation has shifted into a new phase, from proof of concept to new business creation.
The Fujitsu Technology and Service Vision sets out our vision and provides insights on how business leaders can leverage in digital transformation. It shows real examples of successful digital transformation and provides details of our portfolio of products and services. We hope you find our ideas thought-provoking. We hope we can work with you to co-create your success!