Primergy In Action : Fujitsu Ireland

A reliably perfect fit.
Despite organisations sharing many of the same external challenges, Fujitsu understands that there can be no one-size-fits-all approach to your ICT.
That is why our new approach to storage and servers offers you more flexibility to tailor data centre technologies to your specific requirements. Instead of the restrictions of an ad hoc, incompatible and multi-vendor storage and server environment, we give you the benefits of robust, future-proofed technologies from a single source. What is more, you benefit from Fujitsu's unique, consultative approach to ensure you get exactly what your organisation demands.
Unlike other providers, with your Fujitsu storage and servers you get the peace of mind that comes with knowing that your technology has been built by us in our own manufacturing facilities. All of our products are designed and developed in Japan and constructed to exacting specifications by our technicians in Germany. With Fujitsu you can expect…
A single platform management layer.
A single point of contact for your storage and server support.
A single product family for complete scalability.
Access to the largest number of storage and server engineers in the UK.
Access to some of the most powerful and performant ICT in the industry.
Complete transparency when it comes to selecting your configuration.
Watch the Storage and Server Video
Storage + Server – You + Fujitsu eGuide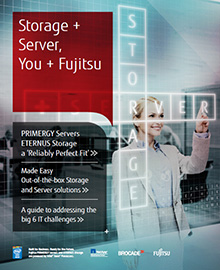 View our new digital eGuide designed to arm you with a wealth of insight, opinion, advice and guidance to ensure you are right up to date with current Storage, Server and infrastructure trends, best practice and innovation.

Intel, the Intel logo, the Intel Inside logo and Xeon are trademarks of the Intel Corporation in the U.S. and/or other countries.