Archived content
NOTE: this is an archived page and the content is likely to be out of date.
Examples of IT innovation from Fujitsu
At Fujitsu we work with you to improve your business through innovation.

Innovation is a vital investment in the future of any business. For decades Fujitsu has been developing innovative IT solutions to help customers improve their business efficiency.
Case example: The development of a Glove-Style Wearable Near Field Communication (NFC) Device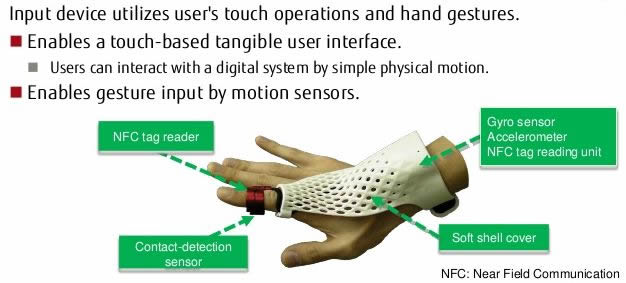 NFC devices can improve work efficiency and limit errors or oversights even when the operator is not an expert. However there are some working environments where the use of a conventional NFC device is limited. For example when a user needs to wear gloves, or when looking regularly at the device interrupts the task to be performed.

Seeing the need to innovate and come up with an alternative device for more challenging working environments, Fujitsu developed a wearable glove style reader. The glove is equipped with a NFC tag reader and features gesture-based input for maintenance and other on-site operations. Users receive information and work instructions just by touching an object. This means they no longer have to stop what they are doing to use their smart device, which streamlines operations and limits errors.
The NFC glove product is currently going through verification testing, and is scheduled to be brought to the market sometime in 2015.
IT innovation for a brighter future
Since Fujitsu formed in 1935, we have been world leaders in Information Communication Technology (ICT).
We see ICT as more than just a means of improving productivity. By breaking down the boundaries between science and engineering ICT can enable important new technological breakthroughs.
More business innovation from Fujitsu
Medical research
We support some of the world's leading research organisations by providing non-stop, high-volume, measurement and analytical systems. Our systems allow researchers to turn the massive data streams they collect into new scientific discoveries and findings.
Health services
We pioneered the use of cloud technology to improve the sharing and analysis of real time patient information, improving in-home care, for an ageing population.
Weather forecasting
We provide systems to collect, process and distribute data around the clock. Our data systems help orchestrate response plans to impending extreme weather conditions which helps save lives.
Agriculture
Our technology has changed the way farmers monitor and manage the health of both crops and livestock.
Space
We deliver IT solutions to enable satellites and probes to reliably carry out their missions. Our high-performance technology has been used to build ground-based systems to track, control and receive data transmitted from space.
Astronomy
We provide high-performance systems for some of the world's largest telescopes. Our systems gather vast volumes of data from the distant universe, with unprecedented levels of sensitivity and resolution. By applying our technology in ways like this, Fujitsu is helping businesses around the world to exploit the benefits of new insights and knowledge.
Fujitsu's commitment to innovation ensures that we continue to realise the full potential of Information Communication Technology for the benefit of our customers and for society as a whole.
Top of Page